Thursday, July 12, 2007
Central Park - The Differences Between the Global and US NCDC Data Bases
By Joseph D'Aleo, Icecap
A few weeks back, we looked at July and January in Central Park at the version 1 variances from the raw observed data in a blog on Central Park Temperature Comparisons. Steve McIntyre at Climate Audit did the same with Central Park: Will the real Slim Shady please stand up?
We have discussed how the global data bases are contaminated by station dropout, missing data, poor coverage, inadequate urban adjustment and poor siting issues. NCDC in addition to the HCN maintains a global data base of stations which it uses to track climate change. I decided to compare Central Park in that GHCN data set (the latest V2) with the HCN data set relative to the raw data.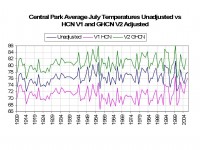 The differences between the data sets is startling large for the July monthly mean through much of the record (11F!). it diminishes since 1990 as HCN adjustments for urbanization have inexplicably diminished even as NYC population grew.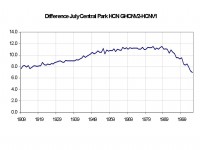 These kinds of variances in the "data" have got to have you question whether we can trust any data set to determine changes the order of a tenth of a degree for climate change assessment. See full pdf with full size images in printable form here.