Wednesday, January 12, 2011
Claim 2010 tied with warmest year ever lacks historical perspective
By Art Horn, Icecap Meteorologist
You would think that NOAA, the National Oceanographic and Atmospheric Administration would be an objective and sober reviewer of temperature data. Apparently they are not. NOAA has proclaimed that 2010 was tied with 2005 as the "warmest year on record." At first this sounds impressive. But as with all political proclamations there is always more to the story. The statement "warmest on record" means the period of time since 1880 that temperature has been measured with thermometers. To say the 2010 was tied with the warmest year on record is essentially meaningless when viewed in a true historical context.
If NOAA was truly objective in their analysis of this 130 year period of temperature they would acknowledge that 130 years of record in the long history of climate is insignificant to the extreme. The reason they do not give this record its true historical context is because their statement is really political. Their true message is that global warming is causing the warm weather and that we need to abandon fossil fuels and somehow change to "renewable" energy sources.
If one takes a serious, adult look at the variability of weather and climate over time you find amazing events. In the winter of 1249 it was so warm in England that people did not need winter clothes. They walked about in summer dress. It was so warm people thought the seasons had changed. There was no frost in England the entire winter. Can you imagine what NOAA would say if that happened next year? But it did happen, 762 years ago and burning fossil fuels had nothing to do with it. In the winter of 1717 there was so much snow in Massachusetts in late February and early March, single story houses were buried. A series of 4 storms produced so much snow that by the time the storms ended there was 10 to 15 feet of snow on the ground. People had to tunnel from one home to another to check on each other. Search parties were organized in Medford Massachusetts to find the poor and the elderly. One widow was known to have several children. They found her house from the smoke coming up through the snow. After digging down into the snow the rescuers entered through a window and found her and her children alive. They were burning the furniture to heat the house. If this happened today we would be told it was because of "climate disruption" the new offspring our government has given birth to as a replacement for "climate change."
Isotopes of oxygen analyzed from deep ice cores drilled in Greenlandís massive two mile thick ice sheets show that today's "record warmth" is not even close to how warm it's been in the recent past. These oxygen isotopes can act as a proxy or substitute for temperature. What they reveal is that the earth was much warmer than today for most of the last 10,000 years by 1 to 4 degrees Fahrenheit. The entire warming of the last 160 years is just 1 degree Fahrenheit, half of which took place between 1910 and 1945 when humans could not have had any effect. In fact these ice cores reveal that earth's temperature has been rising for 200 years, rebounding from a 500 year cold period known as the "Little Ice Age." Further examination of the ice core temperatures show that earth's temperature peaked some 3,300 years ago in the Minoan Warm Period and has been falling ever since.
Today's "record warmth" may be fleeting. Statements by agenda driven government agencies can't be trusted. Real scientific data, not shadowy half truths show that earth's temperature is falling and has fallen nearly 4 degrees Fahrenheit in the last 3,000 years. Remember, when someone only reveals part of the truth it means they have something to hide.
See SPPI post on the December to Remember here. See Are Huge Northeast Snowstorms Due to Global Warming here. See story on last year's incredible winter here.
Also seein this Real Science post, Derek Arndt, who heads the climate monitoring branch at NOAA's National Climatic Data Center in Asheville, N.C., said the new data should be viewed in the context of the record retreat of snow cover in the Northern Hemisphere at the end of the melt season and a near-record retreat of Arctic sea ice.
"Together across the board, it was an unusual year, and a year that in many ways was a culmination of what we've been seeing for the past several years," Arndt said. in WAPO.
Record retreat meaning second largest winter snow cover on record.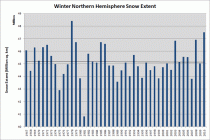 Enlarged here.
Given this twisted logic, last season with all-time record snows in the DC area meant all-time record snowmelt as it disappeared. Reminds me of the ridiculous NOAA spokesman statement last year that global warming helped explain the record DC snow thanks to storm track shifting north and more moisture from the Great Lakes. Clueless.