Friday, January 16, 2009
Coldest Snap in Years Blankets Midwest, Northeast - All Time State Records Set?
By Jim Salter, AP
Bundle up. Temperatures in the upper Midwest were expected to the coldest in years Friday as chilly Arctic air spilled south from Canada. The bone-numbing blast of arctic air that was also chilling the Northeast had claimed at least three lives and contributed to dozens of traffic accidents as vehicles slipped and slid on icy roads.
Numerous schools in Michigan, Iowa, Ohio and Illinois canceled classes for Friday as officials feared it would be dangerous for students to walk to school or wait for buses. "They're waiting 30 minutes at a bus stop; there's the fear of frostbite and hypothermia," said Champaign Assistant Superintendent Beth Shepperd. "We also have more children walking to school without adequate outerwear."
Friday it was minus 13 in Cleveland, minus 13 in Detroit and minus 17 in Chicago. The National Weather Service predicted the subzero temperatures would persist into the weekend. Wind chill warnings were in effect over much of five states advising the cold and strong winds could lead to hypothermia, frost bite and death. "When you have these cold temperatures, it doesn't take very long for skin to freeze," National Weather Service meteorologist Rod Donavon said.
Iowa City hospitals had treated three people for cold-related injuries by midday Thursday, said University of Iowa Hospitals spokesman Tom Moore. Overnight temperatures there reached minus 24 degrees. Friday morning's minus 17 reading - without wind chill - at O'Hare International Airport was the coldest daytime temperature recorded there since 1996, when it got down to minus 14.
The weather system descended from a large, dry air mass that hovered over Alaska and northern Canada for a couple of weeks before moving south. The frostiest conditions were to the north, but the cold stretched as far south as Mississippi, Alabama, Georgia and South Carolina.
In downtown Des Moines, where temperatures didn't top zero on Thursday, the Brenton Skating Plaza closed due to cold weather for the first time since it opened two years ago. "The reason that we did is with the wind chill factor and how quickly frostbite sets in, and with us being right on the river," general manager Robbin McClelland said. "We want everybody to stay safe."
In Omaha, Nebraska, garbage truck driver James Finley was wearing several layers of clothes to protect himself freezing cold that with wind chill registered minus 15 on Thursday. "This is the worst in my 13 years," Finley said while taking a coffee break inside his truck.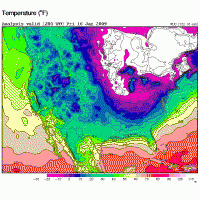 Larger image here.

Note: It was -44F in Bismarck, ND Thursday. Rochelle, IL reached -38F Thursday and -36F today (see blogs by Joe Bastardi's over some controversy about this). That would be a new state record for IL, beating out the -36F set in 1999 in Congerville.
See also this new post on this issue by Anthony Watts "Misguided thinking: All time low temperature record for Illinois called into question by NWS citing lack of confidence in equipment. "ASOS better than AWOS" in which he calls the decision to not count the record with this conclusion "So when we see public information statements like the one yesterday from the National Weather Service telling us that the ASOS system is more acceptable that an AWOS system calibrated just the day before, I'm quite comfortable in calling BS on that statement."
In New England, Maine was coldest in Aroostook County where it reached -44F at Clayton Lake, -48F at Ninemile Bridge and -50F at Big Black River, the last two USGS stations. -50F would be the new All-Time State Record Low for Maine, beating out Van Buren's -48F set in 1925. It would also tie the coldest ever for all of New England set in Bloomfield, Vermont in December 1933. This cold air fresh from Alaska and Northwest Canada meant business. Let us see if this record holds up in this new era when cold records are not PC.
In New York City and Boston a more westerly wind brought a little downslope warming and that kept temperatures above zero although suburban areas were below the zero mark. Concord, NH reached -22F, Poughkeepsie, NY was -3F, Westhampton on Long Island where they had fresh snow yesterday reached -15F! Not a good beach day. Looks cold the rest of the month with more snow especially eastern New England Sunday/Monday. One last note to show you how far downhill NOAA has gone down the global warming scam path, today's homepage features a story on how December was the 8th warmest for the globe in 114 years (not true as satellites show the 14th coldest in 30 years) but no mention of this widespread extreme cold. Shame on you NOAA. Of course NOAA predicted a warm winter in the lower 48 states AND Alaska (very rare that they both are warm). Ironically they are getting neither although as is typical of La Nina the southern states are on average warmer than normal.