Tuesday, July 28, 2015
The Unsettling, Anti-Science Certitude on Global Warming
UPDATE: On Patriot Post and Drudge today.
All This for .01 Degrees Celsius?
By Joe Bastardi, Patriot Post
As the president reveals his plan to reduce greenhouse gases to save us from an apocalyptic atmosphere, I wish to remind people of three things:
1.) The true hockey stick of the fossil fuel era: Global progress in total population, personal wealth and life expectancy.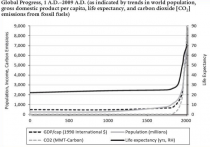 Enlarged
This is truly amazing. To show how fossil fuels played a roll in expanding the global pie, there are many more people alive today living longer and enjoying a higher GDP. One has to wonder if someone against fossil fuels is simply anti-progress. Ironic since many in the camp of anthropogenic global warming like to label themselves "progressive." They're certainly anti-statistic given something like this staring them in the face.
2.) The geological time scale of temperatures versus CO2.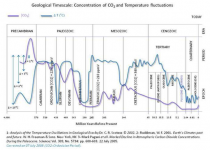 Enlarged
As much as I struggle, I can't see the linkage. Maybe it's like one of those books where you have to stare at it and cross your eyes to see the picture.
3.) EPA Administrator Gina McCarthy admitted that the steps being taken would only prevent .01 degrees Celsius of warming, but it was the example that counted for the rest of the world.
This article sums that up pretty nicely.
This in addition to the fact that, in 2011, she admitted she did not know how much CO2 was in the atmosphere. And its lines of evidence for this are provably false!
Given the facts, I can't help but wonder: Did policymakers ever take Economics 101, or a course in how to read a chart?
When I see simple questions that can raise doubts, if not outright debunk all this, it's like watching the opening from the old Twilight Zone Series: "You are traveling through another dimension, a dimension not only of sight and sound but of mind. A journey into a wondrous land of imagination. Next stop, the Twilight Zone!"
Joe Bastardi is chief forecaster at WeatherBELL Analytics, a meteorological consulting firm.
---------
UPDATE: Letter from Dr. Gordon Fulks to Yahoo and President Obama:
Hello Everyone,
Obama is about to ramp up his 'War on Coal next week (link)
Opinion on Yahoo is running heavily against him. I added this:
Mr President:
You need to listen to independent scientists who have been telling you for a long time that the Catastrophic Anthropogenic Global Warming Theory you promote is a scam. Fifteen of us again proved to you last year that the "Three Lines of Evidence" in your National Climate Assessment purporting to prove the government's scientific case against carbon dioxide are FATALLY FLAWED. Just search for our 'NCA Rebuttal'."
There has been no unusual warming since WW2 when human CO2 emissions began slowly increasing. In fact the only (very modest) warming trend we have seen was from 1977 to 1997, twenty years out of seventy. And over the most recent two decades, there has been no trend at all, according to NASA's satellite data. Furthermore, the Climate Models that your paid scientists use to predict catastrophe have been UNABLE to accurately forecast the global temperature over the satellite era (since 1979). Even these captive scientists admit that they are wrong by a factor of two globally and a factor of 3.5 in the tropical mid-troposphere. They know that there is no 'Hot Spot' as their theory predicts.
Isn't it time to admit that you have lost the scientific battle and will eventually lose the political one? Once people realize that your 'War on Coal' is a war on their pocketbooks, they will demand an end to the nonsense. No one wants to pay trillions of dollars for fraud.
You cannot ignore the truth forever.
Gordon J. Fulks, PhD (Physics)
P.S. I have NO conflicts of interest in this matter.
Here is the link to our 'NCA Rebuttal'. Yahoo does not allow commenters to include actual links.
---------
The Unsettling, Anti-Science Certitude on Global Warming
Climate-change 'deniers' are accused of heresy by true believers. That doesn't sound like science to me.
By John Steele Gordon, Wall Street Journal
Are there any phrases in today's political lexicon more obnoxious than "the science is settled" and "climate-change deniers"?
The first is an oxymoron. By definition, science is never settled. It is always subject to change in the light of new evidence. The second phrase is nothing but an ad hominem attack, meant to evoke "Holocaust deniers," those people who maintain that the Nazi Holocaust is a fiction, ignoring the overwhelming, incontestable evidence that it is a historical fact. Hillary Clinton's speech about climate change on Monday in Des Moines, Iowa, included an attack on "deniers."
The phrases are in no way applicable to the science of Earth's climate. The climate is an enormously complex system, with a very large number of inputs and outputs, many of which we don't fully understand - and some we may well not even know about yet. To note this, and to observe that there is much contradictory evidence for assertions of a coming global -warming catastrophe, isn't to "deny" anything; it is to state a fact. In other words, the science is unsettled - to say that we have it all wrapped up is itself a form of denial. The essence of scientific inquiry is the assumption that there is always more to learn.
....
Climate science today is a veritable cornucopia of unanswered questions. Why did the warming trend between 1978 and 1998 cease, although computer climate models predict steady warming? How sensitive is the climate to increased carbon-dioxide levels? What feedback mechanisms are there that would increase or decrease that sensitivity? Why did episodes of high carbon-dioxide levels in the atmosphere earlier in Earth's history have temperature levels both above and below the average?
With so many questions still unanswered, why are many climate scientists, politicians - and the left generally - so anxious to lock down the science of climatology and engage in protracted name-calling? Well, one powerful explanation for the politicians is obvious: self-interest.
If anthropogenic climate change is a reality, then that would be a huge problem only government could deal with. It would be a heaven-sent opportunity for the left to vastly increase government control over the economy and the personal lives of citizens.
Moreover, the release of thousands of emails from the University of East Anglia's Climate Research Unit in 2009 showed climate scientists concerned with the lack of recent warming and how to "hide the decline." The communications showed that whatever the emailers were engaged in, it was not the disinterested pursuit of science.
Another batch of 5,000 emails written by top climate scientists came out in 2011, discussing, among other public-relations matters, how to deal with skeptical editors and how to suppress unfavorable data. It is a measure of the intellectual corruption of the mainstream media that this wasn't the scandal of the century. But then again I forget, "the science is settled."
-----------
Consumers Will Pay Big for Obama's Alternative Energy Push
By Dr. Larry Bell, University of Houston
President Obama's war on coal brings new meaning to his lead from behind strategy. It involves replacing reliable fossil energy sources with pixie dust-powered alternatives.
Only one day following the Supreme Court's ruling to block EPA's planned power plant mercury emission regulations, he committed the U.S. to a goal of generating 20 percent of all electricity from renewable sources by 2030.
That means at least three times more subsidies than we currently blow on windmills and burn with sunbeams...and that's a lot.
Wind and solar each already receive more than 50 times more subsidy support per megawatt hour than conventional coal, and more than 20 times more in terms of average electricity generated by coal and natural gas.
According to U.S. Energy Information Administration figures, annual "Federal interventions and subsidies" for wind (4.4 percent of American electricity) costs for taxpayers ranged from $5.5 billion and $5.9 billion between 2010 and 2013, and from $1.1 billion rocketing up to $4.5 billion for solar (0.4 percent of our electricity) during that period. For comparison, those allocated to fossil fuels (about 60 percent of total electricity) dropped from $4 billion to $3.4 billion.
Although lemming powers of observation aren't highly regarded, wouldn't you think witnessing fellow critters plunge en masse over cliff edges would offer cause for some among them to reconsider the perilous path ahead?
Painful EU experiences offer teachable lessons. Consider Denmark for example. On Earth Day, 2010, President Obama praised the country as a great green power model. And yes, while the country theoretically produces about 20 percent of its electricity from wind and solar, CEPOS, a Danish think tank reported that this only supplied between 5 percent and 9.7 percent of average annual demand over the previous 5-year period.
Danish consumers pay the highest electricity rates in Europe, more than three times more than we do.
Existing German energy policies, where 7.8 percent of electricity comes from wind and 4.5 percent derives from solar, force households to fork out for the second highest power costs in Europe often as much as 30 percent above the levels seen in other European countries. (900,000 German households had their electricity shut off for inability to pay during a recent cold winter period.)
Such circumstances are only likely to worsen with Angela Merkel's plans to wean the country off fossil fuels and nuclear power. Subsidies for wind power which deliver only about one-fifth of the theoretical installed capacity are three times higher than those paid for conventional electricity.
President Obama also lauded Spain as a fine example of renewable energy progress. Yet a study released by researchers at the Universidad Rey Juan Carlos a few months later presented a far less enviable picture.
Over the previous eight years the Spanish government had spent $791,597 in subsidies to create each green energy job, and exceeded $1.38 million per wind energy job.
Each of those green jobs cost 2.2 jobs in lost opportunities elsewhere in the workforce, and each MW of installed wind energy capacity destroyed 4.27 other jobs.
Italy's wind and solar experience record is even worse. According to a study conducted by researchers at the Bruno Leoni Institute, the amount of capital required to generate one job in the renewable sector would create between 4.8 and 6.9 in the industrial sector or elsewhere just based upon subsidies alone.
Of the 50,000 to 120, 000 renewable jobs they propose to create by 2020, 60 percent will be temporary.
Experiences in the United Kingdom are reportedly similar to those in other EU countries. A study by Verso Economics determined that each renewable job "created" by subsidies displaced 3.7 others in their general economy. "Renewable Obligations" which increase market prices for electricity from renewable sources cost U.K. consumers an additional $1.75 billion during 2009/2010.
In 2011 British wind turbines produced a meager 21 percent of installed capacity (not demand capacity) during good conditions.
As in Germany this has necessitated importation of nuclear power from France. Also similar to Germany, the government is closing some of its older coal-fired plants - any one of which can produce nearly twice the electricity of Britain's 3,000 wind turbines combined.
Yeah, and then there's our own uber-green California, which mandates that renewables provide 33 percent of the state's electricity by 2020 and proposes to increase to 50 percent by 2030.
Over just the past three years their electricity rates have already risen by 2.18 cents per kilowatt hour - about four times the national rate - as more and more wind and solar came on line.
Meanwhile, so long as natural gas drilling is restricted, climate crisis hoax-premised EPA regulations strangle fossil power generation, and nuclear energy expansion is delayed, we are racing hell-bent along the same road to perdition. Let's consider the peril before joining the EU and California lemming pack in a final, fatal jump.
Larry Bell is an endowed professor of space architecture at the University of Houston where he founded the Sasakawa International Center for Space Architecture (SICSA) and the graduate program in space architecture. He is the author of "Scared Witless: Prophets and Profits of Climate Doom" (2015) and "Climate of Corruption: Politics and Power Behind the Global Warming Hoax" (2012).
Read more here.