Saturday, May 19, 2007
Could this Year Be the Northeast's Hurricane Year?
By Joseph D'Aleo
Bill Gray has been telling us since the Atlantic turned warm in 1995, that the Atlantic would be more active, with more storms, more intense storms and more landfalls on the U.S. mainland all the way from Brownsville to New England. The first areas to feel the brunt were the southeast coast and the Gulf and then in 2004 Florida. New York and New England has had simply to put up with heavy rain and locally damaging winds with storms that had come inland and weakened long before reaching the area.
History tells us during the warm Atlantic, New York and New England is also more vulnerable to a direct hit. History also tells us this is more likely during La Nina summer. In fact in the 11 La Nina summers when the Atlantic was warm since the middle 1930s, there was at least one landfalling storm from the east coast of Florida to New England in every year with a total of 15 storms, 11 of them major CAT 3-5 storms. 9 of the storms affected the northeast directly or indirectly.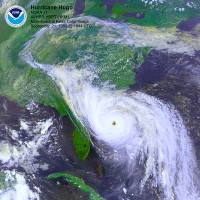 It appears this summer will be a La Nina summer and the Atlantic is still solidly in its warm mode. This suggests New York and/or New England may be especially vulnerable this summer and fall (and if La Nina persists through this winter again in 2008). Indeed Bill Gray has put the probability of a landfalling major CAT 3-5 storm along the east coast from Florida to New England at 50% (average in the 20th century was 31%). The following is account of one such system, The_Great_Hurricane_of_38.pdf. For a more complete analysis of the threat and history of northeast storms, see East_Coast_Hurricanes.pdf.
Of course a major landfall on the populated northeast would be blamed on global warming although major landfalls occurred in the cold early and late 1800s.