Wednesday, June 13, 2007
Countdown to Version 2 USHCN
By Joe D'Aleo, Icecap
Version 1 of HCSN developed in 1990 has been for the past 16 years the data base of choice when examining climate change because it was the most stable and had the best adjustment for urbanization (Karl et al. 1988) based in part on the landmark work of Oke and Landsberg. It has had over the years some siting/land use change issues recently brought to light in blog postings too numerous to list by Roger Pielke Sr. on Climate Science, Stephen McIntyre on Climate Audit, and now on a new site that will be a repository for photographs of the stations by Anthony Watts.
The USHCN has always been a point of contention with those managing the global data bases as the USHCN's warming has been muted and clearly cyclical.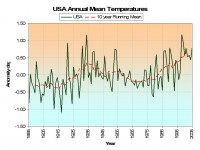 See the comparison to one of the global data bases GISS below.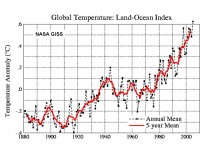 NCDC has announced they are coming out with a new version of the USHCN data base in July which has been described as a "paradigm shift with some significant adjustments due to previously undocumented inhomogenities." The version 2 documentation is now available and in it it indicates they have eliminated the urbanization and other land use adjustments claiming the new approach makes them unneceessary.
You can bet that if in July the new version plots look a lot like the bogus global plots with their overstated warming due to understated urban adjustment, the Iraqi war will not be the only war in the news.
To their credit, NCDC and NOAA is working on a new network of high quality, properly sited stations called NERON. They currently have 114 or so stations mainly in New England, eastern New York and Alabama. About 50 stations will be added per year under the current plan with a goal of 1000 or more. It will be a awhile before there will be enough coverage and history to make this network useful in climate change assessment but it is clearly a step in the right direction.