Tuesday, March 13, 2012
Despite a snow drought in US, the northern hemisphere had another snowy winter
UPDATE: Daily Kos: Michael Mann is a Modern Hero and we need to acknowledge that! Vote in poll
Here is the encouraging news on the poll results this evening. Even Daily Kos readers think he is a fraud it appears.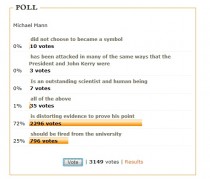 Enlarged
---------------
By Joseph D'Aleo, CCM
In the markets, technical traders look to see if prices stay above or below key trendlines to determine if the trends are in tact.
The Rutger's snow lab winter average is in and down as expected from last two years but stil is above the "'trendline". it is the 5th highest in 26 years and 14 highest in 35 years. Remember 4 of the 5 greatest snow years have occured in the last decade. 1977/78 was #1, 2009/10 #2, 2010/11 #3. 2007/08 #4 and 2002/03 #5. Three El Ninos and 2 La Ninas. All had negative AO/NAO.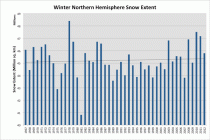 Enlarged.
See the extensive coverage across Canada and Asia.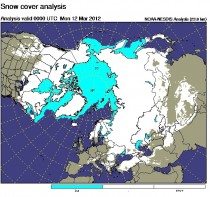 Enlarged.
See how except in the mountains of the west and northern parts of the northeast, snow is mainly absent in the lower 48 9or in Obama land the lower 55).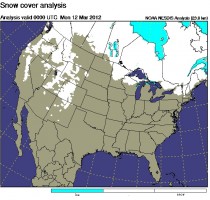 Enlarged.
Despite the snow drought here in the US, in southern Alaska, snowfall has been amazing. In the snow season since July 1, in Valdez, 426 inches has fallen compared to a normal 276.1 inches. that is 149.9 inches ABOVE NORMAL and compares to 176.9 inches last year when the lower 48 was hard hit. Nearby Anchorage has had nearly double their normal snowfall so far.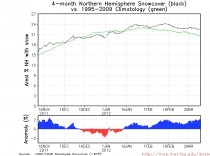 Enlarged.
Despite the early spring in the US, the hemispheric snowpack is well above the average. The below average period from Mid December to early January prevented us from ranking among the top again.
In other parts of the world like Italy, their winter resembled our in the US cities in recent years. This is from Italy.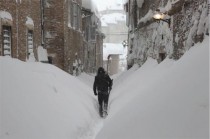 Enlarged.
Winter came in bursts in the lower 48. There was the Halloween snowstorm in the northeast. the january snowstorm in the Pacific Northwest and today another:
Historic March Snowstorms Along Oregon Coastline and in the Cascades

Steve Pierce, President, Oregon Chapter of the American Meteorological Society
Vancouver, Washington (March 13th 2012) - "Many residents along the coastline of Oregon awoke Tuesday morning to no power, downed trees, closed roads and as much as 8" of snow in a rare one-two punch. This storm will likely go down in the record books as one of the largest coastal snowstorms in the month of March ever recorded at some locations. Records date back to the late 1800's along the Oregon coast. The last coastal snowstorm of this size in the month of March was in 1951 when between 4" and 8" inches of snow fell. What is even more rare about this storm is the fact that within 12 hours bewildered coastal residents went from 50 degrees with hurricane force wind gusts to 32 degrees and 6" of snow. All of this taking place just a week before the official start of spring."

"A strong Pacific storm raced ashore Monday morning bringing wind gusts to nearly 90 mph along the Oregon coast line. By sunset Monday, near record setting snows were falling along nearly the entire coastline of Oregon including the the shoreline beaches. Areas that were hit especially hard included Pacific City, Tillamook, Lincoln City, Newport and Florence, Oregon. This area spans about 100 miles. Hwy 101 near Cape Foulweather (just north of Newport, OR) was closed in both directions due to downed trees and stranded cars as snow fell on freshly fallen timber overnight. Here is a look at the snow totals as of Tuesday morning." Special thanks to the Portland office of the National Weather Service for this information ---

OREGON COAST

TILLAMOOK, OR = 8.5"
NEWPORT, OR = 6.0"
FLORENCE, OR = 5.0"
WILLAMETTE VALLEY

LIVINGSTON MTN - CAMAS, WA = 5.5"
HAPPY VALLEY, OR = 5.0"
BORING, OR = 4.0"
CANBY, OR = 2.5"
LONGVIEW, WA = 2.0"
CAMAS, WA = 2.0"
WASHOUGAL, WA = 2.0"
MILWAUKIE, OR = 1.2"
WILSONVILLE, OR = 1.1"
SALEM, OR = 1.0"
GRESHAM, OR = 1.0"

CASCADE MOUNTAINS

JUNE LAKE, WA = 21.0"
SPENCER MEADOWS, WA = 19.0"
SHEEP CANYON, WA = 17.0"
SURPRISE LAKES, WA = 15.0"
BENNETT PASS, MT HOOD, OR = 9.0"
MT HOOD MEADOWS, OR = 7.0"
GOVERNMENT CAMP, OR = 7.0"
TIMBERLINE LODGE, OR = 6.0"
MCKENZIE, OR = 6.0"
ROARING RIVER, OR = 6.0"
WILLAMETTE PASS, OR = 6.0"
TOMBSTONE, OR. = 3.0"
And as of Friday, March 16, 2012, Mark Albright reported:
It has been a week to remember in the North Cascades for those who like snow. In the past week ending 11 AM today (16 March 2012) Mt Baker (BAK42) has reported measurable precipitation on 160 out of a possible 168 hours totaling 10.2 inches of water equivalent precipitation while the snow pack has increased 65 inches from 193 to 258 inches. The snow pack now stands at about 155% of normal (164 inches) for 15 March. The ski area is reporting 308 inches (nearly 26 feet!) on top at an elevation near 5000 ft.
Quote from a skier after spending yesterday at Mt Baker:
"so deeep so sick ridiculous"
I wonder if Marys Peak above Corvallis will be bare of snow by April 1 this year? At noon today it is 31 degrees up on top of Marys Peak, but I don't know how much snow there is. If you remember, the global warming experts (Phil Mote) at OSU have proclaimed that snow on Marys Peak on 1 April has become a rare event. In spite of that proclamation, last year Marys Peak still had snow on 1 July 2011, some 3 months after 1 April.
-mark albright