Monday, October 24, 2022
Drought-Stricken Mississippi River slows or halts grain barge traffic
Barges on Drought-Striken Mississippi River Dead in the Water,' Causing Severe Supply Chain Issues (See Epoch Times story).
"I've never seen it this bad," said Worsham, who's been with the company for over 20 years. "We had water [levels] close to this in 2012. But it was August, and it wasn't the harvesting season. It wasn't a big deal for us."
At the height of the corn and soybean harvest, and with tons of products waiting to be shipped, Worsham remains optimistic.
"A lot of the soybeans have been stored on the barges. We'll be down a little bit on volume and stretched out. We'll be able to get the bushels [out]. It's just going to take longer," he told The Epoch Times.
In recent weeks, hundreds of barges have become stalled in the receding Mississippi, caught in the lower depths. In early October, some 2,000 barges reportedly clogged the channels in long pileups along the river south of Memphis.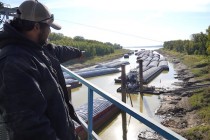 Barges sit in the port facility at Poinsett Rice & Grain in Osceola, Ark., on Oct. 20, 2022. Behind the barges, the river tributary's water line has been receding for months in the continuing drought. (Allan Stein/The Epoch Times)
But as water levels continue to fall, it allows less room for the barges to navigate and more opportunities to become stuck, said Ben Lerner, vice president of public affairs for the American Waterways Operators, a national trade association.
Lerner said the Mississippi River at a historically low level presents a significant challenge for the nation's supply chain.
"In some spots in the river, it is at its lowest level since 1988, so it's a real challenge for the supply chain and our industry," Lerner told The Epoch Times.
-------------
ICECAP NOTES:
The drought was expected in this third year of La Nina. Note in this plot of US drought and El Nino (red) and La Nina (blue), drought coverage in the US spikes in La Ninas, especially multiyear and strong ones.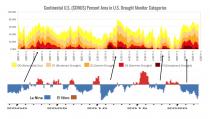 Enlarged
Notice the mention of 2011 and 1988, See above 2011 had drought.
See the current drought areas.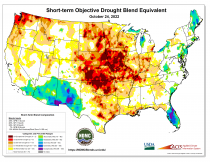 Enlarged
See 2011 and 2012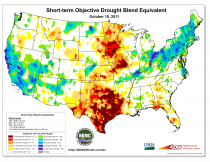 Enlarged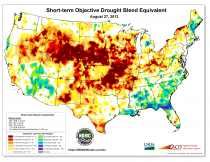 Enlarged
See 1988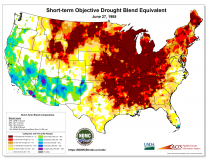 Enlarged
The La Nina droughts also affected crop yields. See the drop in 2011 and especially 2012.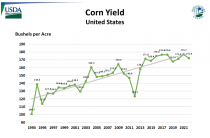 Enlarged
But you will notice the yields these recent drought years was much higher that 2012 and especially 1988. The reason is increased irrigation in places like Nebraska and western Kansas and drought resistant corn and also increases in the critical natural fertilizer, CO2. BTW, 1993 dropped because of record flooding in a strong El Nino with help from seeding from Pinatubo.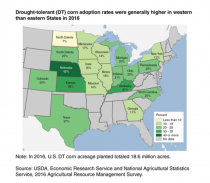 Enlarged