Tuesday, September 16, 2014
Extent of Antarctic sea ice reaches record levels, scientists say
=====
By Jane Ryan and Sam Ikin
Updated 17 Sep 2014, 6:45amWed 17 Sep 2014, 6:45am
Scientists say the extent of Antarctic sea ice cover is at its highest level since records began.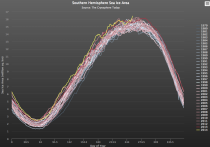 Enlarged
Satellite imagery reveals an area of about 20 million square kilometers covered by sea ice around the Antarctic continent.
Jan Lieser from the Antarctic Climate and Ecosystems Cooperative Research Centre (CRC) said the discovery was made two days ago.
"This is an area covered by sea ice which we've never seen from space before," he said.
"Thirty-five years ago the first satellites went up which were reliably telling us what area, two dimensional area, of sea ice was covered and we've never seen that before, that much area.
"That is roughly double the size of the Antarctic continent and about three times the size of Australia."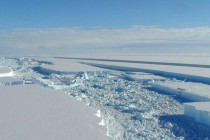 Enlarged
The formation of sea ice around Antarctica every year is one of the biggest seasonal events on Earth.
The ice is generated in what scientists refer to as "sea ice factories" or polynia - areas of the ocean surface where currents and wind patterns combine to generate sea ice.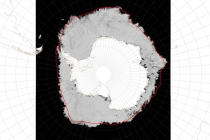 Enlarged
Antarctic sea ice covers record area. PHOTO: An area about three times the size of Australia, in the Antarctic region, is now covered by sea ice. (British Antarctic Survey) Satellite image showing Antarctic sea ice
PHOTO: A satellite image of Antarctica showing sea ice extent. The red line is the average for September. (Antarctic Climate and Ecosystems CRC)
"As soon as sea ice is produced in these polynias it is actually transported away from that so more sea ice can be produced," Dr Lieser said.
Record Antarctic sea ice:
Antarctic sea ice covers 19.619 million sq km.
Maximum area recorded on September 12, 2014.
Third year in a row a record has been reached.
There has been a 1.5 per cent increase each decade since records began in 1979.
Increase believed to be linked to strong westerly winds.
As the area covered in sea ice expands scientists have said the ice on the continent of Antarctica which is not over the ocean continues to deplete.
CEO of the Antarctic Climate and Ecosystems CRC, Tony Worby, said the warming atmosphere is leading to greater sea ice coverage by changing wind patterns.
"The extent of sea ice is driven by the winds around Antarctica, and we believe that they're increasing in strength and part of that is around the depletion of ozone," he said.
ICECAP NOTE: An examination of the zonal winds at the surface (yellows and reds westerly, blues easterly) show no apparent correlation to expanded ice cover.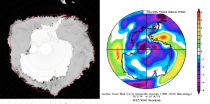 Enlarged
He said changes to sea ice levels could have implications for the entire Antarctic ecosystem.
"So the sea ice is a very important habitat for krill in particular and for the reproduction of krill and that forms one of the absolute staples of the diet for many species in the Antarctic."
While the Antarctic ecosystem braces for change, the world's Antarctic research vessels will also have to contend with treacherous conditions in the months ahead.