Friday, December 26, 2008
For the First Time in Years, Western Part of Lake Superior Freezes Over
By John Myers, Forum Communications Co.
If the big lake seems to have an unusually placid appearance off Duluth's shores these days, it's because you're looking at ice. Ice has formed on Lake Superior off the Twin Ports and near Bayfield, among other places. It is the first time in years that ice has formed on the lake this early in the winter season. The western tip of Lake Superior has frozen over in December for the first time in recent memory, and that could mean a long season of ice angling that hasn't been seen in years.
"We were just talking that itís been something like 17 years since we had a good, long ice fishing season at this corner of Lake Superior," said Russ Francisco, owner of Marine General sporting go ods store in Duluth. "This is the most ice I've seen in December in years. I wouldn't go out yet, but if it stays cold and we don't get a big wind, people will be out there fishing soon."
While ice remains unsafe - with an emphasis on unsafe - as it continues to move around off Duluth, seeing any ice this early has been rare in recent years. Francisco said the earliest safe ice will come in the small bays near the mouths of local rivers like the Lester and the French. Francisco said in the rare years recently when Lake Superior has partially frozen, it's usually in February or early March, after months of cold weather. Anglers and ice skaters had a few weeks of good ice in February 2007, for example, before temperatures rose and the ice blew out.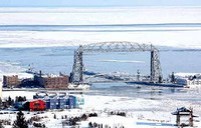 There's also thickening ice in the channel between Bayfield and Madeline Island, and the Madeline Island Ferry Line is about to close for the season - the first time itís closed in December since 1985. Locals and visitors hope the ice quickly becomes thick enough to drive on between the island and mainland. "We island dwellers like it because we get to drive on the ice road, and that's a lot more convenient. And we haven't been able to do that much inrecent years," said Michael Dalzell, a captain for the ferry line. "We're telling people to get their cars off the island by Friday or Saturday because we probably won't be running any more by New Yearís."
Not only is December ice rare on Superior, but thick ice has become the exception during any winter month. In several recent winters, the ferry line never did shut down, forced to operate all winter because ice never formed or was too thin for people to drive across.
December's average temperature at the Duluth office of the National Weather Service has been an unusually cold 9.3 degrees F below normal, with a dozen nights below zero and one as cold as 22 below. Tom Lonka, meteorologist intern for the Weather Service in Duluth, said satellite photographs show just the western tip of Lake Superior ice-covered this week. While there's not enough ice to make a difference yet, an ice-covered Lake Superior can even affect Northland weather, reducing open water access and diminishing lake effect snowfall. And increased ice can help keep water from evaporating, leading to more water in the lake next spring. Itís believed the lack of ice cover in recent years has been a big factor in declining lake levels. Read more here.
Icecap Note: Cold air masses will continue to dominate the North Central and after another warm day this weekend in the east return to the northeast next week. The pattern so far has been very like the pattern in our analog years (1961/62, 1964/65):

Forecast made in October for December through March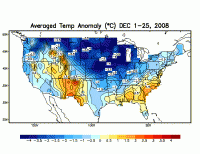 So far so good. Here is the actual through December 25, 2008. Unless La Nina comes on strong in the next month or so, this should be the pattern for the winter with the coldest weather over the region NOAA had the greatest warmth probabilities.
By the way much of the upper plains from Iowa to Wisconisn, Minnesota, the Dakotas and Montana have been averaging 7-11 degrees below normal for December. This song by Minnesotans for Global Warming is so appropriate. They followed it up with this holiday tribute to Al Gore.