Friday, November 30, 2012
Globe Seized By Bitter Cold: Arctic Record Refreeze; UK Faces 100-Year Winter; Snow In New Zealand
UPDATE: 30,000 blacked out by snowstorm in Finland
Tens of thousands of households were without electricity on Friday as a result of a storm that dumped heavy snow across southern Finland and sent winds gusting up to 27 metres per second, felling trees and downing power lines.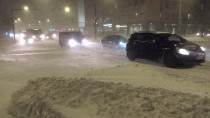 The first storm of the winter has caused difficulties for power companies. Image: Derrick Frilund / Yle
Around 10,000 Fortum, 11,000 Elenia, 8,000 Kymenlaakson Sahko and 3,000 Suur Savon Sahko customers suffered power cuts.
The affected areas are in Uusimaa, Hame, Pirkanmaa, Finland Proper, Kymenlaakso and South Savo. Fortum said that some of its customers in Porkkala, Kirkkonummi, Nummi-Pusula, Parainen and Salo were cut off, and that around 250 fitters were out working to restore supplies.
In Hame and Pirkanmaa around 10,000 Elenia customers lost electricity, with Hameenlinna and Urjala affected. Kymenlaakso saw 7,900 households lose connections to the grid, with a further 4,500 in South Savo cut off.
---------------
By P Gosselin on 29. November 2012
While UN climate scientists warn of an overheating planet and world leaders meet in suuny, warm Doha to hammer out an agreement to curb "global warming", which hasn't occurred in 16 years, the Northern Hemisphere and other parts of the world are shivering in extreme cold.
Snow, cold batter Northern Hemisphere.
Coldest UK winter in 100 years possible!
The online UK Telegraph here reports that "councils are gearing up for what could be Britain's coldest winter in 100 years, as sub-zero temperatures and snow follow days of downpours that have devastated large parts of the country."
The Telegraph warns that this weekend's cold and snow could be around for awhile:
"The forthcoming cold snap, caused by clear skies and northerly winds, could herald the start of a freezing winter. There are reports that temperatures could fall as low as -20c in some areas in December and January."
Cold, snow fly in the face of UN climate models
Cold and snow are forecast to hit Scandinavia and Central Europe as well, which all flies in the face of claims made by climate scientists just a few years ago, whose models predicted snow "would become rare, and a thing of the past." The online The Local reports that northern Sweden Saturday "will see temperatures dip down to between minus 12 and 20 degrees Celsius". Moscow forecasts it's biggest November snowstorm in 50 years (hat/tip: Steven Goddard/).
As Alaska shivers, EPA threatens fines if people don't stop burning wood!

In addition to Europe, Alaska and Canada have been enduring a long and bitter cold snap. Fairbanks, Alaska "has been experiencing unusually cold November weather with temperatures dropping into the minus-30s overnight". The Fairbanks Daily News-Miner reports that the Fairbanks area air pollution sensors this week have recorded high particulate pollution levels from widespread use of wood and oil-burning stoves. As Alaskans burn wood and coal in a bid to keep warm, the EPA "has ordered the state to clean up Fairbanks air or face financial penalties"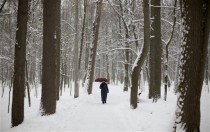 ------
Fairbanks Daily News-Miner: Think it's cold now? Winter's first cold snap hits FairbanksThursday marked the sixth day in a row the temperature at the airport didn't climb above 10 below. Wednesday was the first day with a high temperature of 20 below or colder - it was 21 below - at the airport.
It was even colder in the eastern Interior, where a low of 52 below was recorded in Chicken on the Taylor Highway. A low of 44 below was reported in Eagle and Dry Creek. It was 43 below at Circle Hot Springs.The weekend forecast calls for lows in Fairbanks down to 45 below and highs in the 20 to 30 below range through at least Monday....Thoman said this November and last will be the coldest back-to-back Novembers on record. H/T Tom A. Nelson
---------
Record Arctic refreeze!
Meanwhile, the media are dead cold silent when it comes to the massive Arctic sea ice recovery seen since October 1st – a record of almost 6 million square kilometers have been added. Never has the Arctic refrozen so much, so fast. Some experts are calling the scope of the refreeze "unprecedented" and "dramatic". Even the other hemisphere as been too cold; Antarctica has seen above average sea ice extent for every month for the past year. The 30-year upward trend shows no sign of abating.
Also New Zealand, where it is now (tomorrow) summer, is forecast to get snow!
Snow, cold in India and Pakistan
Cold is also reported in India. The Hindu reports here:
"The entire tribal belt of Kinnaur, Lahaul-Spiti and Pangi, and Bharmour in Chamba district is reeling under a severe cold wave and may receive rain or snow at isolated locations in the higher reaches in next few hours.
The temperature in Kalpa was 1.4 degrees. It was three degrees in the tourist resorts of Manali and Bhuntar; four degrees in Solan and Sunderngar; five to seven degrees in Chamba, Shimla and Una; eight degrees in Dharamsala and 10 degrees in Nahan."
With all the cold gripping the globe, clearly hundreds of millions could use a little global warming.