Tuesday, March 04, 2014
Great Lakes ice reaches new post 1980 high 92.2%. - Niagara Falls freezes over
By Joseph D'Aleo, CCM
March has gotten off to a brutally cold start after the coldest winter since the late 1970s.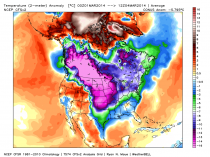 Enlarged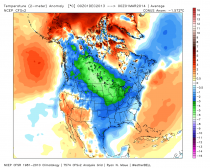 Enlarged
Geoff Cornish from Erie, show how the all-time cold March record was set.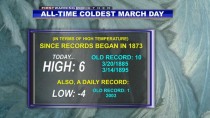 Enlarged
The Great Lakes ice coverage spiked back to 92.2% coverage, most for the date since records began in 1980.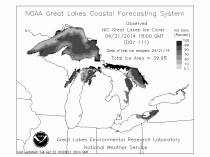 Enlarged
UPDATE:
NWS MKE reports Lake Michigan Ice Cover Reaches Record Coverage!
This last stretch of cold weather during late February into the first week of March caused ice concentration on Lake Michigan to rapidly increase. The Great Lakes Environmental Research Laboratory (GLERL) in Ann Arbor Michigan measures the ice concentration on the Great Lakes daily. On March 8th, the ice concentration on Lake Michigan was measured at 93.29%. This sets a new record ice cover on Lake Michigan. The previous record was 93.1% set in 1977. The period of record dates back to 1973.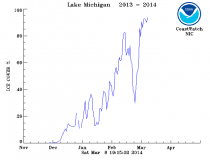 Enlarged
Niagara Falls is freezing over. The color comes from all the AGW Kool-Aid being dumped in the lakes and rivers by former believers.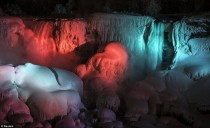 Enlarged
The Canadian Ice Service shows how it surpasses the 1993/94 levels for this week.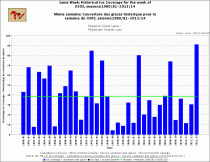 Enlarged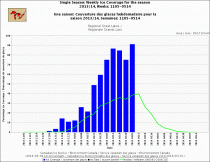 Enlarged
Over the longer data series, 2013/14 has surpassed 1993/94 and is second behind 1978/79.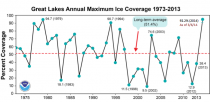 Enlarged
It has happened before like in 1911.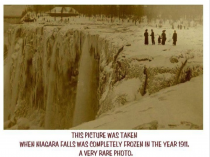 Enlarged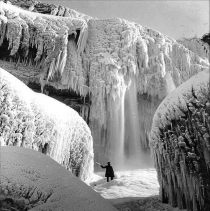 Enlarged
By the way, the Weatherbell forecast for the winter around Thanksgiving predicted this cold based on NATURAL factors.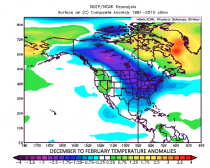 Enlarged
Back in October, Steve Goddard shows how PRI talked about Great Lakes Warming and how the Great Lakes used to freeze but it wasn't happening anymore, a recommended phrase right out the Society of EnvironMENTAL Journalist handbook.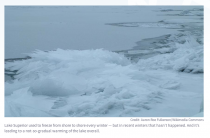 -------------
Thanks for your support over the years for Icecap - now going on 7 years with well over 50 million page hits. Thank you for your donations that helped us pay the bills. The account was down to $0.02 last I checked. So any help would be welcomed. We often have to subsidize the site maintenance (we needed high security because of a few hacking instances) ourselves and all out outside efforts are pro bono. We continue to battle the true deniers who are flailing away trying to explain why lack of warming is going on 20 years while sea level rises stop or slow and snow increases not decreases with colder not warmer winters. Some of their explanations are ludicrous. They have a lot to lose after gotten used to easy money from the $169B from governments and NGOs and foundations. They forgot how to do real science, real work, how to look at the data with an open mind. I never thought this could happen to the science I love.
The puppetmasters have orchestrated this hoax in the schools, in governments at all levels and the compliant left leaning media including the once reliable TWC. If we can't stop them we will like Europe find out energy costs already hurting low and middle class becoming prohibitively high and hurting the people the government claims their care most about. There are many stories from here in the north this winter that should awaken people. We will post on those. But the public doesn't yet blame the politicians who are hell bent on doing away with coal, natural gas, nuclear in favor of undependable and extremely costly wind and solar. Europe now recognizes their mistake in listening to the greens and are undoing them by furiously building coal and gas plants and stopping subsidies for renewables. Why can't our politicians do their homework before following what their enviro friends push them to pursue - heavy subsidization of renewables with bug kickbacks to their cronies and supporters who manage (mismanage) them, and demonization of nuclear and fossil fuels.
"Two things are infinite: the universe and human stupidity; and I'm not sure about the universe."
Albert Einstein
They have other motivations we will talk about in future posts.