Monday, June 23, 2008
Hansen's Anniversary Testimony
By Joseph D'Aleo, CCM, AMS Fellow
On June 23, 1988 James Hansen, Astronomer by degree but climatologist by self appointment testified in front of congress. It was an orchestrated testimony coordinated by Senator Al Gore and a Senator from Colorado, Tim Wirth (now running Ted Turner's UN Foundation) who admitted they picked the day after calling the National Weather Service to ensure it was a hot day. He admitted proudly later they opened all the windows the night before, making air conditioning ineffective and making sure all involved including Hansen would be seen mopping their brow for maximum effect. Hansen testified "Number one, the earth is warmer in 1988 than at any time in the history of instrumental measurements. Number two, the global warming is now large enough that we can ascribe, with a high degree of confidence, a cause-and-effect relationship to the greenhouse effect."
See in the story below how hard Hansen has worked to try and make his prognostication verify by manipulating data. By his own comments to the UK Guardian "When you are in that kind of position, as the CEO of one the primary players who have been putting out misinformation even via organisations that affect what gets into school textbooks, then I think that's a crime." Well the disinformation that comprises the GISS data then by his own words is a crime, and in his own words he "should be put on trial for high crimes against humanity and nature".
Here is the plot of actual NASA global satellite monthly temperatures since June 1988. Note the anomaly in May 2008 was lower than in June 1988 by nearly 0.3C. Of course, we don't have June 2008 numbers yet. Please note I am not saying that cooling began in 1988. Satellites show clearly that since 1979 there was a moderate warming which peaked in 1998. A cooling has taken place the last 6 to 7 years. Global station and ocean data with all its warts shows the warming from the early 1900s to the 1930s, cooling from the 1940s to the 1970s then warming again peaking in 1998. I am just making an observation that it is ironic that 20 years after his first testimony about global warming, it is half a degree F oooler globally, not supporting the drastic measure he advocates. Also we can explain not only the trends but each spike or dip with some natural phenomena as we have shown in recent posts.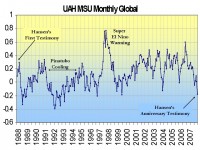 See larger image here
His testimony will no doubt include reference to upcoming or ongoing dangerous rises in sea level and ignore the data. His radio interview today on the Diane Rehm show this AM on WAMU in Washington DC, (audio links here) provides a preview of what he will tell congress.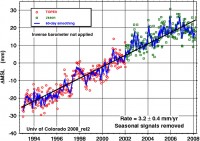 See larger image here
He will also no doubt repeat his claim he is being muzzled. He confuses a muzzle with a megaphone as shown by this table of actual Hansen media references by year (thanks to Roger Pielke Jr. on Prometheus).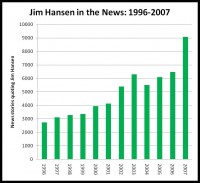 See larger image here.
Today unlike in June 1988, temperatures will be near normal in DC with temperatures in the 70s and 80s with thunderstorms. The last two weeks have averaged 2 degrees below normal. See much more on Hansen and history with this movement here.