Wednesday, August 30, 2017
Harvey makes second landfall and heads northeast
By Joseph D'Aleo, WeatherBELL Analytics, LLC
TS Harvey's center crossed the coast just west of Cameron, Louisiana, with most of the associated deep convection located over extreme southeastern Texas and western Louisiana early this morning.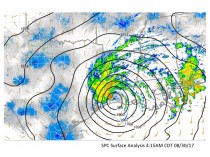 Enlarged
NHC reports at 4am CDT - Although the rain has ended in the Houston/Galveston area, the Beaumont/Port Arthur area was particularly hard hit overnight, with about 12.5 inches reported at the Jack Brooks Regional Airport since 7 pm CDT
See the large area of 20" rains in southeast Texas to southwest Louisiana.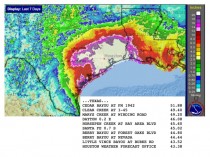 Enlarged
See 1 gauge reported 51.88". Harris county maintains a network of 156 reported rainfall gauges and stream gauges. See most of the amounts in the city were in the 30 to low 40 inch range. The heaviest was in the southeast.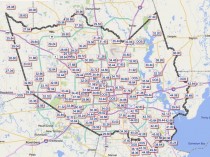 Enlarged
39 gauges were in major flood, 11 more moderate flooding.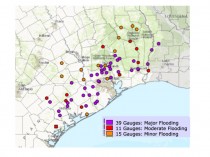 Enlarged
As Dr Spencer pointed out, There have been many flood disasters in the Houston area, even dating to the mid-1800s when the population was very low. In December of 1935 a massive flood occurred in the downtown area as the water level height measured at Buffalo Bayou in Houston topped out at 54.4 feet.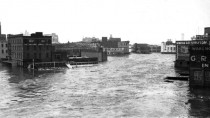 Enlarged
The Buffalo Bayou gauge topped out with Harvey at around 39 feet on the 28th and dropped a bit, recovered to 37 feet then has been receding.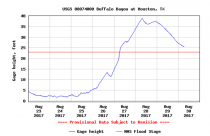 Enlarged
The three stations that exceeded the 48 inch record set in 1978 in Amelia put Harvey the top of the list of tropical rainmakers in the lower 48 states as WeatherBELL predicted several days ago. 6 of the 10 storms were in Texas where storms often get trapped in summer or fall.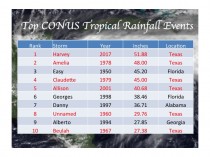 Enlarged
Here was Amelia in 1978 with the 48 inch total for 7 days at Medina. The gauge density there obviously was less and we can't know with certainty if there was more with that and other storms on the list.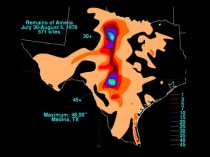 Enlarged
See the storm when it came ashore as a CAT4.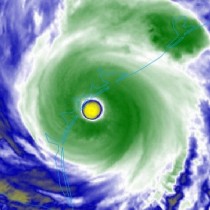 Enlarged
It was the first landfalling hurricane and major hurricane this decade in Texas. The last major was Bret in 1999. Rita and Ike came close in 2004 and 2008.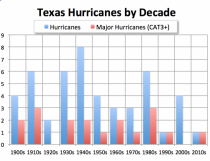 Enlarged
It was tied for 14th place by pressure (Klotzbach)


Enlarged
We have with Harvey had 7 landfalling hurricanes this decade. We have to have 8 more the rest of this season and in 2018 and 2019 to keep this decade from being the quietest on record.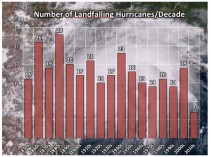 Enlarged