Thursday, February 14, 2013
Heading for ANOTHER top 5 snow year for the Northern Hemisphere
By Joseph D'Aleo, CCM
In the fall the UCS environMENTAL psuedo-scientists from UNH testified to the NH legislators claiming decreasing snow due to global warming endangering the skiing and maple sugar industry. They did the same atop Mt Washington in 2007, just prior to a record snow year coast to coast.
What a storm clobbered the northeast last week - with up to 40 inches of snow in the northeast, 12 inches in 90 minutes in Connecticut, hurricane force wind gusts along the coast with major coastal flooding.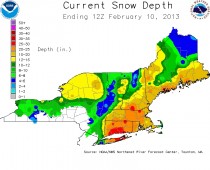 Enlarged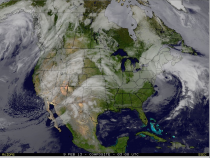 Enlarged
The radar showed echoes topping 50dbz and satellites had cloud tops over 20,000 feet and as cold as -63C. The heavy convection produced 12 inches in just 90 minutes in one spot in Connecticut and 14 inches in 4 hours in New Haven. See the amazing snow amounts from Boston NWS here and New York City NWS here. Note amounts as high as 40 inches (Hamden, CT).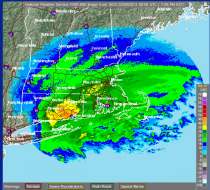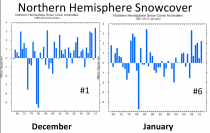 Enlarged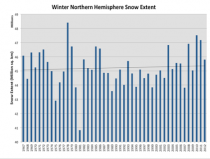 Enlarged
Given that December and January both ranked above 2009/10 and 2010/11 and snowcover continues above normal, suggests 2012/13 will rank in the top 5. Look at the next 10 days according to the Weatherbell.com European model snowfall forecast for the eastern US.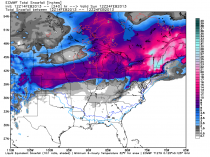 Enlarged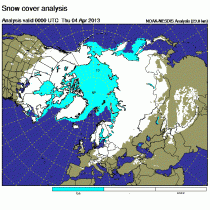 Enlarged
In a television interview today, I was asked whether global warming could explain this. I replied no, we get snow during cold periods not warm. Global warming would reduce the north south contrast and reduce the strength of storms. Also the warming models and IPCC and NOAA claimed warming would take the rain snow line most often near the major cities of the east and push it inland reducing snow for the cities. Not so.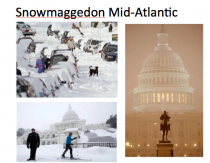 Enlarged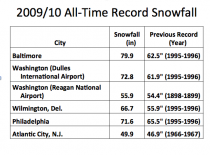 Enlarged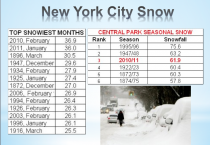 Enlarged
In fact we have had 18 major impact major metro snowstorms in the east since 2000. We have had 11 in the last 4 years.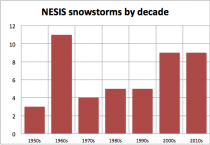 Enlarged
See the similarity of the winter snows this year in NYC and BOS and 1968/69.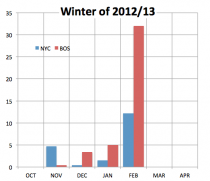 Enlarged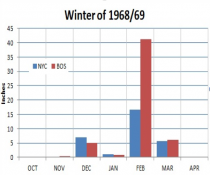 Enlarged
The majority of Spain is covered in knee-deep snow and more than 930 miles worth of roads have been closed as a result, officials said. Madrid, Mancha and Navarra are among the hardest hit regions, thinkSPAIN reported, and areas in the south have already been hit hard or will be soon.
In areas in the western region of Galicia, snow in remote areas has reached as much as 5 feet deep. Meteorologists said snow is expected to hit all areas that are sea-level or higher, accompanied by winds as high as 60 mph. Madrid, the Basque Country, Castilla-La Mancha, Galicia, Asturias, Cantabria, La Rioja and Navarra are the worst-hit regions, as are parts of Castilla y León – including Palencia, Ávila, Burgos, Leoacuten and Segovia; and the provinces of Cáceres in Extremadura; Lleida in Catalunya, and Zaragoza and Huesca in Aragoacuten. In the far south of the country, all of Andalucía except for the Sevilla, Caacutediz, Huelva and Maacutelaga provinces, and Murcia in the south-east have either already been hit by snow or are expected to in the next few days. Snow-chains are needed to drive anywhere outside of major cities in all these areas, and lorries have been banned from the A-1 and A-6 westbound in Madrid. Madrid photo below.