Monday, December 27, 2010
Headline 2000: "Snowfalls are now just a thing of the past"
By Marlo Lewis
On March 20, 2000, The Independent, a British newspaper, reported that "Snowfalls are just a thing of the past." Global warming was simply making the UK too warm for heavy snowfalls. The column quotes Dr. David Viner of the Climatic Research Unit (CRU) of the University of East Anglia - yes, the epicenter of what would become the Climategate scandal - as saying that within a few years snowfall will become "a very rare and exciting event." Indeed, Viner opined, "Children just aren't going to know what snow is."
Icecap Note: The Union of Confused Concerned Scientists said in 2004 Scientists claim winters becoming warmer and less snowy.
Similarly, David Parker, at the UK's Hadley Centre for Climate Prediction and Research, said that eventually British children could have only "virtual" experience of snow via movies and the Internet.
Well, last week another British newspaper, the Daily Mail, reported "The Coldest December since records began as temperatures plummet to minus 10C bringing travel chaos across Britain." Here's a snippet from the article (also excerpted by Wesley J. Smith in First Things):
Swathes of Britain skidded to a halt today as the big freeze returned - grounding flights, closing rail links and leaving traffic at a standstill. And tonight the nation was braced for another 10 in of snow and yet more sub-zero temperatures - with no let-up in the bitterly cold weather for at least a month, forecasters have warned. The Arctic conditions are set to last through the Christmas and New Year bank holidays and beyond and as temperatures plummeted to -10C (14F) the Met Office said this December was 'almost certain' to become the coldest since records began in 1910.
Meanwhile, back in the USA, the lead item in Google News is a Bloomberg story, "Snow Blankets US East Coast, Stranding Travelers." Bloomberg reports that, "New York City's Central Park had 20 inches (51 centimeters) of snow by 8 a.m., the most for the month in 62 years." This was "the most snow in the park for any December since 1948, the agency's website showed." (Icecap Note: Over 30 inches fell in parts of New Jersey)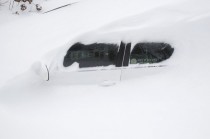 As in the UK, the record-breaking snowfall is disrupting transportation, keeping travelers snowbound and delaying Santa's deliveries. It's also downing power lines and turning off the Christmas lights. Some highlights:
"More than 6,000 flights were canceled in the region since yesterday as airports closed."

"The day after Christmas is one of the five busiest shopping days of the year, and it may take retailers two weeks to capture sales lost yesterday," an industry analyst told Bloomberg.
"NJ Transit, which transports about 170,000 commuters to and from New York City daily, suspended bus service as of 8:30 p.m. yesterday, according to a statement."
"Four hundred subway passengers were aboard an A train that was stuck in Queens for more than six hours, until it could be pushed to a station by another train. The Coney Island area was without subway service."

"Consolidated Edison Inc. reported there were 6,167 customers in Queens, New York, and 1,811 in Westchester County without power."

"National Grid Plc, which provides electricity in New York and Massachusetts, was reporting power outages at 14 sites throughout New York and Massachusetts affecting about 29,727 homes and businesses. The largest was in Norfolk, Massachusetts, where 10,902 customers were without power."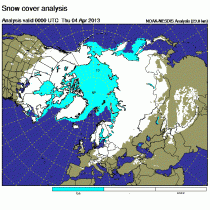 Hemispheric snowcover December 26, 2010 enlarged here.
As my colleague Heritage Foundation economist David Kreutzer observed at a panel discussion, winter is the biggest climate-related threat to public health and welfare!
Britain has had three snowy winters in a row, and this year's Snowmageddon USA follows last year's Snowpocalypse. Despite global warming, it seems, our children may never enjoy either Florida's balmy weather in New York and Boston or Mediterranean "liveability" in the British isles. Post here.
See Bryan Walsh of Time magazine's predictable annual alarmist story blaming the northeast snow on global warming. The ideologs are never wrong.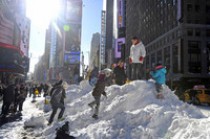 Times Square, New York, December 28, 2010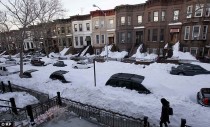 Brooklyn Street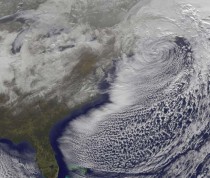 The storm from space on Monday afternoon.
See also how Tucker Carlson Mocks Environmentalist For Believing Global Warming 'Spaceship' Theory here. In the debate Chris Horner and Carlson frustrate Betsy Rosenberg who tries to defend herself about the cold and snow being caused by global warming and claiming 97% of scientists agreed.
In actual fact, Dennis Ambler reported on that 'survey' on SPPI here. Ambler wrote "… they originally contacted 10,257 scientists, of whom 3,146 responded, less than a 31% response rate. Of that number, only 5% described themselves as climate scientists, numbering 157. The authors reduced that by half by only counting those who they classed as "specialists".
"In our survey, the most specialized and knowledgeable respondents (with regard to climate change) are those who listed climate science as their area of expertise and who also have published more than 50% of their recent peer-reviewed papers on the subject of climate change (79 individuals in total). Of these specialists, 96.2% (76 of 79) answered "risen" to question 1 and 97.4% (75 of 77) answered yes to question 2." So the world's scientists boiled down to just a selection of 79 respondees.
The survey questions:
1. When compared with pre-1800s levels, do you think that mean global temperatures have generally risen, fallen, or remained relatively constant?
This is quite banal and shows the desperation of those involved in this "unbiased survey of a large and broad group of Earth scientists." Has it got warmer since pre-1800 levels? This really depends on the time period referred to. Do they mean the Little Ice Age, when disastrously cold temperatures caused massive loss of life and untold hardship? Of course temperatures are now warmer than that desperate period in climate history. Is that what they would wish to regard as normal?
2. Do you think human activity is a significant contributing factor in changing mean global temperatures?
This is the classic closed question, in that it implies mean global temperatures are being changed and someone must be responsible. The response to this question was 75 specialists out of 77, so here we have our massive 97%.
I WOULD ANSWER YES TO QUESTIONS 1 and 2. For question 1, we obviously are warmer than the Little Ice Age. The human activity in question 2 being some combination of UHI/land use changes and the manipulation by Hansen, Jones, Karl, etc.