Friday, January 11, 2013
Heat down under, snow in Jerusalem, brutal cold in Asia..will be here next 4- 6 weeks.
by Joe D'Aleo
Interesting weather has been occurring worldwide with snow in the Middle East, earlier frigid weather in Shanghai, snow in Tokyo and continuing brutal weather in Russia and an early heat wave in Australia where the summer monsoon - related to the MUO behavior, was slow to come on.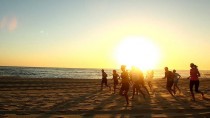 The last Australian heat and drought was in 2009. The strong La Nina of 2010/11 and the follow-up in 2011/12 brought much cooler and wetter conditions. You can see the dryness in the southwest and south the last year not as bad as in 2009. Also reservoirs were near capacity and irrigation was effective for cropping. .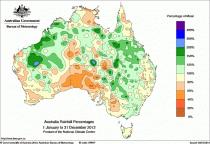 As in the US, the dry winter last year has aggravated the heat central.
Here is the 7 day forecast with heat shrinking to the central.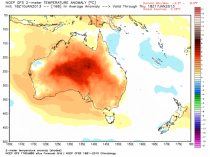 The delayed monsoon, now over Indonesia, would normally be further south and be acting to break up the unremitting heat over central Australia. Darwin, along with much of the country, has had rainfall well below average for the past three months.
"One big question is what's going to happen to the monsoonal trough," said Aaron Coutts-Smith, NSW manager of climate services at the bureau. "It's been a relatively late start to the monsoon." The weak monsoonal conditions mean northern regions aren't getting the cloud cover and rainfall that would normally sap some of the heat collecting in the interior.
"That can really put a lid on extreme temperatures," he said. Sound familiar? That was the story in the US the last two year drought. related to the super La Nina of 2010/11 and the acceleration of global cooling.
An interesting phenomenon occurred similar to the dust storms we see in Arizona at the start of the monsoon season called Haboobs when thunderstorms popped and picked up dust in an awesome display of combined dust and storm clouds.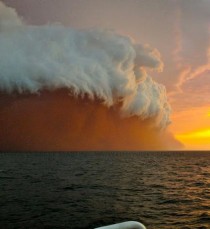 It was reminiscent of the Arizona dust storm (Haboob) in July 2011.
Cooler temperatures arrived in parts of southeastern Australia this Wednesday. This dangerous heat continued until midnight in Sydney after Tuesday's hot temperature of 47F (about 106F). Hundreds of Sydneysiders went for a swim at midnight with a temperature that was still at 35C (95F). Sydney's forecasted high temperature for Wednesday was 25C (77F). Surprisingly, snowflakes were flying a bit at Mount Hotham in Victoria Wednesday morning after the hot temperatures the previous day.
In contrast look at the 8 day anomaly chart for Russia, where normals are well below zero (F). Negative anomalies are approaching 40F. Wow. It shows temperatures easing in central Shanghai where frigid cold caused ice problems in Beijing and even at Shanghai with heavy snows in some spots.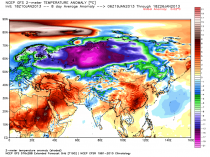 Moscow ice fog, ice bound coastal China, snow in Tokyo and cold in the Middle East and this week Europe and the US.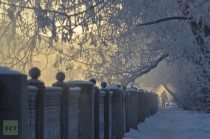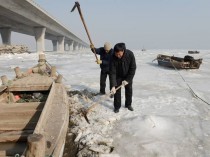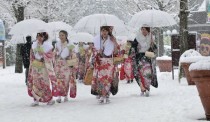 And in Jerusalem, would you believe 8 inches of snow!!!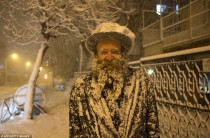 Now you may feel is the time to 'get it on' here in the US. Of course, we have not been short of weather stories the past 4 years with 9 major snows for the eastern cities, more for the Pacific Northwest, floods, droughts, heat weaves, Irene and Sandy also related to global cooling and low solar that causes strong persistence of weather patterns and an amplified Rossby wave pattern.
A major stratospheric warming is taking place that should result in 4 to 6 weeks of harsh weather for the Europe and North America. Sub zero cold will afflict Boston and Chicago and single digit mornings in NYC, Philadelphia and Baltimore/Washington. Snows will increase the snowcover again. The hemisphere had a record snowcover for December.