Friday, May 11, 2007
How Unusual is a May Named Tropical Storm?
May or even April named tropical systems are actually not that uncommon, even when the Atlantic was cold as it was in the later 1960s and 1970s. The following shows the number of April/May (pre-offficial hurricane season) storms by decade from 1950s to the 2000s. Both the 1950s and 1970s had 3 early storms. We have had 2 so far this decade.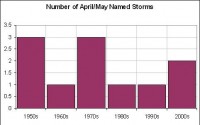 Does an early tropical system foretell an active season? Again history says no, at least not by itelf. The average number of named storms that have occurred in years with an April or May storm since 1950 is 10.66, virtually the same as the average number for the season in all years during that period (1950-2006) of 10.72 storms. Actually more useful as a predictor is the warm Atlantic (positive Atlantic Multidecadal Oscillation) correlation that Bill Gray and Phil Klotzbach, Chris Landsea and those at the National Hurricane Center past (most recently Max Mayfield) and present adhere to. When the AMO is positive (the Atlantic is in its warm mode), the average since 1950 has been 12.81 storms. It is in the warm mode this season.
Ironically Andrea's formation brings to a close the longest period on record globally without a tropical cyclone. The last advisory issued on a tropical cyclone this year was at 06 GMT on April 6th, for Tropical Cyclone Cliff in the Southern Hemisphere. Wednesday's 15 GMT advisory on Subtropical Storm Andrea ends the record longest period without a tropical cyclone at 33.4 days, besting the old record of 31.5 days set mid-April to mid-May in 1984. Reliable records of global tropical cyclone numbers go back to the beginning of the satellite era, about 1970.