Friday, September 11, 2015
Are the recent hot days a sign of global warming or just weather?
Joseph D'Aleo, CCM, AMS Fellow
As expected the AGW minded media made a big deal about the heat early this week and month in the northeast. New York City's record 97F Tuesday was used as an example of increasing heat records. Was it really AGW or just weather. Well, we at Weatherbell have been forecasting some late heat into September especially in the northeast because our statistical models suggested that we would see late heat after a cool central summer and before the El Nino winter.
There was no attention paid to the cool US July.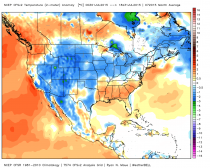 Enlarged
But let's look at the recent data which sparked coverage.
Look at the Central Park September records. The 97F record came a day after a 101F record set in 1881. All of the heat and cold records are from the distant past. 2015 was an exception.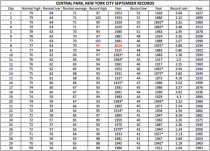 Enlarged
The 1930s to 1950s had 28 100F days in Central Park.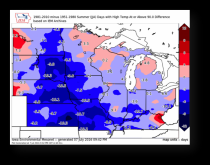 Enlarged
The EPA posts the annual heat wave index (Kunkel). It shows the 1930s was the warmest decade.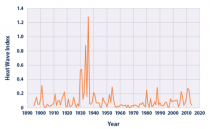 Enlarged
The number of the 90F degree days at all US stations has been trending down not up.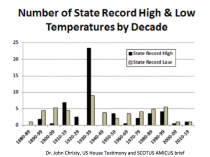 Enlarged
Steve Goddard showed an example of a real heat wave in 1925.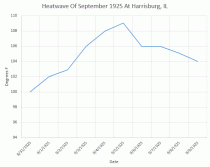 Enlarged
Most of warming even in the warm corrupted station data set is at night (a signature of the Urban Heat Island) with daytime maxima (Menne, NCDC) showing the 60 year cycle but not long term trend. In fact the warming 1910-1935 was greater than 1980 to 2005.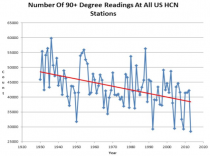 Enlarged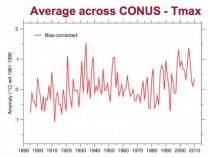 Enlarged
NOAA shows the areal coverage of unusually hot temperatures (high max and high min). It shows only a cyclical change in high maxima but with increasing high minima (which relates to Urban Heat Island).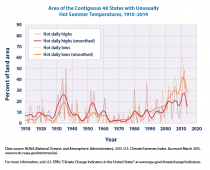 Enlarged