Wednesday, May 29, 2013
Last three years provides evidence AGW not responsible for tornadoes
By Joseph D'Aleo, CCM
Tuesday was an active severe weather day with 29 reported tornados (preliminary). More outbreaks have occurred this week with a slow moving front. It followed the big EF5 tornado last week at Moore, Oklahoma. It was the first EF5 since 2011. An image and a volumetric radar cross section are shown.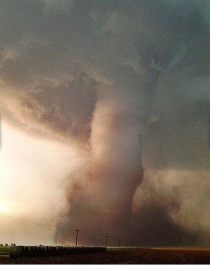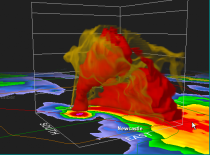 Enlarged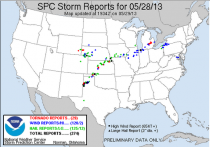 Enlarged
But for the season thus far, we are at the bottom end of the frequency as of the date. When it was active in 2011, the ignorant and opportunists blamed it on global warming. Last spring was very warm and activity was way down. This year, spring ranked among the coldest and activity was very low and only recently has picked up as warmth finally began pushing north to clash with the colder air to the north. Note how temperatures have been cooling .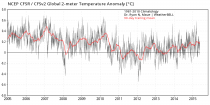 Enlarged
It is in the region of CONTRAST that the jet stream is energized and severe weather occurs. When it is too warm or too cold from north to south, activity is depressed. Global warming would diminish the contrast north to south and result in weaker storms, a weaker jet stream, fewer tornado outbreak and strong EF3-5 tornadoes. It is in cold springs that outbreaks and strong tornadoes occur as the warmth and moisture eventually advances north to interact with the cold troughs.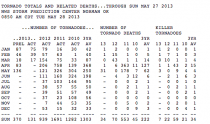 Enlarged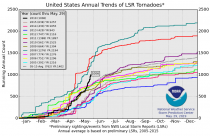 Enlarged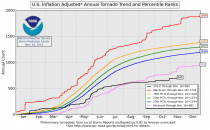 Enlarged
We are passing the peak of the severe weather season. The delayed shift north of the jet stream and alternating cooler and warmer weather will allow for some catch up.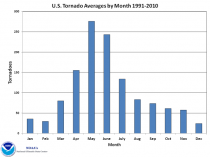 Enlarged
See the activity year to date this year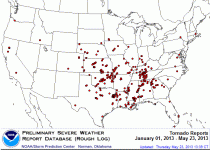 Enlarged


Enlarged
See how suppressed the 300mb jet stream has been on average.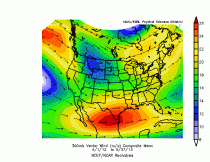 Enlarged
See the activity last year (whole year).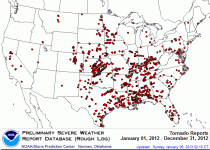 Enlarged


Enlarged
See how far north and weak the jet stream was. Tornadoes were above normal in southern Canada, below in the CONUS.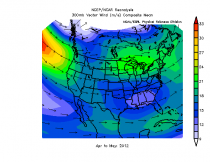 Enlarged
In 2011, coming off the strongest La Nina since the 1950s or early 1970s, the jet stream was ideal for severe weather with a southern jet and northern jet. Tornadoes were favored to the left front of the southern jet and right rear portion of the northern one. That is where upper divergence is favored.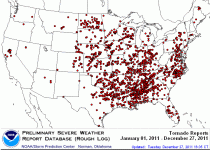 Enlarged


Enlarged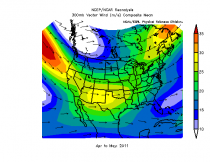 Enlarged
See how the negative PDO which favors La Ninas by 2 or 3 to 1 and favors stronger (EF3-5) tornadoes (and more big outbreaks) correlated well with the EF3-5 counts.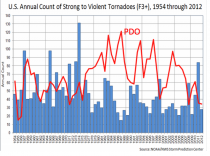 Enlarged