Wednesday, June 17, 2015
Media hypes 'monster storm Bill', so called record heat pace for 2015 - reality check
By Joseph D'Aleo, CCM
Here is what many main stream media outlets are calling 'monster storm Bill' or a massive storm...hyperbole to the extreme.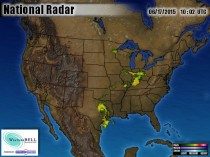 Enlarged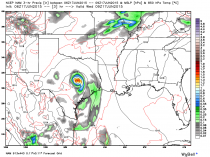 Enlarged
Over a dozen Bills would fit comfortably inside of Texas (as well as the entire world's population with quarter acre homes and property despite the proclamations of some very big name people worried about the world running out of room and calling for an effort to depopulate the planet from 7 to under 1 billion). One will be standing aside the Pope Thursday when he reads his encyclical.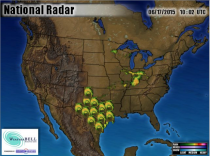 Enlarged
I don't mean to minimize any pain for those who a few years back suffered from drought and now flooding. We are reliving the 1950s as honest brokers like Huug van den Dool at CPC have noted based on analogs of global ocean temperatures. Devastating Hurricane Audrey occurred in June 1957 following the megadrought that lasted 7 years in Texas (this drought was less than half that one).
The rains this past year have been promoted as unprecedented. You may recall the drought the last 4 years (June to May to incorporate this wet May) was called the start of a permadrought from Climate change. See how the last 12 wet months or the prior 48 months of dryness were both not unprecedented. The trend flat a few years ago is up slightly.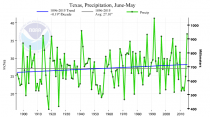 Enlarged
After it leaves the too wet south central states, the storm will help improve soil moisture to the northeast where the last two months have been too dry.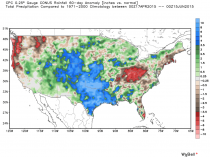 Enlarged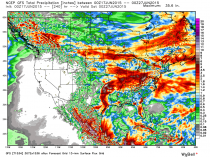 Enlarged
Thinkprogress has continued their hype campaign based on NASA data shenanigans
"Historically, the global temperature trend-line is more like a staircase than a ramp. We now appear to be headed for a step-jump in global temperatures - one that scientists have been expecting. NASA reported this week that this was the hottest five-month start (January to May) of any year on record. Climate expert and UK Guardian columnist John Abraham put together this chart of how the start to 2015 compares to previous years. As Abraham notes, "2015 is a whopping 0.1C (0.17F) hotter than last year, which itself was the hottest year on record."

Sorry John you are wrong again (I can't remember a day when Soros funded TP and Abraham have even been correct). Note I would have used the word right, but of course TP is far, far left.
The global data that goes into the models run by NOAA four times a day (not manipulated because they need to get the forecasts right) says this year to date is unremarkable (middle of the pack back to just 2005).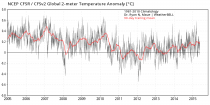 Enlarged
The satellite data (average of RSS and UAH6.0) also shows no warming since 1996 and certainly nothing remarkable in 2015.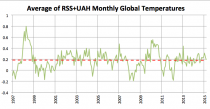 Enlarged
Yes there will be a poke up with the El Nino in upcoming months (always does) but with the Atlantic colder and the sun heading toward a long, deep slumber, watch out below the last years of this decade. The Royal Society say the pause (now 18.5 years) would have to last 50 years before they would regard their theory as questionable. I hope I am around long enough to watch them (all of them) admit their failures. I suspect like Erlich's doom projections of the 1970s of millions of death starting in the 1980s from starvation from overpopulation and scarcity of resources/famine, this whole scare may just disappear into the dustbin of history. My fear though is that the damage to our economy and way of living will be unrepairable as they are discovering too late in Europe.