Thursday, October 25, 2012
Monster Halloween Storm in the cards - second year in a row
By Joseph D'Aleo, CCM
Details are still to be worked out, but a major block east of Labrador and a strong digging trough and Sandy will combine to produce hurricane force winds, heavy rains, and further west mountain snows.It is likely to hit during a full moon, when tides are near their highest, increasing the risk of coastal flooding. And because many trees still have their leaves, they are more likely to topple in the event of wind and snow, meaning there could be widespread power outages lasting to Election Day.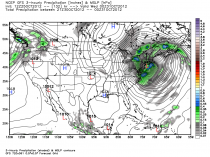 Enlarged.
The daytime GFS model has a sub 950mb low south of Long Island in 5-6 days. The other models bring the storm back in from anywhere from the Mid Atlantic to New England. The GEM 12Z has it 952mb moving west to the coast south of Long Island. By 120 hours it is inland vertical under a deep upper low over nw New Jersey.
Snow will fall in the central Appalachians. This storm will cause significant coastal flooding and beach erosion coming near full moon and strong winds that will cause downed limbs, trees and power outages. The lack of heavy wet snow in the coastal areas and New England will men outages should be briefer.
Come to Weatherbell.com and see posts and videos and Ryan Maue's marvelous model page. The Sandy threat was forecast weeks ago. See on the site why this pattern fits the winter pattern we have been projecting.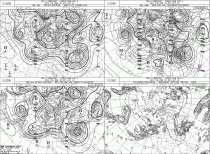 Enlarged.
The European model is even further south on an Isabel like jaunt up close to Chesapeake Bay.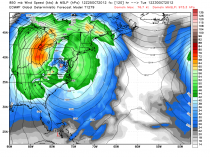 Enlarged.