Wednesday, October 10, 2007
More on The Great Pacific Climate Shift and the Relationship to Temperatures and Arctic Ice
By Joe D'Aleo, CCM, ICECAP
In a recent guest blog, John McLean explained how Australia's CSIRO and Bureau of Meteorology (Power and Smith) respectively were reporting a period of unprecedented El Niño dominance the last 30 years, which they blamed on human activity. Last year in May it was Vecchi who told us there was a just 1% probability that this was due to natural events. On The Weather Channel blogs, meteorologist Stu Ostro, also found a similar continuity shift in weather pattern starting 30 years ago. Blog comments back to Stu and John McLean's blog here showed how the change had precious little to do with anthropogenic factors but was a large scale cyclical climate shift known for decades as the Great Pacific Climate Shift and in more recent years as a phase change in what has come to be known as the Pacific Decadal Oscillation.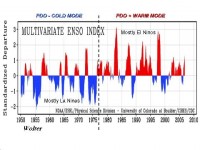 In this analysis, we show how these are simply changes resulting from multidecadal oscillations in both the Pacific and Atlantic. In addition we show how these cycles correlate extremely well with temperatures in the United States and the arctic. These cycles likely also are responsible for the recent decline in arctic ice as was previously observed in the 1930s and 1940s when arctic temperatures last peaked.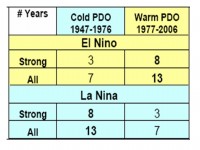 See full analysis in pdf format here
Also see paper on Anthony Watts blog "Watts Up with That" by retired California State Climatologist Jim Goodrich on the PDO, solar and California climate.