Monday, February 13, 2012
NASA and Climate Central: Lying About The Past
By Steve Goddard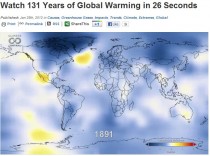 Watch 131 Years of Global Warming in 26 Seconds
There is an incredible amount of misinformation in this video. The first problem is that it starts in 1884, not 1880. But the real problem is that much of their land data is not from any known source.
I overlaid the land coverage of GISS 1884 (green below) on the animation frame from 1884. Note the great detail in the animation over Africa, South America, and central Asia – where they had no data. In Antarctica they had no data at all, yet drew in a tremendous amount of completely fraudulent detail! The first land based exploration of Antarctica didn't even occur until 1892. Outside of Australia, they only had three or four land based thermometers in the entire southern hemisphere.
They must be using 5,000 km smoothing with highly detailed imaginary sub-smoothing.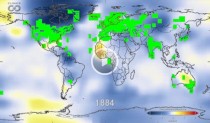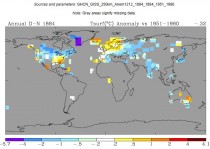 ---------------
Vitter, Inhofe Continue Investigation Into Allegations of Scientific Misconduct by Obama Administration
Washington D.C. - As part of their ongoing investigation into the scientific misconduct within the Obama Administration, Senator David Vitter (R-La.) and Senator James Inhofe, Ranking Member of the Senate Committee on Environment and Public Works, sent a letter today to Secretary of the Interior Ken Salazar asking him to explain why he consistently ignored serious complaints regarding the scientific integrity of the Director of the National Park Service (NPS) Jon Jarvis, and why these allegations were not addressed during Mr. Jarvis' nomination process.
On three occasions in 2009, as Mr. Jarvis' nomination for this Interior position was being vetted, a distinguished member of the National Academy of Sciences (NAS), Dr. Corey Goodman, wrote to Secretary Salazar explaining in detail 21 instances of scientific misconduct by Mr. Jarvis - yet in all three instances, Secretary Salazar failed to respond. In May 2009, however, Secretary Salazar asked Mr. Jarvis to address these 21 counts on his own, but Mr. Jarvis only responded to 7 of them prior to his nomination.
Senator Vitter: "We've seen facts manipulated and science ignored across the administration while they've developed policies with huge negative effects on the economy. We want the public to be aware of the administration's scientific gimmickry, because important policy decisions by the EPA and Interior shouldn't be based on guesswork or manipulated facts - and we want the agencies to be transparent and explain their methods."
Senator Inhofe: "It is extremely troubling that 21 counts of scientific misconduct by Mr. Jarvis were either ignored or only partially addressed by Secretary Salazar, especially as Mr. Jarvis was being considered for a key post within the Department of the Interior. However, given the numerous examples of the Obama Administration using dubious science to bolster their agenda, I am not surprised. Senator Vitter and I will continue to pursue this case, as well as the many other instances of scientific misconduct with the Obama Department of the Interior and EPA, until we have answers."
Today's letter marks the latest in a series of instances uncovered by Senators Vitter and Inhofe which display a serious lack of scientific integrity within the Obama Environmental Protection Agency (EPA) and the Department of the Interior.

The EPA and Interior should be defunded should America come to its senses and remove the current administration.