Wednesday, February 11, 2009
New Maine and New England All-Time Cold Record Confirmed
By Giselle Goodman, Maine Portland Press Herald - Maine Today
The National Oceanic and Atmospheric Administration, U.S. Geological Survey and Maine State Climate Office announced today that a minus-50 reading in northwestern Maine held up to scientific scrutiny. That beats Maine's old record of 48 below zero set in 1925 in Van Buren, and ties the record for coldest temperature recorded in New England. That reading was made in 1933 in Bloomfield, Vt.
The record on New Hampshire's Mount Washington is minus -47. Maine's minus-50 reading was made on Jan. 16 at a remote site along the Big Black River near the Quebec border as the region was in the grip of a blast of arctic air.

By the way after a thaw this week, cold air will return starting Friday to the nation. Watch for lots of cold and snow probably the rest of the month.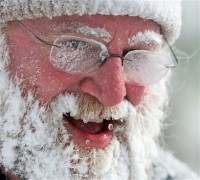 See story here. Don't expect it to receive a lot of national media coverage.