Sunday, April 17, 2011
NOAA NCDC bends the truth big-time in release
By Joseph D'Aleo, CCM
In this special report, NOAA claims rapid warming of the oceans and record ice melt.
"Analysis by the National Climatic Data Center revealed that March 2011 was the 13th warmest on record since 1880. Temperatures in much of the U.S., Siberia, and Africa yielded land surface temperatures that were 1.49 deg F (0.83 deg C) warmer than the 1971-2000 comparison period; Canada, China and Southeast Asia, and Australia were cooler than average. The average global ocean surface temperature was 0.65 deg F (0.36 deg C) above normal, but as La Nina continues to weaken, this number may actually increase."
Lets look at the UAH plot of temperatures: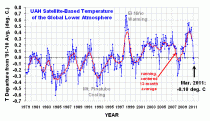 Enlarged.
Dr. Roy Spencer notes: "The global average lower tropospheric temperature anomaly for March 2011 fell to -0.10 deg. C, with cooling in both the Northern and Southern Hemispheric extratropics, while the tropics stayed about the same as last month. "This is relative to the 1979-2010 mean. March 2011 was the 15th coldest March in the 33 of satellite data for the globe using the much more reliable UAH data set. That of course can't be the case and be the 13th warmest in 122 years as NOAA claims.
Ocean temperatures also stayed below normal in March (UAH reports that sea surface temperatures were 0.12C below normal).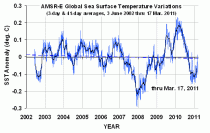 Enlarged.
The lower atmosphere over the ocean temperatures globally averaged -0.12C versus the 1979 to 2010 climatology. That is the 10th coldest in 33 years, again in sharp contrast to NOAA claims.
Snowcover remained well above the normal through March and into Mid April.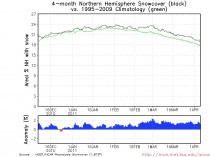 Enlarged.
Here is NOAA's own hemispheric snow data for March. March 2001's POSITIVE anomaly is the greatest in a quarter century.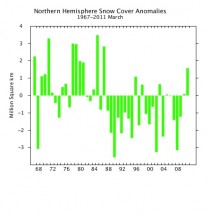 Enlarged.
Sea ice actually bounced in March into April and is in the middle of the pack of recent years with the least decline in the record through mid April.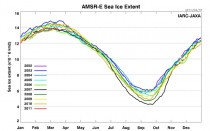 Enlarged.
As Steve Goddard comments here "Someone at NOAA is pulling facts out from where the sun never shines." Another reason why congress needs to continue effort to dedfund the NOAA Climate Service and privatize it.