Monday, November 18, 2013
November tornado outbreak in the quietest tornado year on record sign global cooling has begun
PLEASE HELP:
Unlike the alarmists blogs and media sites, realist sites aren't funded by Soros or Fenton Communications, or foundations like Rockefeller, Pew and Heinz or the enviro groups. Instead all we get we get harassment. and ironically the alarmists like to claim WE are motivated/well funded by big dollars from big oil and the Koch brothers. I assure you we get no such funding. We hobble by, paying the rather steep maintenance fees (needed for security and to stop the Denial of Service Attacks we experienced before). Some months we end up paying the fees from our own pockets. I am fortunate to work at Weatherbell Analytics but my salary goes to pay my bills and college loans and we live a simple lifestyle. I don't post as much as I used to as my duties at Weatherbell are 7 days per week. But I try and keep this and redneckusa.wordpress.com going after my other duties are finished. I have been asked to keep ICECAP going because of the 6700 stories that can be used (our search can provide you a wealth of info on most topics). We tend to focus on data not as much on papers which suffer from a failing peer review process.
I am also working with lawyers and scientists to battle the EPA and this month to do another in a series of cable TV shows exposing the fallacy of AGW and lunacy of the energy policy in Washington and NH. My partner Art Horn will again be part of the cable show. He has to travel almost 4 hours to get here. Your DONATIONS (left button) would be greatly appreciated to help us go the extra mile. We will post the cable show YOUTUBE video and can help you do the same in your local area to educate you neighbors and if you wish provide you the graphics. As always, we greatly appreciate your help. Of course, we all will be giving aid to our friends in the Philippines who suffered from Haiyan as well as out returning soldiers who have given so much for our country and those hit hard by the rash of November tornados in Illinois and Indiana this weekend. We hope you will think of them too and find a way to help these people in need.
Sincere thanks,
Joe D'Aleo and Art Horn
-----------
By Joseph D'Aleo, CCM
A strong outbreak of severe weather hit the central states Sunday as Joe Bastardi on Weathrbell warned Saturday. Tornadoes were concentrated in the Midwest with Illinois, Indiana, Kentucky and southeast Missouri hardest hit.
High risk areas and outbreaks in November do happen - most recently in 2002 and 2005 as SPC noted.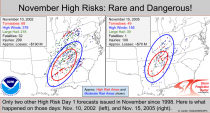 Enlarged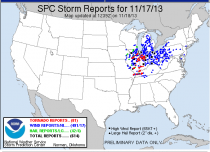 Enlarged
The ORD NWS showed animations of some supercells.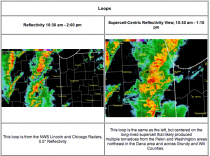 Enlarged
Left loop is from the NWS Lincoln and Chicago Radars, 0.5 degree Reflectivity. The right loop is centered on the long-lived supercell that likely produced multiple tornadoes from the Pekin and Washington areas northeast in the Dana area and across Grundy and Will Counties.
And here are rotation tracks of the long track storms in the Chicago area.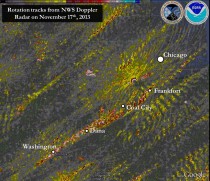 Enlarged
Other November Chicago outbreaks occurred in earlier years.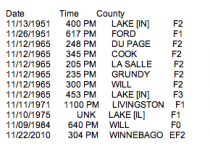 Enlarged
But we are tracking beneath all years in the record for number of tornadoes year-to-date.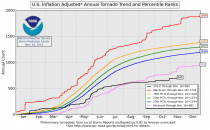 Enlarged
So as of November 16, we appeared to be running 187 tornadoes BELOW THE ALL TIME QUIETEST SEASON on record since 1954. With the 81 tornadoes (there are likely many duplicates as the long track storms are observed multiple times by observers. NWS will eliminate duplicates. They average a reduction of 15-20% and in some cases more (like thi with longer tracks) but even if it was 70, we will still be running 117 below the all time record lowest.
This time of year you can get tornadoes even without extreme surface heating because the jet stream is stronger. You need that contrast so it will occur not in warm November but cold ones which provide the contrast. Warm Novembers have the jet stream up in Canada and people enjoy Indian Summer not severe weather. WIth the warm temperatures in between cold air masses this weekend, some areas popped temporarily above normal but that will be short lived. We had temperatures 10 to as much as 20 to 30F below normal in the air mass prior to the storms and will se 20F below again with snow. With that kind of cold, strong jet streams can develop even with temperatures in the 60s and 70s and the winds can with shear spin up tornadoes.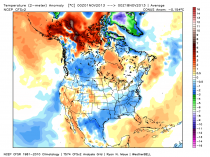 Enlarged
Here are days 1-5 and 6-10 anomalies (weatherbell.com). Going to be a cold and in many areas not expecting it a white pre Thanksgiving.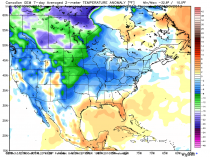 Enlarged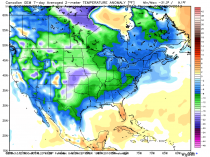 Enlarged
Snow cover shrunk back west and globally the early positive anomalies have gone but that is temporary as snow is coming to the US, Asia and Europe this week.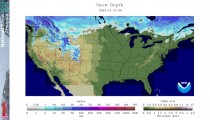 Enlarged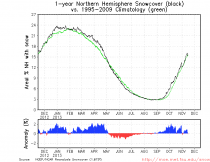 Enlarged
See how it has been more snow since October 1 in the Rockies and northwest.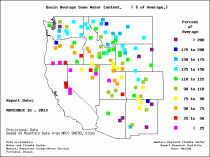 Enlarged
See how a few systems promise more the next 10 days.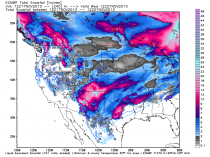 Enlarged
Note how the snow extends into the central AND southern Plains, northern Delta and Midwest.
See it explode in Asia above and Europe below.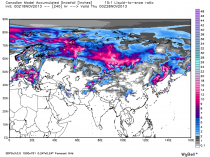 Enlarged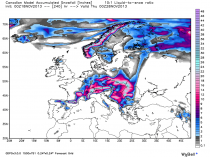 Enlarged
Last year November to April snow extent in the hemisphere was the highest on record. We started faster this year than last. 4 of the top 5 snowiest winters on record have occurred in the last 6 years. UKMO, NOAA, UCS all had predicted snow would be decreasing a decade ago due to warmer conditions. Temperatures have not warmed for 16 years and cooled since 2002 globally.