Saturday, March 11, 2023
Ode to my dear Emily
Joseph D'Aleo
My dear wife Emily passed away March 5 from complications of COVID. We all in the household got COVID February 10. Much of what we had to do and are dong still is very painful, but the easiest thing was to give the Eulogy on this wonderful life-long Partner at the Funeral Mass.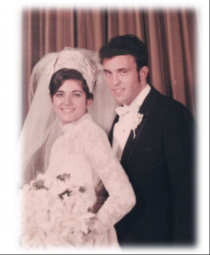 EULOGY
I had God's great gift of knowing Emily for 60 years and as my dear wife for 54 years. Her high school friend Dorothy who briefly dated my brother told Emily she thought that we would be a perfect match. She set up the phone call.
She was so easy to talk to. The 5-minute call I expected went 50 minutes. She asked me to take her to the Brooklyn Public library on a first date to do a term paper for school on psych drugs - a preview to her nursing school and career. She was beautiful… always was. I met her parents and found them intelligent, sweet. I left thinking this had real promise.
I went off to college, then she went to Bellevue Nursing school. We would talk frequently and every break and summer we were together until I finished my undergrad degree. We were married September 1969 and she returned with me to my grad school in Madison, Wisconsin,
That was start of a 7-stop journey - a little like a military family.
She was very supportive of the job moves and we saw first hand that with prayers God provided the next, even better opportunity just when we needed it. Prayer works.
She devoted 35 years to nursing. Bellevue training was like being a graduate of Harvard. When we moved to VT from NYC for my college professor role, Emily went to the local hospital and said she was looking for work, her training was at Bellevue Hospital in NY. The women stopped her and said "when can you start"… the beauty of being a nurse and Belleview grad.
She had our 2 daughters in Vermont and after, she worked the evening shift so we were so we had 24 hours coverage. Her mom and dad moved to Vermont in 1977 and lived very close by. He loved Vermont, it reminded him of his youth in Sicily.
But 3 years later God had other plans for us. In 1980 I joined John Coleman to work nights producing Good Morning America and help him plan for his dream of a cable TV Weather Channel and suddenly we were off to Atlanta to make it happen. It was a huge success. We all loved the 10 years in Atlanta.
In 1989, we came to NH to be closer to her mom and dad, who were not well. I worked for the technology and weather data partner to The Weather Channel. After her dad died, her mom came to live with us. Emily worked nights, again so she would be home when I was at work. She sadly passed before my daughter Christine married Jeff Willett. But Emily and I were able to see our girls excel in college and Christine and Jeff bring Joy into our lives with beautiful, sweet and talented Grace, Abby and Elle.
We all made lifelong friends over the years. Emily and I and the girls cherished them. Many are here, some from many miles away. Many others very close in our youth are here in spirit, as they can't travel. Her friends could fill the church.
Starting 20 years ago, I have worked out of my home with God's grace, I had a chance to be with my sweet Emily full-time.
Emily was a devout Catholic. I have to believe after she took her last breath a few feet away from me and she left us, an image firmly imprinted on my mind, she was on the express line through the pearly gates into heaven.
Matthew 16 and 18
"And I tell you, you are Peter, and on this rock I will build my church… I will give you the keys of the kingdom of heaven."
I believe St. Peter welcomed her - took her inside to see Jesus, her mom, dad, family and friends. From there, she can watch and from afar maybe help guide us. I sense that a bit already.
Like most couples, we split responsibilities - she dealt with our finances.
During the first week after her death, when I could not find important papers I panicked. Somehow maybe with her guidance from above, I would suddenly calm down and find what I needed. I constantly look up and talk to her - "How am I doing babe" "Thanks for your help" "I really miss you"
-------------------------------------
This sudden loss is very tough as less than a month ago, she was well and in good spirit and looking forward to her favorite season, the spring. Donna is arranging to have Emily interned in the spring in Lyndonville VT next to her mom, dad and grandma in a Catholic cemetery by a beautiful small ski lift called the Outing Club. My daughter Donna goes up there to clean their tombstones every few years. It will be a celebration of Emily's life and her legacy.
John 14 gives me hope for Emily and a reunion "My Father's house has many rooms...and if I go and prepare a place for you, I will come back and take you to be with me… that you also may be where I am."
Save a spot for me with Emily, Lord.
We thank all of you for your prayers and show of support for us, and affection for Emily. It means so much to us.