Friday, December 02, 2016
Pope Francis calls climate change a 'sin'
"It's easier to fool people than to convince them that they have been fooled." Mark Twain
By Bradford Richardson The Washington Times - Thursday, September 1, 2016
Pope Francis is imploring Catholics to confess their sins against the environment, calling the degradation of the climate a "sin against God."
In his message marking the World day of Prayer for the Care of Creation on Thursday, the pontiff said climate change is caused in part by human activity, leads to extreme weather and disproportionately affects the least advantaged around the world.
"Global warming continues, due in part to human activity: 2015 was the warmest year on record, and 2016 will likely be warmer still," Francis said. "This is leading to ever more severe droughts, floods, fires and extreme weather events." "The world's poor, though least responsible for climate change, are most vulnerable and already suffering its impact," he said.
Citing last year's controversial encyclical on the environment, "Laudato Si," the pontiff said "for human beings to contaminate the earth's waters, its land, its air, and its life - these are sins."
He added that "to commit a crime against the natural world is a sin against ourselves and a sin against God."
Francis urged Catholics to repent of their sins against the environment and listed several ways to become more conscientious consumers, including "avoiding the use of plastic and paper," "using public transportation or car-pooling" and "planting trees."
----------
Pope warns Trump: Do not back away from UN climate pact - Pope declares 'crisis of climatic change'
By: Marc Morano Climate Depot November 29, 2016 11:49 AM
Pope Francis has issued a climate change challenge directly to President Elect Trump. The Pope, in thinly veiled speech, urged Trump not to withdraw the U.S. from the United Nations Paris agreement reached in 2015. The UN treaty has been said by critics to be "history's most expensive treaty'," with a "cost of between $1 trillion and $2 trillion annually."
Pope Francis warned of the "crisis of climate change." "The 'distraction' or delay in implementing global agreements on the environment shows that politics has become submissive to a technology and economy which seek profit above all else," Francis said, in what Reuters described as "a message that looked to be squarely aimed at" Trump.
Trump pledged to pull the U.S. out of the UN Paris climate agreement and defund and withdraw from the UN climate process. See: Trump wins U.S. Presidency! Climate Skeptics Rejoice! Set to dismantle & Defund UN/EPA climate agenda!
Speaking to a group of scientists, including physicist Stephen Hawking, the pope said in his speech that scientists should 'work free of political, economic or ideological interests, to develop a cultural model which can face the crisis of climatic change and its social consequences".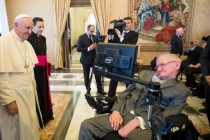 (Pope Francis greets Stephen Hawking (R), theoretical physicist and cosmologist, during a meeting with the Pontifical Academy of Sciences in Vatican, November 28, 2016. Osservatore Romano/Handout via Reuters)
Pope Francis also called for "an ecological conversion capable of supporting and promoting sustainable development." In 2015, the Pope issued an encyclical on climate and the environment titled "Laudato Si: On Care for Our Common Home." In a 2015 Climate Depot Special Report revealed the Pope's inner climate circle were. See: 'Unholy Alliance' - Exposing The Radicals Advising Pope Francis on Climate'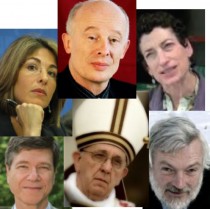 The report noted: "The Vatican relied on advisors who are the most extreme elements in the global warming debate. These climate advisors are so far out of the mainstream they even make some of their fellow climate activists cringe...The Vatican advisors can only be described as a brew of anti-capitalist, pro-population control advocates who allow no dissent and are way out of the mainstream of even the global warming establishment."
Matt Briggs wrote: As long as Pope Francis hangs onto his Argentine crony Marcelo Sanchez-Sorondo, we will continue to hear nonsense from the Vatican. Recall that Sorondo said during 2015 that climate change was as important an issue as abortion—something that made every faithful Catholic in the world gag. Sorondo got stars in his eyes from being allowed to hang out with Ban Ki-Moon, Jeffrey Sachs, and other UN dignitaries. He ignored the entire UN-approved practice of forced abortions, sex-selection abortions, etc. etc, and latched onto the standard climate change orthodoxy. Subsequently, Sorondo stuck that into "Laudato Si,' an otherwise splendid document which will forever be degraded by that climate claptrap. Probably it was Sorondo who got the Pope to criticize Trump lately. Sorondo hasn't let up at all on the climate-change gas pedal since his UN exuberance of 2015.