Wednesday, February 11, 2009
Taking a Time Machine Ride Back to the 1960s or 1800s?
By Joseph D'Aleo, CCM, AMS Fellow
There are signs our weather is taking a time machine ride back to the regimes of the 1960s or even the late 1700s early 1800s. Our climate operates in cycles, which favors different regimes of weather. We have come out of a few decades that thanks to a warm Pacific resulted in a dominance of El Ninos and its typical southern storm tracks and warm, dry western North America.
The Pacific has cooled and now favors La Ninas, which have dominated the last two winters. This has resulted in a more northern storm track (and as we reported in earlier stories (here and here and here), record monthly or seasonal snows).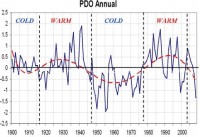 See larger image here.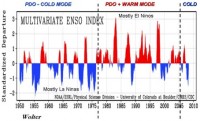 See larger image here.
See how cold PDOs of the 1947 to 1977 led to mainly La Ninas
The Atlantic is cooling too. The AMO has declined from its 2004/05 peak. The sum of the PDO and AMO (normalized) we have shown correlates well with US annual temperatures.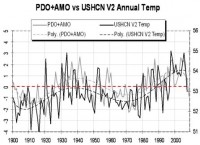 See larger image here.
In earlier reports, we have shown how the solar cycles also have a profound affect on climate (for example here and here). An active sun through direct and indirect factors leads to warming oceans and through them the land, and a quiet sun to cooling of oceans and land.
In the last century, we are with the cooling of the oceans, and a quiet sun most like the 1960s (graph below), a cold era as shown in the graph above.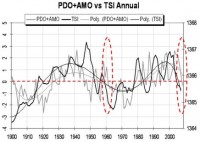 See larger image here.
See how well the temperatures match with the solar and ocean cycles.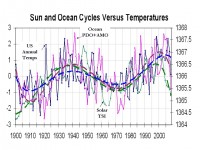 See larger image here.
Longer term the sun is behaving like it did in the last 1700s and early 1800s, leading many to believe we are likely to experience conditions more like the early 1800s (called the Dalton Minimum) in the next few decades. That was a time of cold and snow. It was the time of Charles Dickens and his novels with snow and cold in London (hmmmm).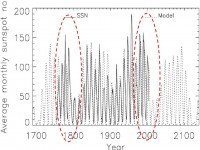 See larger image here.
During these cold modes, more La Nina winters like this occur, El Ninos occasionally develop, tend to be briefer and weaker and thus colder and snowier than the El Ninos of the warm eras. If a major volcano occurs, the cold deepens. See the complete story as posted on Intellicast here.