Monday, October 28, 2013
The eyes of Texas are upon us
By Joseph D'Aleo
ENSO has an effect on annual temperatures in the US and globally. Major volcanism plays a role with multi year cooling with a lack of volcanism leading to warming.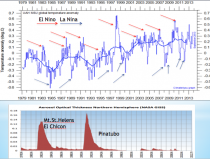 Enlarged
El Ninos produce a global pop in temperatures and La Ninas a dip. The frequency, strength and duration of El Nino and La Nina varies with the Pacific Decadal Oscillation (PDO).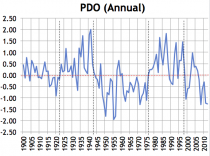 Enlarged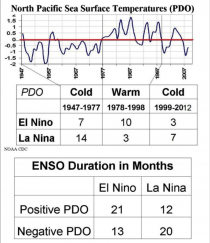 Enlarged
The positive PDO which favors more El Ninos bring global warming, the negative PDO more La Ninas cooling.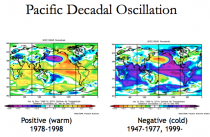 Enlarged
The Atlantic also has an effect (besides increasing Atlantic tropical activity and summer ice melt and winter high latitude blocking which brings more cold and snow to Eurasia and North America). The positive (warm) AMO leads to global warming and the negative state cooling.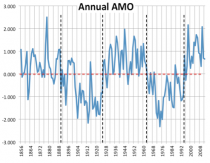 Enlarged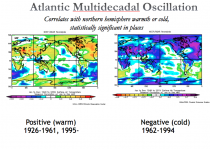 Enlarged
See the step change with the AMO flip in 1995.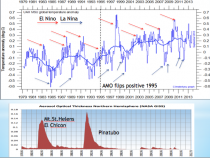 Enlarged
Both the AMO and PDO produce warming in their warm mode and cooling in their cold mode. Obviously when both are warm, the global temperatures should be warmest and when most negative, coldest.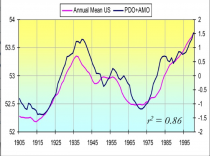 Enlarged
You see a connection (all data with 11 point smoothing)?
For our friend John Neilson Gammon, Andrew Dessler and the other idealogues in the once great Texas A&M program, I present the Texas annual temperature (NCDC) versus the sum of the AMO and PDO (both standardized, which offsets the fact that the indices are determined in different ways). Both the AMO and PDO have the same tripole ocean anomaly pattern.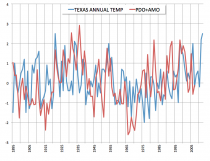 Enlarged
The AMO drives the drought frequency in the southern plains and Corn Belt with location determined by the PDO (McCabe etal 2004).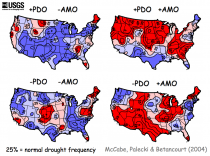 Enlarged
BTW, CO2 rose according to ESRL the whole time the temperatures in Texas, the US and globe rode the AMO/PDO roller coaster. Oh and about the sun, well the TSI suggests the sun may drive the AMO and that the AMO may start an early decline soon.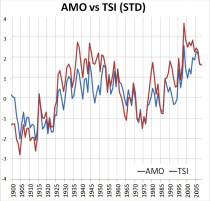 Enlarged