Thursday, August 23, 2007
The HO83 Hygrothermometer
By Steve McIntyre, Climate Audit Blog
In the discussion of the Tucson weather station, Ben Herman of the U of Arizona observed that there were serious biases with the HO83 hygrothermometer - introduced in the early 1990s - which was said to be a contributor to the uptick to Tucson values. Although USHCN has implemented adjustments to U.S. data to deal with time-of-observation bias and station history, both of which resulted in significant upward adjustments of recent data relative to earlier data, I have been unable to see any evidence that either NOAA or NASA made any attempt to adjust for the upward bias of recent readings using the HO-83 thermometer, although its problems are thoroughly discussed in the specialist literature.
So problems with the HO83 thermometer are amply documented in specialist literature. USHCN has been quick to adjust time-of-observation bias which worked in the direction of increasing 20th century trends - what have they done to adjust for HO83 bias which caused an upward bias to measurements in the 1990s?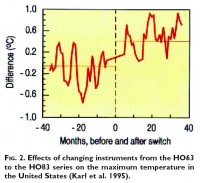 I must confess that this indicates at least the possibility of a bias in adjustment decisions: one is hard-pressed not to take away an impression that, if the HO83 adjustment had increased 20th century trends, that Karl and Hansen would have been on it like a dog on a bone, but, since the adjustment will lower late 20th century temperatures, the adjustment mysteriously becomes too elusive to implement. Just an impression.
Read more here on Steve's blog.