Wednesday, August 21, 2013
The UN is 95% sure on AGW while unable to explain why there has been no warming over past 16 years
The UN is 95% sure on AGW while unable to explain why there has been no warming over past 16 years
Hockey Schtick
According to Reuters, the new draft of the IPCC AR5 claims "it is at least 95 percent likely that human activities - chiefly the burning of fossil fuels - are the main cause of warming since the 1950s." "That is up from at least 90 percent in the last report in 2007, 66 percent in 2001, and just over 50 in 1995."
However, all of these fatuous figures are pulled `out of the air to support the IPCC ideologies and not based upon any statistical analysis or science. Meanwhile, they can't explain why there has been no global warming over the past 16+ years:
An IPCC draft says there is "medium confidence" that the slowing of the rise is "due in roughly equal measure" to natural variations in the weather and to other factors affecting energy reaching the Earth's surface."
Scientists believe causes could include: greater-than-expected quantities of ash from volcanoes, which dims sunlight [there haven't been any recent major eruptions]; a decline in heat from the sun during a current 11-year solar cycle [after claiming in past that such variations could not affect climate]; more heat being absorbed by the deep oceans [why wasn't it absorbed at the same rate in the past?]; or the possibility that the climate may be less sensitive than expected to a build-up of carbon dioxide [now we're talking!].
"It might be down to minor contributions that all add up," said Gabriele Hegerl, a professor at Edinburgh University. Or maybe, scientists say, the latest decade is just a blip."
-----------------------------------------------------------------------
Anthony Watts writes
Drafts seen by Reuters of the study by the U.N. panel of experts, due to be published next month, say it is at least 95 percent likely that human activities chiefly the burning of fossil fuels are the main cause of warming since the 1950s.
OK, so here's the 64 thousand dollar questions for IPCC cheerleaders:
Which side is which time period?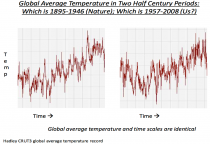 Enlarged
What caused the warming before CO2 became an issue to be essentially identical to the period when it is claimed to be the main driver?
How is the IPCC 95% certain one side is caused by man and the other is not?
--------
The IPCC number in the last report was admitted to be one, chosen to prompt action by countries - supporting the UN agenda with funds and agreements. I'll use their own words to show the motivation.
"The data doesn't matter. We're not basing our recommendations on the data. We're basing them on the climate models." Prof. Chris Folland, Hadley Centre for Climate Prediction and Research
"The models are convenient fictions that provide something very useful." Dr David Frame, Climate modeler, Oxford University
Kevin Trenberth says "climatologists are nowhere near knowing where the energy goes or what the effect of clouds is. Says nowhere balancing the energy budget."
Kevin Trenberth says they "can't account for the lack of recent warming and that it is a travesty that they can't."
"None of the models used by IPCC are initialized to the observed state and none of the climate states in the models correspond even remotely to the current observed climate. In particular, the state of the oceans, sea ice, and soil moisture has no relationship to the observed state at any recent time in any of the IPCC models." IPCC Lead Author Trenberth in Nature 2007 weblog. (Willie Soon "...garbage in, gospel out")
How are the models doing? Temperatures are tracking well below all scenarios including the one where CO2 holds steady. (It has risen close to 10% the last 16 years when temperatures stopped rising.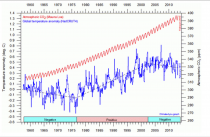 Enlarged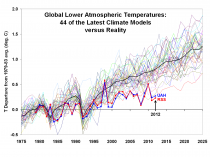 Enlarged
The models all have tropical warming- a hot spot in the upper troposphere and warmth to the oceans. It is not there in the data: balloon, satellite, buoy.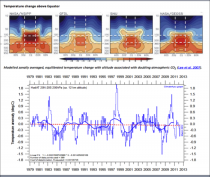 Enlarged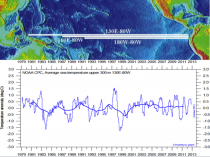 Enlarged
"It doesn't matter what is true, it only matters what people believe is true." Paul Watson, Co-founder of Greenpeace"
"Unless we announce disasters no one will listen." Sir John Houghton, First chairman of the IPCC
"The only way to get our society to truly change is to frighten people with the possibility of a catastrophe" Emeritus Professor Daniel Botkin
Sea levels were forecast to rise 20 feet by AL Gore by 2100, 264 feet by James Hansen. They have slowed to less than 2 mm/year (4 to 6 inches per century).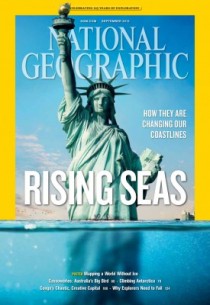 Enlarged
Technology has been employed to try and assess how bad it is. When the technology shows no rises, they 'adjust' the output.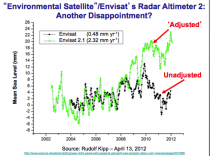 Enlarged
"We are on the verge of a global transformation. All we need is the right major crisis." David Rockefeller, Club of Rome executive manager and Trustee of The Rockefeller Foundation a heavy funder of environmenal causes.
They tried heat waves, but records are 'unadjusted' unlike other trend data and tell the truth - US and global continental all time heat records.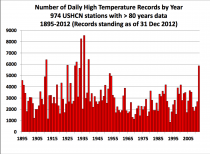 Enlarged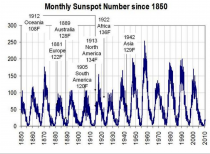 Enlarged
Droughts and floods, show no trends.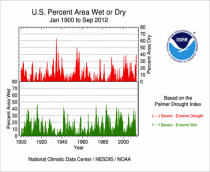 Enlarged
In this year so far the tornado season is the quietest on record, looking back we don't see an increasing trend (though in the cold PDO we may see more years like 2008 and 2011.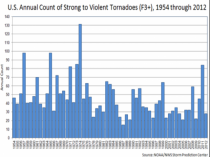 Enlarged
Global hurricane activity in coming off a 34 year minimum.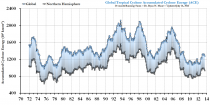 Enlarged
Yes Sandy did a lot of damage but it was because of where it hit and that it hit at high tide in a full moon. It made landfall as a bordeline CAT 1. 8 major hurricanes made east coast landfalls from 1938 to 1960.
Greenland is not warming and melting at an alarming rate. It has warmed as it did the last time the AMO was warm after cooling from the 1940s to middle 1990s.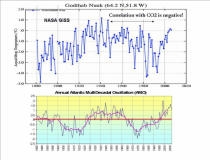 Enlarged
And each successive millennial warming is cooler than the prior one. (Note: Ice core data is from Richard Alley PSU, no skeptic).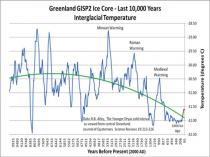 Enlarged
The arctic has seen more melt again due to the AMO but not unlike the middle 1900s and up from 2012 and several other recent years. Temperatures this summer are said to be the coldest in the record (DMI).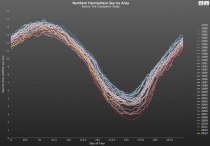 Enlarged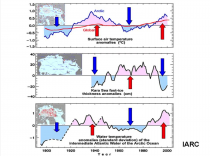 Enlarged
The Antarctic meanwhile is setting new records for ice extent.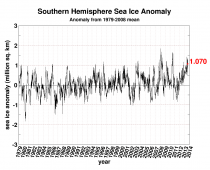 Enlarged
Snow was supposed to be an increasingly rare event but has been setting records in both hemispheres.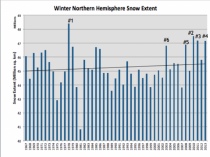 Enlarged
Giorgio Filippo (University of Trieste) says that "The IPCC is not an assessment of published science but about production of results. Says there are very few rules and anything goes. Thinks this will undermine IPCC credibility. Says everyone seems to think it's OK to do this."
"This has almost nothing to do with environmental policy...one must say clearly that we redistribute de facto the world's wealth by climate policy" Ottmar Edehoffer, UN IPCC
Most all of us follow sports. Before the season, if the team looks promising we may have relatively high confidence that the tam will have a good season and make the playoffs and maybe win it all. But often as the season progresses, we get disappointed. The team has a long losing stretch and is well behind the leaders. Our confidence in the teams chances drop. That is not how it works in today's 'science'. No matter how many bad forecasts and projections, the confidence that they are right keeps going up.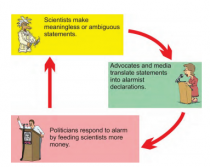 Enlarged
Here is the way it is supposed to work in science - Richard Feynman, famous Cornell Physicist