Sunday, March 25, 2018
The Weather Channel Pioneers - The Book
New website describes the book. With videos and excerpts. It features a spoof video by a Pioneer honoring the Pioneers here and gone.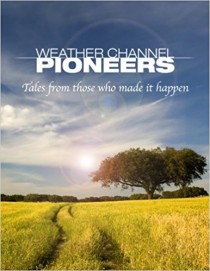 The Weather Channel turns 36 years old May 2nd.
Millions of viewers have watched The Weather Channel over the years. You are probably one of them. Have you ever wondered how the channel came about and what it took to become one of the most successful and well-recognized names in cable. The Founders and doers of the early days have written a book called Weather Channel Pioneers, which answers those questions.
John Coleman first told me about his dream of a 24x 7 cable weather network when I was working as a vacation fill-in weather producer for his weather shows for Good Morning America in the hot summer of 1980. Like a moth to a flame I was drawn to follow him. My family and I left my home in beautiful Vermont to work with John full-time on Good Morning America (GMA) out of the WLS studio in Chicago.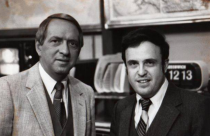 John was a veritable meteorological broadcaster rock star. He worked magic with chromakey green screen technology, pulling weather maps out of the air on WLS and GMA in a world mostly still using magnetic maps. He was winning awards for his on-air weather presentations.
I worked with him, 2 artists and two producers all night starting before midnight to produce 4 shows. As exciting as that was, John was frustrated by the fact the time allotted for each show was never guaranteed. If the news or sports segments ran over, weather took the hit on time.
He was convinced that what was needed was a 24x7 weather network like CNN was doing for news instead of the 15 to 18 minutes of weather/day on the networks and most local channels. We would always be there when they needed weather information - much like what the internet brings today
Over the year, he polished up the business plan and sometimes after his last morning show would fly off to a distant city to try and sell the idea, was rejected or even laughed at, flew home, changed his clothes and came to work. The other days after the last show, we'd go to the office and talk about his weather cable idea. What would we produce and present, how many forecasters and broadcasters and artists would we need, what companies would we team with for data and technology. What doesn't exist we will need to create to do it right.
After a year of rejections though I was feeling a little like Sancho Panza following Don Quixote on his impossible dream quest.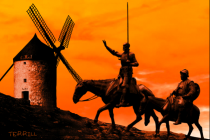 But suddenly there was interest - Dow Jones then WGN - each time the interest and our excitement spiked then faded but then Landmark Communications entered the picture - with newspapers, radio and TV stations, cable systems, they had wanted to expand into cable programming to do news when the CEO developed cancer. While they waited, Ted Turner launched CNN. After the CEO recovered, they set up new venture groups to explore alternatives. One of the members was in a poker game with John Coleman and when John told him about his weather programming idea. He brought him to Landmark, they quickly worked out a deal and we were off and running.
That's when it got crazy - we were off to Atlanta in October1981. John and I were very busy defining the product with the artists and producers. I hired two of my students to help me screen candidates for on and off camera positions. Resumes and tapes poured in during December and January. We hired many over the phone. The Pioneers reported for orientation March 1, we started practicing in April and launched May 2, 1982.
At start-up, amazingly we had 58 full-time broadcasters and forecasters with a total of 66 degrees and 450 years of meteorological experience.
We were state of the art for the time, but the technology was changing at a breakneck pace.
It was just the start of the computer graphics revolution in broadcasting and we lead the way with more than half a dozen such graphics systems including the first in the lines of high resolution paint boxes. Our artists, who originally did some graphics or art on paper that was then captured by cameras, quickly transitioned to using pen and palette. All graphics were funneled through a unique frame storage system.
The On Camera Meteorologists would load their shows and control the graphics display from the studio desk. There were no directors.
In parallel our technical staff worked furiously to be able to deliver the local weather, local forecasts and all severe weather NWS messages. We developed computer units that went into every cable system that knew its location and grabbed and displayed its information in formatted pages in the Local Weather and across the bottom of the screen. For it to work, we had to get the NWS to change how they formatted their local forecasts and warnings with address coding that allowed our systems to know what was important to them and where they get displayed.
When the weather was serious and it usually was somewhere in the nation, we were very serious on-air and worked very hard behind the scenes. When it was quiet, we let our hair down a little (it was the 1980s) and had some fun while still communicating information. The network in the early days was described as the first TV reality show, one of its appeals.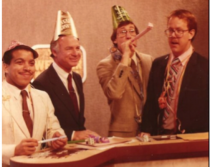 It really was an amazing journey that can't be told in 1000 words, which is why we wrote a book.
In the book, we attempted to capture more of that story, that journey from one man's vision to a shared vision of a large team of wonderful, courageous and talented individuals that came to Atlanta from all corners of the country in many different disciplines to undertake something special and unprecedented, unique people we call the Weather Channel Pioneers.
During this incredibly dynamic period, everyone went straight out, never entertaining the thought that what we wanted to do was impossible. We pulled off everyday miracles, overcame all obstacles and changed the paradigms for technology, weather data and warning delivery, graphics and on-air weather presentations. It was a time and a team like no other.
In the book, the Pioneers tell that story.
http://Weatherchannepioneers.com is the web page that tells you more and links to the Amazon site where you can purchase the book. There are soft copy and e-book versions with over 120 pictures. We dedicated it to john Coleman who sadly passed away late this winter. If you prefer the ebook, go here.
----------
Thanks to my friend Anthony for being one of the early reviewers and his kind words. Ironically the day the book was released, The Weather Channel was sold again.
The book has many amusing anecdotes and untold stories by the 'Weather Channel Pioneers in their own words along with many photos. Those of you who enjoyed TWC years ago will see people you will remember. We invite you to step back in time and experience what it was like to make that dream a success and imagine sharing in that adventure.
---------
Anthony Watts / 3 days ago March 22, 2018
My friend Joe D'Aleo (co-founder of the Weather Channel with the late great John Coleman) have written a fantastic book. John made a lot of headway on the book just before he died, and Joe took it to completion. Joe writes:
"The Weather Channel was the realization of a dream of one incredible man that became a shared vision of a large team of wonderful, courageous and talented individuals that assembled from all corners of the country in many different disciplines to undertake something special and unprecedented."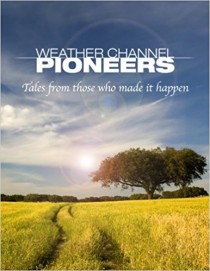 "We like to call these unique people the "Weather Channel Pioneers". To pave that road to success in the early days, we pulled off everyday miracles, overcame many obstacles and changed the paradigms for technology, the delivery of life-saving information and on-air weather presentations all while informing and entertaining our viewers. It was a time and a team like no other. In this book, we immortalize that effort with their personal stories and memories of that incredible journey."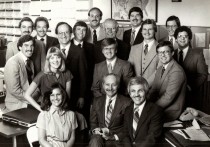 TWC on-air staff, circa 1982
Current Weather Channel meteorologist, Jim Cantore, offered this review:

"Even though I didn't start my TWC journey until 1986, I had no idea as a young man of 22 years what a wonderful opportunity I had been given to learn about life and meteorology from many of these TWC Pioneers. There are too many to name, but dozens of these men and women had a profound and lasting influence on the broadcaster I am today. What an incredible trip down memory lane revisiting the heart and soul of The Weather Channel as it was being born and as it became one of the most trusted brands in the world. These TWC pioneers didn't just start a cable TV weather channel, they saved lives and created a mission of service which still resonates with millions of people to this day."
I had a hand in the early TWC success. I'll never forget the first time I saw TWC. It was at the county fair at the business pavilion, and a local company was selling "satellite TV".
They had their display tuned to "The Weather Channel" and I must have stood there a full 30 minutes watching it. I was mesmerized. I knew then I wanted to be a part of it somehow, and later, my own dream came true when I provided equipment to initially get WSI satellite images into their Quantel still store (which handled the on-air sequences) and later via an IBM PC, which had the very first PC based computer frame-buffer graphics card with a Genlock capable (used to synchronize to the other TV devices) RGB to NTSC encoder to make composite video and keep it synchronized with the other video devices in the studio. It's something that I was thrilled to design.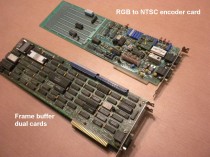 Note the "breadboarding area" on the top card. The reason was that some video switchers (like models from Grass Valley Group) had a specific requirement for horizontal blanking width, which sometimes differed based on the setup at the TV studio. In the digital to analog world, sometimes I'd have to design analog circuitry "on the fly" to compensate for these nuances so that when this device was switched to while in the chroma-key, there wasn't a slight horizontal tick, but a seamless transition. Back then, making NTSC television work reliably was a bit of an art-form.
That story is in the book, as told by John Coleman. There's many other stories where they had to improvise and create things that didn't exist. Mind you, when TWC first started, the way National Weather Service disseminated weather information was by Teletype running at 58.65 baud (there's a whole untold story behind that weird number too) and wide-format wet paper fax machines sold by Alden Corporation, which produced output that looked like this: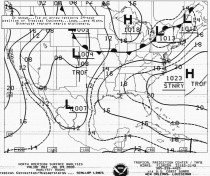 weatherfax.jpg
What TWC did back then and the demands they made, changed the way the NWS did business with the public - and for the better.
I was honored to be working with the TWC team back then, and while I would have loved to be on-air, circumstances at the time just didn't mesh. But I did gain two life-long friends; Joe D'Aleo and John Coleman, who joined me in the fight against the often ridiculous climate change arguments we fight here daily.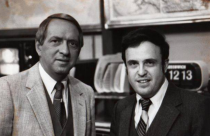 Left, John Coleman Right, Joe D'Aleo
This book is dedicated to the pioneers. It's a profile in vision, innovation, and courage. I highly recommend it.
Available on Amazon, HERE.
-------
Note: Buy Joe Bastardi's The Climate Chronicles in the same order and get free shipping even if you are not on Amazon Premium.