Wednesday, February 06, 2008
Tornadoes Rip Through South in Typical La Nina Fashion
By Joseph D'Aleo, CCM
Yesterday was a busy day at the Storm Prediction Center and local forecast offices in the south. 68 tornaodes were reported with Tennessee and Arkansas hardest hit. CNN put the death toll at 52.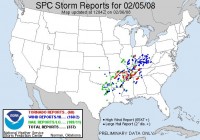 See full size image here.
About a month ago on Jan. 8, tornadoes were reported in Arkansas, Illinois, Missouri, Oklahoma and Wisconsin. Two died in the Missouri storms. Tornado outbreaks are more likely in La Nina years. A few years ago, I did a study of the years with the maximum number of tornadoes for every month and found that from the fall to the spring they were all La Nina years. The Superoutbreak of April 1974 came after one of the strongest La Ninas on record. And Eugenio Hackbart at the METSUL reminded me also in a similar La Nina in a cold Pacific era, in February 1971, more than 100 people died during an outbreak in the Mississippi Delta. This paper by Bove in 1999 supported this La Nina to severe weather outbreak connection. An unpublished manuscript by Knowles and Pielke (1993) observed that tornadoes during ENSO cold phase (La Nina) are stronger and remain on the ground longer than their warm phase (El Nino) counterparts. They further showed that there is an increased chance of large tornado outbreaks (40 or more tornadoes associated with a single synoptic system) during ENSO cold phase (La Ninas). Given the strength of this La Nina, what it has been able to do in January and February and that history, we might expect a very stormy spring from the south to the Ohio Valley. Predictably, someone (this case Senator Kerry) was bound to pronounce the tornadoes were the result of global warming. Fortunately the story had a Storm Prediction Center meteorologist Roger Edwards inject doubts about any global warming and tornado relationship.
In La Ninas, the cold tends to want to stay across the north and strong warmth builds at times across the south. Storms along the boundary feed on the contrast and severe weather often results. To the north of the storm track, it is ice or heavy snow that is the problem and that will be the story over the next few days. As we had indicated a few weeks ago, places like Des Moines, Chicago, Detroit would be first in line and then part of the northeast. With this series of the storms this week, Des Moines will end up with a foot of snow. Chicago's forecast for today is for 12-14 inches over far northern suburbs rangind down to 8-10 in far southern suburbs (see Tom Skilling blog). For Detroit 6-10 inches is forecast with more to the north. In the northeast it is now snowing hard across the north with cold rain in the central areas in sharp contrast to unseasonable warmth to the south (it is actually above 70F in parts of Virginia and coastal Maryland into New Jersey). The rain across central New York State and New England will gradually transition to sleet and snow today and tonight. Thunderstorms will likely be in the cards further south until the cold air begins to filter back in and be reinforced this weekend with an arctic blast. Wild swings as we said a few months back are also typical of La Nina.