Tuesday, January 19, 2016
Fact Check UCS Press Release - two years later
By Joseph D'Aleo, CCM, AMS Fellow
Update as winter returned as forecast and a mammoth snowstorm paralyzed the east, the warmists with UCS and the progressive ideologue junk science purveyors at ThinkProgress are still reporting snow declining in the east OR blaming these events on warming. See more here.
---------------
Winter is underway. It started warm in December as is often the case in El Ninos.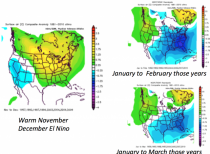 Enlarged
This week the cold will advance east and south. As El Nino weakens and shift west, cold and snow will again become a story as it did last winter. The UCS, an environmental advocacy group whose environmentalists have assumed control of programs at most universities, has since at least 2007, promised the demise of winter sports activity as snow declines as warming accelerates. Here in NH, they again gave that message to the state legislature last year just before the Boston area 100 inches in 39 day snowmageddon. In this post we will examine the winter story and link to a fact check on all the alarmists claims they have made.
Reference: UNH reports warn of drastic climate change - April 4, 2014, Fosters Democrat
INTRODUCTION
This report here details the nine most relevant claims in the UNH report and provides factual data to refute the basis for those claims.
The authors of the UNH study, while making unfounded statements about the climate, weather, long-term trends and forecasting, do not provide substantial data beyond the flawed forecasts of climate models that have been shown to have failed over the past 20 years.
The data provided here to refute these groundless claims are from a variety of scientifically recognized sources and can be accessed through the source references directly.
As winter advances into the east and south this week, let's focus on responses to claims made about winter warming and decreased snowfall.
CLAIM #6: Extreme cold temperatures may occur less frequently, and extreme cold days may be warmer than in the past.
FACTS: In the northeast, winters have cooled at a rate of 1.5F/ decade in the last 20 years.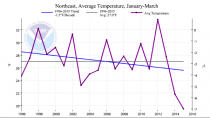 Enlarged Source: NCDC Climate at a Glance
The winter mean temperatures in Concord, NH shows no trend at all since 1868/69, just the natural cycles associated with ocean cycles (annual temperatures in red with 5 year running mean black dash).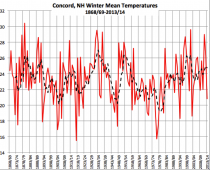 Enlarged Source: NWS Portland, Maine
New England's coldest temperature -50F was equaled in Maine in 2009. 2013/14 was the 4th coldest winter in New Hampshire since 1970 and 2nd coldest March since 1895.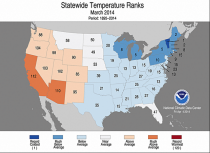 Enlarged Source: NOAA NCDC Month in Review March State Rankings
January to March 2015 was even more extreme. In the northeast (10 northeast states plus DC, it tied for the coldest January to March since 1895 with 1904.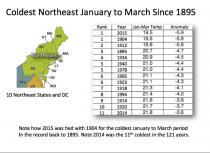 Enlarged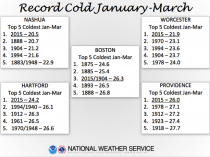 Enlarged
The Union of Concerned Scientists projected that New Hampshire climate would become like North Carolina. This is VERY FAR from the reality. The changes suggest our winters are becoming more like southern Quebec.
CLAIM #7: Warming winters will reduce opportunities for snow- and ice-related recreation (and related economic activity).
FACTS: The UCS had a special presentation in the late summer of 2007 on Mt. Washington promising a dire future for the winter sports and maple sugar industry due to warming.
That winter all time seasonal snow records were set for snowfall in the northeast from Concord to Caribou (and all through the western US up to Alaska).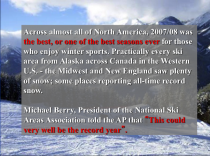 Enlarged
Along the east coast we have seen record setting snow years and 16 major impact snowstorms just 5 years into this decade making this the snowiest decade on record back to the 1950s and beating out the memorable 1960s and the 2000s, which had 10. For the decade ending 2014/15, we had 25 major impact winter storms affecting the heavily populated areas of the east.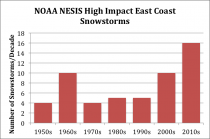 Enlarged NOAA NESIS High Impact Snowstorms
That did not not stop UNH to continue to travel to the state capitol to warn of warming disaster for the ski industry. They did so early last winter I am told after the winter got off a warm, slow snow start. But then 2014/15 set records for snowfall in Boston (back to 1872) and many other locations in the northeast into southeastern Canada.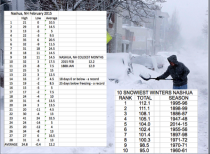 Enlarged
In Boston, it helped nudge the 10 year running mean of seasonal snow to the highest in the entire record back to the 1880s.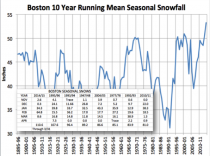 Enlarged

In Boston, the huge snow piles (some of which lasted to July!) were throwbacks to the historic winter of 1717.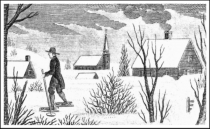 Enlarged
Historian David Ludlum wrote "That year, snows had reached five feet in December with drifts of 25 feet in January before one great last assault in late February into early March of 40 to 60 more inches. The snow was so deep that people could only leave their houses from the second floor, implying actual snow depths of as much as 8 feet or more."
"Entire houses were covered over, identifiable only by a thin curl of smoke coming out of a hole in the snow," the New England Historical Society noted. "In Hampton, N.H., search parties went out after the storms hunting for widows and elderly people at risk of freezing to death." Sometimes snow would pile so high people would burn "their furniture because they couldn't get to the woodshed."
"It wasn't uncommon for them to lose their bearings and not be able to find the houses," the society wrote in its account of winter 1717. "People maintained tunnels and paths through the snow from house to house."

In the Northern Hemisphere from 1967, 4 of the top 5 snowiest years have occurred since 2007/08, and 5 of the top 6 since 2002/03.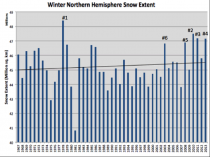 Enlarged NOAA Winter Snowcover Extent (Rutgers)
If you look at snowstorms in the last decade versus the prior 5 decades, you see an amazing increase in high impact snows. We have had 25 high population center impact snow events in the last decade compared to 5 to 8 in the prior five ten-year periods. Many of events uncharacteristically have had very high snow to liquid water content with very low temperatures; the opposite of what the UCS, NOAA and UN had indicated would be the case in the era of global warming.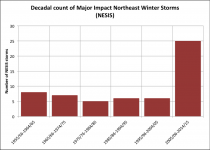 Enlarged
Environmentalists, like those at the Union of Concerned Scientists at UNH and elsewhere clearly have no skill at predicting the future.