Tuesday, September 04, 2012
Ryan Maue on Abraham's false hurricane claims
Dr Ryan Maue, Weatherbell.com
See Ryan's model pge on weathrbell.com.
Hurricane expert Dr. Ryan Maue pulls no punches when it comes to putting John Abraham of the Climate Science Rapid Response Team in his place: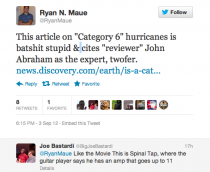 Here's what Abraham has to say at Discovery News:
But wind speeds don't tell the whole story, said John Abraham, a thermal scientist at the University of St. Thomas in St. Paul, Minn. The size of a storm, the amount of rain it dumps, and the size of the wave surges it produces also determine how damaging a hurricane will be, even though the category scale doesn't take those details into account.
"The hurricanes that really matter, that cause damage, are increasing," Abraham said. "What scientists have been saying would happen for decades is now happening. There's an economic cost to not doing anything about this problem."
Umm, no, when you look at the frequency and accumulated energy in hurricanes at Dr. Ryan Maue's Tropical web page, you find it trending down:
Historical Tropical Cyclone Activity Graphics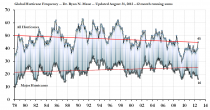 Figure: Global Hurricane Frequency (all & major) - 12-month running sums. The top time series is the number of global tropical cyclones that reached at least hurricane-force (maximum lifetime wind speed exceeds 64-knots). The bottom time series is the number of global tropical cyclones that reached major hurricane strength (96-knots+). Adapted from Maue (2011) GRL.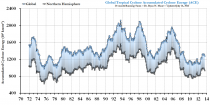 Figure: Last 4-decades of Global and Northern Hemisphere Accumulated Cyclone Energy: 24 month running sums. Note that the year indicated represents the value of ACE through the previous 24-months for the Northern Hemisphere (bottom line/gray boxes) and the entire global (top line/blue boxes). The area in between represents the Southern Hemisphere total ACE. 1970- July 2012 monthly ACE Data File (Maue, 2010, 2011 GRL) [--] 1970-2011 global tropical cyclone frequency monthly Data File
Dr. Patrick Michaels points out last Friday in this excellent essay on hurricanes:
It's been 2,535 days since the last Category 3 storm, Wilma in 2005, hit the beach. That's the longest period - by far - in the record that goes back to 1900.
Quite a drought. He adds:
Aren't there more whoppers - the powerful Category 4 and 5 monsters that will mow down pretty much anything in their path? As is the case with much severe weather, we simply see more than we did prior to satellites and (in the case of hurricanes) long-range aircraft reconnaissance. As the National Hurricane Center's Chris Landsea (with whom I have published on tropical cyclones) has shown, if you assume the technology before satellites, the number of big storms that would be detected now is simply unchanged from the past.
There's a pretty good example of this spinning in the remote Atlantic right now, which is Hurricane Kirk, far away from shipping channels, land, and nosy airplanes. Kirk is compact enough that it would likely have been completely missed fifty years ago. If it spins up into a Category 4 (which is currently not forecast), that would be another biggie that would have gotten away, back in the day.
There's another reason that the increase in frequency is more apparent than real: "shorties". That's what Landsea calls the ephemeral tropical whirls of little consequence that are now named as storms more because of our detection technology than anything else. There's also probably an overlay of institutional risk aversion in play, as it is now recognized that seemingly harmless thunderstorm clusters over the ocean can spawn decent floods when they hit land.
There is another driver for an increase in Atlantic hurricane frequency that isn't operating elsewhere. In 1995, a sudden shift in the distribution of North Atlantic temperatures increased hurricane frequency. Landsea predicted - at the time - that the Atlantic would soon fire up from its hurricane doldrums of the previous two decades, which it did. This type of shift has occurred repeatedly in the last century, both before and during (modest) global warming from greenhouse gases.
The influence of technology on storm reporting is something I've talked about in great detail before:
Why it seems that severe weather is "getting worse" when the data shows otherwise – a historical perspective
Abraham is clueless. Freelance writer Emily Sohn, judging by some of her other articles, might well fit into the label Maue applies to the hurricane story.
-----------------------------------
Wacko Enviro professor says snow will vanish from Australia by 2020
ENVIRONMENTAL researchers say the end of Australia's ski culture is in sight, despite Victoria and NSW experiencing one of their best snow seasons in almost a decade.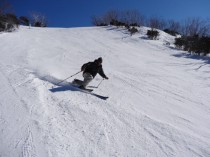 People were still shredding up powder last weekend at some of Australia's top ski resorts, but Griffith associate professor Catherine Pickering says snow is rapidly disappearing because of global warming and by 2020 Australia may not have any left.
"We've predicted by 2020 to lose something like 60 per cent of the snow cover of the Australian Alps," Professor Pickering, from the Griffith School of Environment, said.
"Unfortunately because our current emissions and our current rises in temperatures are at the high end of the predictions, it's definitely coming to us sooner and faster."
Professor Pickering researched the effects of declining snow cover and hotter summers on the Australian Alps and says this year's better than average season has been a one-off combination of La Nina and a cold snap.
"We'll still occasionally have good years, but they'll become less frequent," she said. "A poor year in the past will be a good year now."
The research covered all Victoria and NSW ski resorts and Professor Pickering says the alpine region is most threatened by climate change, with an increasing threat to endemic and endangered mountain species as well as plants because of early thaws.
Ski resorts will have to rely heavily on snow machines, she said, which was not sustainable.
"Ski resorts will have to increase snow making ...which is limiting in cost and water," she said. "Because we don't have very high mountains . . . we don't have large water catchments above our resorts. In a few years, the amount of water that ski resorts will need to make snow is going to exceed the amount of water that's used by Canberra."
Professor Pickering said because of rising costs and diminishing snow coverage, Australian skiers would go overseas to Europe or the US.
Italian ski instructor Rene Crazzolara, who spends seven months a year at Thredbo, NSW, says Australia's poor seasons are not to do with global warming, but our low altitude when compared with European terrain: "Europe has generally better skiing because it has higher mountains. It's not global warming, it's altitude."
---------
Rene is exactly right. Australian snow is more variable because the terrain is not like the Alps. However, Pickering is going to be dead wrong because we have entered the cold PDO mode likely to last another 15 -20 years. The cold PDO favors more La Ninas and cold, snowy winters. It is the same mistake the alarmists made in the northern hemisphere a decade ago promising snow would be a rare commodity endangering the winter sports industry. 4 of the top 5 snowiest years on record have occurred in the last decade.