Tuesday, March 08, 2011
Winter for US was 39th Coldest in 117 years - Decadal cooling of 4.1F
By Joseph D'Aleo, CCM, AMS Fellow
The winter for the United States ended as the 39th coldest.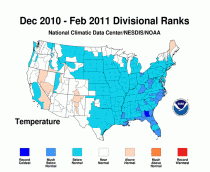 Enlarged
Again as last year, the coldest was in the central and southeast despite last year was a strong El Nino, this a strong La Nina.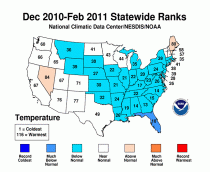 Enlarged
The decadal trend continues down at a rate of 4.1degF/Decade (41F per century!)
Winter (Dec-Feb) 2002 - 2011 Data Values:Winter (Dec-Feb) 1901 - 2000 Average = 32.97 degF
Winter (Dec-Feb) 2002 - 2011 Trend = -4.13 degF / Decade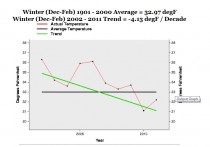 Enlarged
---------
A Large Increase In Thick Ice Over 2010
By Steve Goddard
2.5+ metres thick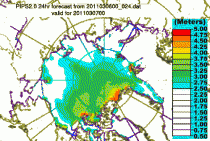 Animated enlarged.
3+ metres thick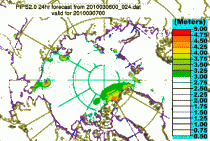 Animated enlarged.
Icecap Note: alarmists like to make the claim that though the extent of the antarctic ice is increasing, the thickness may be decreasing. Here they are ignoring the increased thickness and focusing on the diminished extent. Despite the thickening, I believe it is possible we will make a run at the 2007 minimum this late summer or in 2012 given the warmth of the Atlantic last year. There is a few year delay for the warm water to reach under the ice to the Siberian coast from the North Atlantic. Recall the last Atlantic warm peak was in 2004-05 and the ice minimum in 2007. The Atlantic cooled some and the ice recovered after 2005. The record blocking led to another pop in North Atlantic temperatures last year which will likely thin the ice the next two years. This is similar to what happened the last Atlantic warm mode 70 years ago, and 70 years before that when cod fish were said to have been caught off the Russian arctic coast.