Apr 08, 2016
Continued Attack On The US Constitution
Steve Goddard, Real Science
Necessity is the plea for every infringement of human freedom. It is the argument of tyrants; it is the creed of slaves.
William Pitt, 1st Earl of Chatham
The White House continues their attack on free speech, claiming that their abuse of power is for the public good.
The Competitive Enterprise Institute (CEI) today denounced a subpoena from Attorney General Claude E. Walker of the U.S. Virgin Islands that attempts to unearth a decade of the organization's materials and work on climate change policy. This is the latest effort in an intimidation campaign to criminalize speech and research on the climate debate, led by New York Attorney General Eric Schneiderman and former Vice President Al Gore.
"CEI will vigorously fight to quash this subpoena. It is an affront to our First Amendment rights of free speech and association for Attorney General Walker to bring such intimidating demands against a nonprofit group," said CEI General Counsel Sam Kazman. "If Walker and his allies succeed, the real victims will be all Americans, whose access to affordable energy will be hit by one costly regulation after another, while scientific and policy debates are wiped out one subpoena at a time."
The subpoena requests a decade's worth of communications, emails, statements, drafts, and other documents regarding CEI's work on climate change and energy policy, including private donor information. It demands that CEI produce these materials from 20 years ago, from 1997-2007, by April 30, 2016.
On March 30, 2016, Attorney General Schneiderman, former Vice President Al Gore, and attorneys general from Massachusetts, Virginia, Connecticut, Maryland, Vermont, as well as Attorney General Walker, held a press conference in New York City to announce "an unprecedented coalition of top law enforcement officials committed to aggressively protecting and building upon the recent progress the United States has made in combating climate change." Schneiderman said that the group, calling itself "AGs United for Clean Power," will address climate change by threatening criminal investigations and charges against companies, policy organizations, scientists, and others who disagree with its members' climate policy agenda.
CEI Fights Subpoena to Silence Debate on Climate Change | Competitive Enterprise Institute
I meet with CEI almost every month in DC to discuss ways of ending government climate fraud. Their only interest is getting legitimate science into the policy debate. I have never seen anything but integrity on display from their staff.
The Fourth Amendment to the US Constitution was written specifically to prohibit this sort of abuse of power. It was a response the British general warrant.
The right of the people to be secure in their persons, houses, papers, and effects, against unreasonable searches and seizures, shall not be violated, and no Warrants shall issue, but upon probable cause, supported by Oath or affirmation, and particularly describing the place to be searched, and the persons or things to be seized.
There is no probable cause against CEI, or any sort of cause at all. It is an attempt by the White House to harass dissidents into submission to White House tyranny.
---------------
Yes, Let's Prosecute Climate-Change Fraud - and Start with the Scaremongers
By David French April 8, 2016 4:00 AM
If propounding pseudoscience in pursuit of self-serving goals is a crime, here are some hardened offenders. The attorneys general of New York and California are on the warpath. They're fed up with dissent over the science and politics of global warming, and they're ready to investigate the liars. California's Kamala Harris and New York's Eric Schneiderman have Exxon in their sights, and they're trying to pry open the books to see whether the corporation properly warned shareholders "about the risk to its business from climate change." Not to be outdone, Attorney General Loretta Lynch revealed that the federal Department of Justice has "discussed" the possibility of civil suits against the fossil-fuel industry. The smell of litigation is in the air.
See more here.
Perspective on the Claimed Changes
Joseph D'Aleo, CCM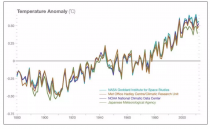 The claimed consensus on the global temperatures among the surface station data bases occurs because there is over 97% overlap of data - with the data gathered by and originating from NOAA. Well over half of the change over time is due to adjustments - the data is no longer data but a hybrid of data and models (that adjustment is based on modeler assumptions). But even if the data were right if you use a reasonable scale it looks less impressive.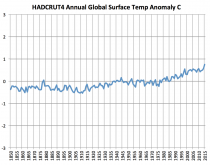 Enlarged
Consider that we are talking tenths of a degree - the range in your car from front to back and in my office here from one side to the other may be 5 degrees or more. If you consider the normal diurnal range is 30F in these latitudes and the range of warmest month to coldest month is 50F or so and the range of extremes for most cities is more like 120F, the idea that we need to live in the dark or give up our conveniences given the minute change to save humanity is total nonsense.
This 'perspective' chart plots the Hadley data on a scale that compares it to the diurnal, seasonal and extreme variance.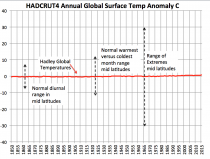 Enlarged
We with a large team of scientists and economists and lawyers recently published a detailed scientific brief to the courts battling bad science. It was the 5th such brief the last 5 years.