Mar 29, 2016
The Devastating Impact Of Germany's Green Energy Transition
Green Europe Lets Its Poor Freeze To Death
No Tricks Zone, 29 March 2016 Pierre Gosselin

The poor are the real victims of Europe's green energy drive: tens of thousands of deaths every year, millions losing their power.

The latest story on "green energy" here at the German online FOCUS magazine website actually shocked me.

Europe's energy policy is, under the bottom line, costing the lives of tens of thousands of citizens - all at the holy altar of "climate protection".

The title of the FOCUS article: "The grand electricity lie: Why electricity is becoming a luxury"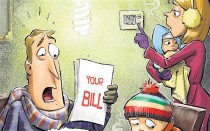 One of the sickest things about Europe and its disconnected leaders is that often a full-scale disaster first needs to happen before policy gets corrected. Often the scale of the death and devastation becomes known only after the clean-up crews have come in and sifted through the rubble.

FOCUS now cites a documentary film which is set to be broadcast this evening on European television station ARTE.

The documentary presents how Europe's electricity prices are spiraling out of control, and horrible consequences this is having on the continent's citizens.
The situation, we are discovering, is far more disturbing than even the earlier worst case scenarios every imagined.

FOCUS reports:

In 2014 in Europe there were about 40,000 winter deaths because millions of people were unable to pay for their electric bills - the so-called energy poverty currently impacts about ten percent of all Europeans. In the past 8 years the price of electricity in Europe has climbed by an average of 42 percent.

7 million German households in energy poverty

FOCUS writes that the poor are the real victims of "socialist" Europe's clean energy drive.

In Bulgaria people see half of their income gobbled up by energy costs alone. In Spain 28 percent of the citizens live in "energy poverty".

In Germany, FOCUS writes, 7 million households are considered to be living in "energy poverty".

The consequences of energy poverty are profound: tens of thousands of deaths every year, millions losing their power.

Full post
The fact that Germany is a world leader in green power is by now familiar. Much less familiar is the price the country is paying for it, not just in cold hard cash, but in growing losses and dislocations across the entire economy. The losers include once-stalwart utility giants like E.ON and RWE that are struggling with rising debt and falling shares. Manufacturing companies, from chemicals maker BASF to carbon fiber producer SGL Carbon, have shifted investments abroad, where energy costs are often a fraction of Germany's. Losers include laid-off workers in these industries, but also millions of ordinary consumers. Their utility bills have skyrocketed, largely driven by subsidies for eco-friendly fuels. Germany's "green" revolution has a dark shadow. --Gilbert Kreijger, Stefan Theil and Allison Williams, Handelsblatt, 24 March 2016

European global warming policies are hurting the continent's poor, according to a Manhattan Institute study published Thursday. Europe has tried to fight global warming with cap-and-trade schemes and lucrative financial support to green power since 2005. Though well-meaning, the continent's environmental efforts have only made life harder for Europe's poor. Between 2005 and 2014, residential electricity rates on the continent increased by 63 percent according to the study. European-style global warming policies hurt the poor 1.4 to 4 times more than they hurt the rich, according to a study by the National Bureau of Economic Research. --Andrew Follett, The Daily Caller, 25 March 2016

Since 2005, members of the European Union have aggressively pushed policies aimed at addressing climate change. Those policies are primarily designed to decrease carbon-dioxide emissions and increase the use of renewable energy. At the same time, several European countries are restricting the production of natural gas and, in the case of Germany, aiming to phase out nuclear energy. These policies have resulted in dramatic increases in electricity costs for residential and industrial consumers. Although the E.U. has seen a reduction in its carbon-dioxide emissions since 2005, those reductions pale in comparison with increases in the developing world. The observable results from Europe thus offer a cautionary tale to policymakers in the United States who seek to tackle climate change via government mandate. --Robert Bryce, Manhattan Institute24 March 2016
Steel giant Tata is holding a board meeting in India which could decide the fate of thousands of UK workers. In January, Tata said it planned to cut more than a thousand jobs at its UK plants - with 750 due to be lost at Port Talbot in south Wales. Unless the board meeting in Mumbai agrees to this turnaround plan, the future of the plant could be in doubt. The UK steel industry has been hit by a combination of factors that have hit its competitiveness. These factors include relatively high energy prices, the extra cost of climate change policies, and competition from China. --BBC News, 29 March 2016
See Winters not Summers cause Excess Mortality here


Enlarged
The administration, the environmentalists and Hollywood are pushing us to become a European like nation. The poor will suffer here too!