Nov 18, 2012
Reality denier: Raving warmist Jeff Masters, ignoring the latest peer-reviewed science on drought
Tom Nelson Blogspot
Dr. Jeff Masters' WunderBlog : Lessons from 2012: Droughts, not Hurricanes, are the Greater Danger | Weather Underground/Weather Channel's last stand
We should not assume that the 21st century global civilization is immune from collapse due to drought. If we continue on our current path of ever-increasing emissions of carbon dioxide, the hotter planet that we will create will surely spawn droughts far more intense than any seen in recorded history, severely testing the ability of our highly interconnected global economy to cope. The coming great drought disasters will occur at a time when climate change is simultaneously creating record rainfall and flooding in areas that happen to be in the way of storms. Global warming puts more heat energy into the atmosphere. That means more more water will evaporate from the oceans to create heavier rains and make storms stronger, and there will be more heat energy to increase the intensity of heat waves and droughts. It all depends upon if you happen to lie on the prevailing storm track or not which extreme you'll experience. In the future, if you're not being cooked in a record drought, you're going to be washed away in a record flood.
Little change in global drought over the past 60 years : Nature : Nature Publishing Group
Justin Sheffield, Eric F. Wood & Michael L. Roderick
Nature 491, 435 to 438 (15 November 2012) doi:10.1038/nature11575
Received 23 July 2012 Accepted 11 September 2012 Published online 14 November 2012
ABSTRACT
Drought is expected to increase in frequency and severity in the future as a result of climate change, mainly as a consequence of decreases in regional precipitation but also because of increasing evaporation driven by global warming. Previous assessments (TH) of historic changes in drought over the late twentieth and early twenty-first centuries indicate that this may already be happening globally. In particular, calculations of the Palmer Drought Severity Index (PDSI) show a decrease in moisture globally since the 1970s with a commensurate increase in the area in drought that is attributed, in part, to global warming. The simplicity of the PDSI, which is calculated from a simple water-balance model forced by monthly precipitation and temperature data, makes it an attractive tool in large-scale drought assessments, but may give biased results in the context of climate change6. Here we show that the previously reported increase in global drought is overestimated because the PDSI uses a simplified model of potential evaporation7 that responds only to changes in temperature and thus responds incorrectly to global warming in recent decades. More realistic calculations (PM), based on the underlying physical principles that take into account changes in available energy, humidity and wind speed, suggest that there has been little change in drought over the past 60 years. The results have implications for how we interpret the impact of global warming on the hydrological cycle and its extremes, and may help to explain why palaeoclimate drought reconstructions based on tree-ring data diverge from the PDSI-based drought record in recent years.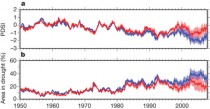 Enlarged a, PDSI_Th (blue line) and PDSI_PM (red line). b, Area in drought (PDSI <−3.0) for the PDSI_Th (blue line) and PDSI_PM (red line).