Mar 14, 2013
You can't get there from here - or data stirred not Shakun
How the paper passed peer (pal) review is beyond comprehension. It is worse than the original hockey stick paper MBH shown to be a total work of fiction. But timed for the new IPCC, this paper from OSU (Oregon State - amazing how far they have fallen) and Harvard, - from where Holdren and many of our most useless politicians have come forth is one that even has Andy Revkin scratching his head. Of course Mann is changing his undergarments multiple times a day claiming he has been vindicated and alarmists are touting it as a landmark paper. The paper shows how far peer review and Science magazine has degraded.
I should have expected this after OSU professors came to Dc to testify to congress and told them…
The Oregonian printed word for word on the front page.
As one former OSU scientist (not George Taylor) observed:
Steve McIntyre is really outdoing himself with an in-depth analysis of the resurgent 'Hockey Stick' from the Marcott-Shakun team at Oregon State University. OSU is redefining what it means to "manipulate data." I suspect that they could market their techniques to other government agencies like the California Air Resources Board, which has long sought to find convenient correlations where there are none.
The normally serious McIntyre could not suppress his sense of humor with Marcott et al:
"The moral of today's post for ocean cores. Are you an ocean core that is tired of your current date? Does your current date make you feel too old? Or does it make you feel too young? Try the Marcott-Shakun dating service. Ashley Madison for ocean cores. Confidentiality is guaranteed"

Will Marcott become famous or infamous over this paper? With Shakun apparently behind the hyping of the 20th century upturn (the Hockey Stick) to the press, Marcott denying the significance ("robutness"), and McIntyre pointing out just how ludicrous their analysis was, this is certainly another 'black-eye' for science, for Oregon State University, for peer-review, for the journal 'Science,' and for the very young authors.
With the admission that Professor Peter Clark apparently "co-wrote" the relevant chapter of Marcott's doctoral thesis, we have a particularly bizarre situation. Thesis advisers are supposed to guide student efforts but especially at the doctoral level, the finished product needs to come from the student alone. Was Marcott unable to do an adequate job on his own or was Clark too anxious that the paper adhere to the conclusions he wanted to see? I suspect the latter.
Oregon State is fanatical about adherence to the global warming dogma. With the firing of chemist Nick Drapella for questioning the dogma and with the refusal of all his colleagues still employed at OSU to write letters of recommendation, we see an institution governed by fanaticism and fear. They are even more monochromatic than German Universities during the Second World War where a few great physicists like Max Planck, Werner Heisenberg, and Arnold Sommerfeld refused to go along with 'Deutsche Physik.'
Does anyone at OSU refuse to salute Herr Gore?
At Climate Audit, Something odd has been discovered about the provenance of the work associate with the Marcott et al paper. It seems that the sharp uptick wasn't in the thesis paper Marcott defended for his PhD, but is in the paper submitted to Science.
Steve McIntyre writes:
Reader drew our attention to Marcott's thesis (see chapter 4 here. Marcott's thesis has a series of diagrams in an identical style as the Science article. The proxy datasets are identical.
However, as Jean S alertly observed, the diagrams in the thesis lack the closing uptick of the Science. Other aspects of the modern period also differ dramatically.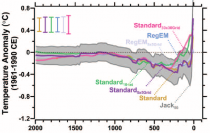 Enlarged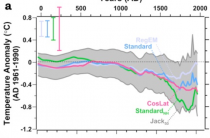 Enlarged
The differences will be evident to readers. In addition to the difference in closing uptick, important reconstruction versions were at negative values in the closing portion of the thesis graphic, while they were at positive values in the closing portion of the Science graphic.
I wonder what accounts for the difference.
Read the full report at Climate Audit
-----------------
Here is Figure 1C of the Science article.
Its all about how you go from this to a final curve ending with a spike at the end up around 1940: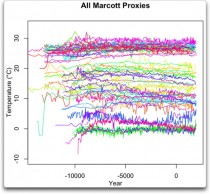 to this: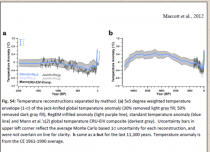 Given Greenland ice cores (shown to correlate well with global mean anomalies) that show this.

Which aligns with the new Hockey Stick as shown below: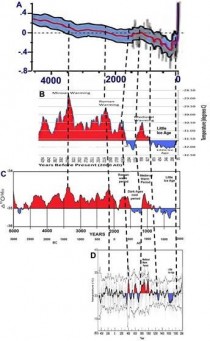 Here is the paper:
A Reconstruction of Regional and Global Temperature for the Past 11,300 Years
Shaun A. Marcott1, Jeremy D. Shakun2, Peter U. Clark1, Alan C. Mix1
+ Author Affiliations
1College of Earth, Ocean, and Atmospheric Sciences, Oregon State University, Corvallis, OR 97331, USA.
2Department of Earth and Planetary Sciences, Harvard University, Cambridge, MA 02138, USA.
*To whom correspondence should be addressed. E-mail: marcotts@science.oregonstate.edu
EDITOR'S SUMMARY
Surface temperature reconstructions of the past 1500 years suggest that recent warming is unprecedented in that time. Here we provide a broader perspective by reconstructing regional and global temperature anomalies for the past 11,300 years from 73 globally distributed records. Early Holocene (10,000 to 5000 years ago) warmth is followed by ~0.7C cooling through the middle to late Holocene (<5000 years ago), culminating in the coolest temperatures of the Holocene during the Little Ice Age, about 200 years ago. This cooling is largely associated with ~2C change in the North Atlantic. Current global temperatures of the past decade have not yet exceeded peak interglacial values but are warmer than during ~75% of the Holocene temperature history.
Intergovernmental Panel on Climate Change model projections for 2100 exceed the full distribution of Holocene temperature under all plausible greenhouse gas emission scenarios.
Note Shakun was the one that tried to manipulate ice core data to show that CO2 preceded or accompanied temperature rises instead of lagging by 800 years or more as all other studies has shown. When prophecies fail when data doesn't match projections, the data is assumed wrong not the theory and try and fix it. They did it with the hot spot (balloon and satellite) with the surface data, with extremes, etc.
See posts exposing the paper (with enlarged views of the images above):
Validity of "A Reconstruction of Regional and Global Temperature for the Past 11,300 Years" by Dr. Don Easterbrook.
Part II here.
As in Part I, this segment analyzes the Marcott et al. conclusions using the scientific method of Feynman in which conclusions are checked against well-established data from other sources. As Feynman points out, if a hypothesis (conclusion) disagrees with observations and data, it is wrong. It doesn't make any difference how beautiful the hypothesis (conclusion) is, how smart the author is, or what the author's name is, if it disagrees with data or observations, it is wrong.
Marcott's proxies: 10% fail their own criteria for inclusion by Willis Eschenbach.
Steve McIntyre writes in a post at CA today:
Marcott et al 2013 has received lots of publicity, mainly because of its supposed vindication of the Stick. A number of commenters have observed that they are unable to figure out how Marcott got the Stick portion of his graph from his data set. Add me to that group.
The uptick occurs in the final plot-point of his graphic (1940) and is a singleton. I wrote to Marcott asking him for further details of how he actually obtained the uptick, noting that the enormous 1920-to-1940 uptick is not characteristic of the underlying data. Marcott's response was unhelpful: instead of explaining how he got the result, Marcott stated that they had "clearly" stated that the 1890-on portion of their reconstruction was "not robust". I agree that the 20th century portion of their reconstruction is "not robust", but do not feel that merely describing the recent portion as "not robust" does full justice to the issues. Nor does it provide an explanation.
Read Steve's preliminary analysis here.
Of course, no one has made note of the fact the series ends before the post war boom and before CO2 increases allegedly began, so how it vindicates Mann and his team who appended the surface data to his carefully selected tree data and ignored the fact the tree data showed a decline post 1960.
This flailing away with more and more bad science is what Leon Festinger predicted when prophecies fail and a lot is at stake ($100B sank so far) into creating this hoax designed to achieve leftist social and societal and energy changes.