Jul 11, 2013
Senate EPW Hearing: "Climate Change: It's Happened Before"
Dr. Roy Spencer
Warmist Kevin Drum on selling the global warming hoax:
"...anecdotal evidence (mild winters, big hurricanes, wildfires, etc.) is probably our best bet. We should milk it for everything it's worth"

OK, so yesterday's hearing really was entitled, "Climate Change: It's Happening Now". I like my title better.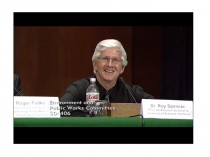 In this exceedingly rare photo of me actually cracking a smile, note my subliminal shout out to the "Koch" brothers (whom I've never met, btw...I don't even know what they do):
Spencer-EPW-testimony-7-18-2013
From the opening remarks made by the Democrats on the Environment and Public Works (EPW) Committee, apparently you can see climate change yourself just by looking in your backyard, or seeing how far from shore fishermen must go now to catch fish, or even (help me with the logic on this one) the fact that smoking causes cancer.
I just submitted my updated written testimony (Spencer_EPW_Written_Testimony) to include the following chart (Click for full size):
2000-yr-temperature-variations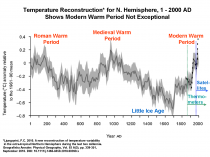 This chart illustrates that, yes, we are currently warm, but not significantly warmer than the Medieval Warm Period (MWP) or the Roman Warm Period (RWP). So how is it we know today's warmth is human-caused, when the last two warm periods couldn't have been caused by humans? Hmmm?
And if you want to hit me with a Hockey Stick, might I remind you that there are many more papers supporting the MWP and RWP than there are supporting the Hockey Stick's slick revision of history?
Or does "consensus" only count when it supports your side?
What's that you say? The hockey stick is now the "new consensus"? So a scientific consensus can be wrong, after all? Hmmm.
Hearing Post Mortem
The advertised star of the show was Heidi Cullen (aka "de-certify all TV meteorologists who don't toe the line on global warming Heidi") who did an admirable job of presenting a litany of half-truths (hurricanes have increased [except in the last 7 years]; strong tornadoes have decreased [but she couldn't bring her self to actually say that]; wildfire acres burned have increased dramatically [but the number of wildfires have decreased dramatically...all consistent with the USFS "let it burn" policy]; droughts and floods have increased [except NOAA's charts say there is no change over the last 100 years], etc.).
Roger Pielke, Jr. was absolutely devastating in his testimony. Here's a guy who claims to largely support the IPCC party line, even claiming increasing CO2 is having a "profound" effect on the climate system, yet he chides those who would try to use severe weather as evidence of climate change. The evidence simply isn't there. Very Lomborgian, sans the sexy T-shirt.
During my testimony (in the Flash video, starting about 3:04 for my oral, and 3:23 for follow-up questions/interrogation) I decided to depart from my usual practice of reading of a prepared text to just winging it. There is VERY little you can cover in 5 minutes, and there were a number of things I would have liked to have said, but there simply isn't time… that's just the way committee hearings go.
All of the senators were moving in an out of the hearing room for a floor vote, so there were only 2-4 senators present at any given time.
Thanks to all of those who have posted and e-mailed supportive comments...I really appreciate it. Getting flogged in public by Sen. Boxer (last time I testified) and Sen. Whitehouse (this time) is not one of my favorite activities. But I warned the staffers I wasn't going to be pushed around this time without some pushing back. I think we did OK for a hearing where the witness numbers were stacked against us.
--------
This from Forbes:
BOXER'S OWN EXPERTS CONTRADICT OBAMA ON CLIMATE CHANGE
Expert witnesses called by Sen. Barbara Boxer to testify during Senate Environment and Public Works hearings Thursday contradicted a key assertion made by President Barack Obama on climate change.
Speaking at a Democratic fundraiser less than a month before directing the U.S. Environmental Protection Agency to impose costly new restrictions on carbon dioxide emissions, Obama said, "we also know that the climate is warming faster than anybody anticipated five or 10 years ago."
"I don't have much patience for people who deny climate change," Obama added.
During Thursday's Environment and Public Works hearings, Sen. David Vitter asked a panel of experts, including experts selected by Boxer, "Can any witnesses say they agree with Obama's statement that warming has accelerated during the past 10 years?"
Nobody said a word. After several seconds of deafening silence, Weather Channel meteorologist and global warming activist Heidi Cullen attempted to change the subject. Cullen said our focus should be on longer time periods rather than the 10-year period mentioned by Obama. When pressed, however, she contradicted Obama's central assertion and said warming has slowed, not accelerated.
Several minutes later, Sen. Jeff Sessions returned to the topic and sought additional clarity. Sessions recited Obama's quote claiming accelerating global warming during the past 10 years and asked, "Do any of you support that quote?"
Again, a prolonged and deafening silence ensued. Neither Cullen nor any of the other experts on the panel spoke a word, not even in an attempt to change the subject.
Boxer may have envisioned her high-profile global warming hearings as an opportunity to build momentum for congressional or EPA action to restrict carbon dioxide emissions. Instead, the very global warming activists she called to serve as expert witnesses delivered a crushing blow to Obama's central justification for expensive new restrictions on carbon dioxide emissions.
-------
Roger Pielke Jr.'s testimony was also powerful (here)
'It is further incorrect to associate the increasing costs of disasters with the emission of greenhouse gases'
Globally, weather-related losses ($) have not increased since 1990 as a proportion of GDP (they have actually decreased by about 25%) and insured catastrophe losses have not increased as a proportion of GDP since 1960.
* Hurricanes have not increased in the US in frequency, intensity or normalized damage since at least 1900. The same holds for tropical cyclones globally since at least 1970 (when data allows for a global perspective).
* Floods have not increased in the US in frequency or intensity since at least 1950. Flood losses as a percentage of US GDP have dropped by about 75% since 1940.
* Tornadoes have not increased in frequency, intensity or normalized damage since 1950, and there is some evidence to suggest that they have actually declined.
* Drought has "for the most part, become shorter, less frequent, and cover a smaller portion of the U. S. over the last century." Globally, "there has been little change in drought over the past 60 years."
* The absolute costs of disasters will increase significantly in coming years due to greater wealth and populations in locations exposed to extremes. Consequent, disasters will continue to be an important focus of policy, irrespective of the exact future course of climate change.'
----------
New article in Nature laments the dismal failure of climate models
Hockey Schtick
Here is why:
New article in Nature laments the dismal failure of climate models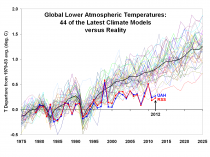 Enlarged
An article published today in Nature laments the dismal failure of climate models to predict climate a mere 5 years into the future, much less a century from now:
"The dramatic warming predicted after 2008 has yet to arrive."
"It's fair to say that the real world warmed even less than our forecast suggested," [modeller] Smith says. "We don't really understand at the moment why that is.""
"Although I have nothing against this endeavour as a research opportunity, the papers so far have mostly served as a 'disproof of concept'," says Gavin Schmidt. Schmidt says that these efforts are "a little misguided". He argues that it is difficult to attribute success or failure to any particular parameter because the inherent unpredictability of weather and climate is built into both the Earth system and the models. "It doesn't suggest any solutions," he says.

"Because the climate does not usually change drastically from one year to the next, the model is bound to start off predicting conditions that are close to reality. But that effect quickly wears off as the real climate evolves. If this is the source of the models' accuracy, that advantage fades quickly after a few years."
"Kevin Trenberth, a climate scientist at the National Center for Atmospheric Research in Boulder, Colorado, says that it could be a decade or more before this research really begins to pay off in terms of predictive power, and even then climate scientists will be limited in what they can say about the future."
Once again, modellers attempt to explain away their failures due to the dubious excuse of Trenberth's "missing heat" sinking undetected to the bottom of the ocean.
-----------
University scientists and BOM lie carried on Live Science (Lie Science?)
Global Warming Worsened Australia's Record Hot Summer

Human-caused global warming played a role in making this past summer Australia's hottest on record, a new study suggests.
The summer of 2012-2013 probably won't retain its title for long; researchers say record-breaking scorching summers are five times more likely to occur now in Australia due to climate change.
"Our research has shown that, due to greenhouse gas emissions, these types of extreme summers will become even more frequent and more severe in the future," study author Sophie Lewis of the University of Melbourne said in a statement.
Australia's summer occurs from December to February, during the Northern Hemisphere's winter. In those three months between 2012 and 2013, the country's average temperature was 83.5 degrees Fahrenheit (28.6 degrees Celsius), 2 degrees F (1 degree C) above normal, according to Australia's Bureau of Meteorology. It broke the previous summer temperature record, set in the 1997-1998 season, by 0.18 degree F (0.1 degree C).
Unusually high temperatures gripped nearly the entire country, with just three percent of Australia experiencing below-normal temperatures. Bush fires and flooding, combined with the extreme heat, prompted Australians to call it the "angry summer."
Lewis and colleagues looked at climate observations and more than 90 climate model simulations of summer temperatures in Australia over the past 100 years. They found that human influences likely stoked the record heat during a summer when Australians may have otherwise expected cooler temperatures.
"This extreme summer is not only remarkable for its record-breaking nature but also because it occurred at a time of weak La Nina to neutral conditions, which generally produce cooler summers," Karoly said. "Importantly, our research shows the natural variability of El Nino Southern Oscillation is unlikely to explain the recent record temperatures." The El Nino Southern Oscillation is a climate cycle that can impact weather and climate systems around the globe; it's El Nino phases features warmer-than-normal sea surface temperatures in the tropical Pacific Ocean, while the La Nina phase features cooler-than-normal temperatures.
Climate describes weather that occurs over long periods, such as decades, centuries or millennia, and scientists are typically quick to point out that no individual storm, heat wave or unusual season can be directly blamed on climate change. But researchers have said that global warming can make some events, on average, more severe and more frequent than they would have been in the past.
The research has been accepted for publication in the journal Geophysical Research Letters (once a reputable journal).
The satellites tell the real story. Note how last year was 5th coldest summer. Karoly is a warmist 'scientist' once spreading the big lie in the US. Good riddance.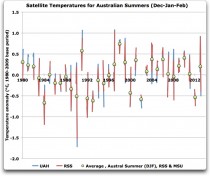 Enlarged
Data in Australia and New Zealand have been manipulated to produce warming where none exists.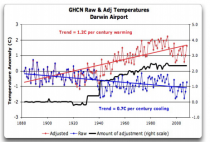 Enlarged

Enlarged