Nov 16, 2014
America's chop suey: Promises, promises
Alan Moran
Joy and consternation as the US says it will move in earnest to curb emissions. Obama celebrates his nation's self-destructive measures but China's reciprocal pledge is 16 years away. Even Laura Tingle the Financial Review's resident greenhouse alarmist sees the agreement as a retreat from punitive measures and a faith in technology changes meaning relatively low cost transition, though she remains credulous that the US will, in the face of a Republican legislature achieve its vaunted 28 per cent reduction in emissions and is wide eyed in appreciation that China "would seek to expand zero-emission energy sources to around 20 per cent by 2030".

Lomborg was more analytical pointing out "but China promised only 20 per cent would come from non-fossil fuels ... China already plans to get 18 per cent of its energy from non-fossil fuels and solar and wind will make up only about 3 per cent. He points out that an earlier US administration with Al Gore as VP promised a 7 per cent reduction in greenhouse gas emissions at Kyoto in 1998 but the outcome was a 9 per cent increase. He cruelly draws attention to the Canadian promise of a 5 per cent reduction contrasting the 24 per cent outcome.
By fiddling with bush clearing (and thereby expropriating property) Australia claims to have beaten its target (a 7 per cent increase to 2012, with a mere 3 per cent increase) but this has created lawsuits and in any event Wikipedia puts Australia's increase at 30 per cent. The editorial in the Wall Street Journal was scathing and the Washington Post pointed out that both legislature leaders had pungently condemned it.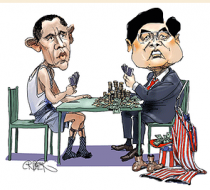 And to promote his negative growth policy President Obama has pledged to divert $3 billion in aid funds to the third world. Tony Abbott soberly said "As for Australia, I'm focusing not on what might happen in 16 years' time; I'm focusing on what we're doing now and we're not talking, we're acting."
Australia's mystics are alive and well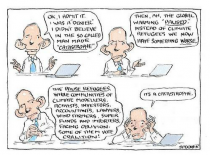 Enlarged
Green blogger and Guardian journalist, Graham Readfearn, felt he had to write a lengthy rebuttal of the latest opinion Australian piece of Maurice Newman. He says Newman is wrong to say California electricity costs are driven high by its renewable and kindred policies because, in spite of its high prices, energy use is low; he appears unaware of the connections here! Somehow in Readfearn's crazy world high taxes and high costs do not translate into lost jobs and he promotes that mistake in a critique of Calzado's masterly analysis of the damage renewable policy has done to the Spanish economy. And he offers apologias for former Chief Scientist Penny Sackett and the ubiquitous Tim Flannery arguing the immediate forecasts of climate doom they projected were simply off a tad few years.

More blubbery from Flannery and the Climate Council calumnists with the myth that Australia is lagging the world in suicidal carbon restraint.

Meanwhile the BCA wants to reduce Australia's renewable subsidy from its currently envisaged economic impact of $22 billion to $16 billion but the ALP thinkseven this is too great!

Propaganda works. Apparently one person in 10 suffers severe weather phobia - offering a solid base for the yarn sellers to work from.