Jan 31, 2020
Alaska had a brutally cold January - Fairbanks, it ranked as 15th coldest (records began in 1904)
Joseph D'Aleo, CCM
Alaska had a brutally cold January.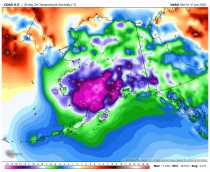 In Fairbanks, it ranked as 15th coldest (records began in 1904) with an average of -21.4F in Fairbanks (13.4F below average)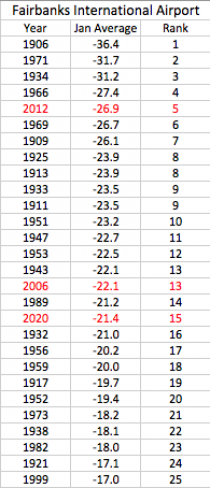 Enlarged
In McGrath, it was the 4th coldest - coldest was January of 2012.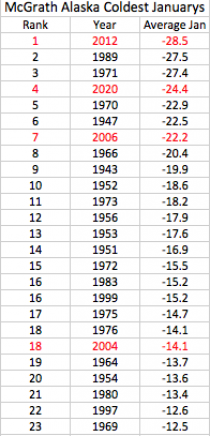 Enlarged
The lowest temperature in january was -51F.
That was despite warm water in the Gulf of Alaska. The water cooled from the fall levels.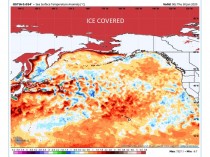 Enlarged
Note that 2012 ranked as 5th coldest in Fairbanks and coldest in McGrath. It had very cold water off the coast then and modern day record Bering Sea ice resulted.


Enlarged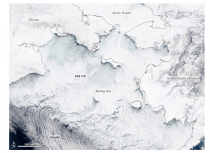 Enlarged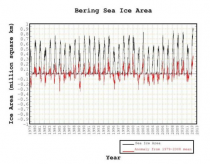 Enlarged
Early departure of Bering Sea ice in 2019 due to strong NPAC storms lead to early ocean warming and record early summer high temperatures.
When NCEI has the monthly data, we will repost with graph of Januarys statewide.
Often cold Alaska retards cold in the lower 48.???
See earlier story when heat followed early Bering Sea ice loss in last years' warmer winter here.
Meanwhile in Saudi Arabia, record cold and snow.
And at Kazakh, capital of Kazakhstan, snow brought deep cold. The cold developed over the deep snowcover, the +NAO had Atlantic flow into Europe and Russia, deflecting the cold air south into Kazakhstan and the Middle East.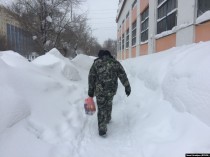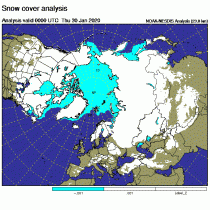 With the cold continuing in the arctic and Alaska, ice has increased for the second year in a row.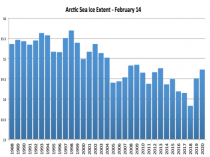 Enlarged
See how warm the arctic was 1920s to 1950s.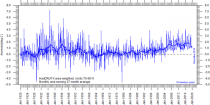 See the IARC and UAF showed this relates to Atlantic ocean temperatures (the AM0)