May 17, 2019
A new US Areal No Drought Record
ICECAP NOTE:
Alarmists and eco fanatics and their comrades in the fake news media love to play ambulance chasers and play up every extreme as examples of man-induced climate gone wild. It is an unfalsifiable hypothesis.They cover both side of every weather extreme - hot/cold, too wet/too dry, more hurricanes/record long lull, more tornadoes/record long lull, less snow/record snows, more ice/less ice. For example, recently we saw dueling papers on Greenland ice disappearing faster than we thought and Greenland ice increasing and glaciers growing.
Also see here how sea level inconveniently slowing in gauge and satellite measurements has been altered to give impression of rising oceans.
In this story, GWPF wrote:
The propaganda barrage by climate activists has few precedents in modern US history, increasing in intensity and the magnitude of its exaggerations. Any extreme weather, no matter how typical in history, becomes evidence of human influences: heat waves, cold, floods, snow, and - as described in this post - droughts. Activists hope that their flow of alarmist "news" will shape public opinion, just as a riven can carve through mountains.
---------
Permadrought was forecast just 6 years ago. It was localized in Texas and California (both states have an upward, though not statistically significant long term trend).
The Atlantic has cooled, and regional drought is giving way to widespread rains.
In fact, the rain the 12 months from May 2018 to April 2019 shows the wettest such period since records began in 1895 for the nation.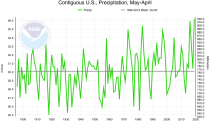 Enlarged
Note: CLICK ON ACRESEARCH ICON TOP OF PAGE TO ACCESS FACT CHECKS ON 11 ALARMIST CLAIMS BY OUR TEAM OF EXPERTS working pro bono on combatting the scare tactics of eco warriors and their compliant scientist friends and breathlessly reported in the fake news media. Support Icecap efforts to combat scientific fraud and environmental fanaticism with a donation via a secure access to Paypal.

Roger Pielke Jr, though a proclaimed believer in man made influences shows how drought has reached a record low level of areal coverage this century.
---------------
Roger Pielke Jr.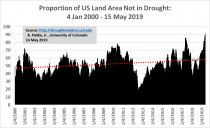 Enlarged
The graph above shows data for the entire period covered by the US Drought Monitor. This week marks the first time in the record that >90% of the US has experienced conditions of NO drought. Some further info:
Since 2000, the linear trend in the data indicates that the overall proportion of the US experiencing no drought conditions increased from about 50% to about 60%.
According to the Drought Monitor, more than 283 million people currently live in regions experiencing no drought. This is the most people in the history of the US to experience no drought conditions at once.
---------
ICECAP NOTE: Long Term Drought blend shows no issues.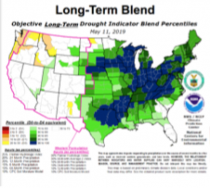 Enlarged
In fact soil moisture is 99% percentile in many central areas.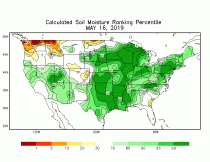 Enlarged
The soil moisture based model suggest the wet pattern continues this summer.