Apr 21, 2013
New data falsifies basis of man-made global warming alarm, shows water vapor feedback is negative
No tricks Zone
Physicist Clive Best has analyzed the latest NASA satellite and radiosonde data to find that global water vapor has declined despite the consensus belief among climate scientists that it would rise in response to man-made carbon dioxide. Dire predictions of global warming all rely on positive feedback from water vapor. The argument goes that as surface temperatures rise so more water will evaporate from the oceans thereby amplifying temperatures because H2O itself is a strong greenhouse gas. The fact that water vapor has instead declined indicates water vapor feedback is negative, overwhelming alleged warming from CO2, and accounting for the stall in global temperatures over the past 16+ years. As Dr. Best notes, "All climate models (that I am aware of) predict exactly the opposite. Something is clearly amiss with theory. Is it not now time for "consensus" scientists to have a rethink?"
Prior posts on negative feedback from water vapor
H2O decreasing while CO2 rises !
Reblogged from Clive Best by Clive Best [emphasis added]:
Dire predictions of global warming all rely on positive feedback from water vapor. The argument goes that as surface temperatures rise so more water will evaporate from the oceans thereby amplifying temperatures because H2O itself is a strong greenhouse gas. Climate models all assume net amplification factors of between 1.5 and 6. Has the water content of the atmosphere actually been increasing as predicted?
NASA have just released their latest NVAP-M survey of global water content derived from satellite data and radio-sondes over the period from 1988 to 2009. This new data is explicitly intended for climate studies . So lets take a look at the comparison between actual NVAP-M atmospheric H2O levels and those of CO2 as measured at Mauna Loa. I have extracted all the daily measurement NVAP-M data and then calculated the global average. Figure 1 shows the running 30 day average of all the daily data recorde between 1988 and 2009 inclusive. The 365 day (yearly) running average is also shown. Plotted on the right hand scale are the Mauna Loa CO2 concentration data in red over the same period.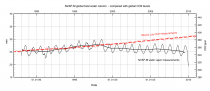 Fig1: Total precipitative H2O (running 30 day average) compared to Mauna Loa CO2 data in red. The central black curve is a running 365 day average.
There is indeed some correlation in the data from 1988 until 1998, but thereafter the two trends diverge dramatically. Total atmospheric water content actually falls despite a relentless slow rise in CO2. This fall in atmospheric H2O also coincides with the observed stalling of global temperatures for the last 16 years. All climate models (that I am aware of} predict exactly the opposite. Something is clearly amiss with theory. Is it not now time for "consensus" scientists to have a rethink?