Jul 26, 2017
CO2 emission, CO2 absorption
Alan Siddons
The chart below is taken directly from figures provided by the U.S. government's Carbon Dioxide Information Analysis Center (CDIAC) website, specifically its 2016 Global Carbon Project spreadsheet on the Historical Budget tab. In terms of gigatons of carbon, and from 1770 to 2004, it itemizes the growth rate of radiative forcing by atmospheric CO2 and the growth rate of oceanic absorption, what is known as a "carbon sink."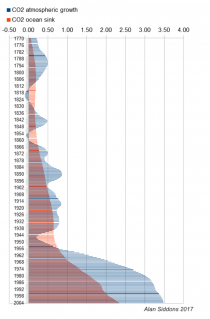 Enlarged
As anyone can see, and as was pointed out by Joe D'Aleo and myself ten years ago in Carbon Dioxide: The Houdini of Gases, as CO2 emissions increase, so too does the absorption of these emissions by carbon sinks. An odd state of affairs.

Enlarged
Joe and I weren't the only ones to notice this trend. In Air Pollutant Climate Forcings within the Big Climate Picture, James Hansen et al made the same observation in 2009.
"Contrary to what you read in the newspaper, the sinks of CO2 are not decreasing. On the contrary they are increasing as fast as the CO2 emissions have increased. The fraction of CO2 emissions that disappears annually continues to average 44%." - James Hansen et al

This may have been true as an average over a span of time, but it is not true in detail. CDIAC's 2004 figures indicate 2.334 for oceanic absorption, 3.476 for atmosphere. That's 67% of "disappearing CO2."
Is something very wrong with the currently accepted paradigm of atmospheric CO2?
You be the judge.
Alan Siddons