Feb 20, 2008
Readin', Writin' And Warmin'
Feb 19, 2008
180,000 Stranded in Southern China as Cold Weather Returns
AFX News Limited, Forbes.com
Icy temperatures have swept through south China, stranding 180,000 people and leading to widespread power cuts, just as the area was recovering from the worst weather in 50 years, the government said. The latest cold snap has taken a severe toll in mountainous but usually temperate Yunnan province, struck by heavy snowfalls since Thursday, a government official from the provincial disaster release office told Agence France-Presse.
In Yunnan, 12 people have died, the official Xinhua news agency reported, and four remained missing as of Saturday. The snowfalls over the past few days have cut off 14,000 kilometres of roads in Yunnan, stranding large numbers of people, the newspaper said, citing provincial transport authorities.'As the bad weather continues, the rescue work is becoming much harder,' said the official from the provincial disaster release office, referring to helping stranded passengers, clearing roads and getting power back up.
'Among all the cities affected by the snow disaster, Qujing city suffered from the greatest economic losses,' the official added. Some 180,000 people were stranded in south China due to the latest weather troubles, the government and state media reported. Usually warm and sunny Yunnan was one of the areas hard hit by the frigid weather in January and early February, which pummelled China's south, southwest and east, in the worst winter weather seen in five decades. The three weeks of severe weather left millions stranded, as the nation's power and transport networks were unable to cope with the blizzards and sub-zero temperatures.
Read more here.
Feb 18, 2008
Migratory Birds Disappear in China Storms
By Agence France-Presse, Beijing
About 100,000 migratory birds disappeared in recent fierce snow storms in eastern China, state media reported Sunday.About 95 percent of the world's white cranes, half of the white-naped cranes and 60 percent of swan geese are believed to migrate to a nature reserve at Poyang Lake each year in Jiangxi province, Xinhua news agency said.Poyang Lake is China's biggest fresh water lake and an internationally significant wetland area.
Hundreds of workers at the reserve distributed grain, corn and vegetables but found only 40,000 birds, leaving about 100,000 unaccounted for, said Luo Shengjin, deputy director of the reserve. Luo said no mass deaths had been uncovered and the birds could have migrated elsewhere. But the reserve was still concerned and was planning to employ helicopters to widen the search for the missing birds.The worst weather in decades hit large areas of China last month, killing at least 107 people and causing more than 15 billion dollars in economic losses, according to official figures. Read more here.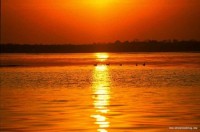 Poyong Lake in Better Weather, a major wetland area for wildlife