Nov 27, 2007
Global Warming Ranks Dead Last as Issue with Iowa Democrats in Poll
Washington Post-ABC News Poll
Even among Democratic voters, 'global warming' is less than nothing politically. I thought you all might delight in seeing the revealing results of this 'Washington Post-ABC News Poll' (Question 9), which was conducted by telephone between November 14-18, 2007, among a random sample of 500 Iowans likely to vote in the Democratic caucuses (the results have a four percentage point margin of sampling error, and the percentages are rounded, thus giving slightly higher than 100%).
When asked "What is the single most important issue in your choice for the Democratic candidate for president?", Iraq/War in Iraq 33%, Health Care 26%, Economy/Jobs 10% and Ethics/Honesty/Corruption In Government 5%. Global warming ranked dead last among 16 identified issues with less than 1%.
Nov 26, 2007
Harper Dubs Kyoto Accord a Mistake at End of Commonwealth Summit
By Alexander Panetta, The Canadian Press
Stephen Harper concluded a Commonwealth summit Sunday by bluntly describing the Kyoto accord as a mistake the world must never repeat. The prime minister characterized the landmark climate change deal as a flawed document and served notice that Canada will not support any new international treaty that carries its fatal flaw.
Harper said the key error of Kyoto was slapping binding targets on three-dozen countries but not the rest, including some of the world's biggest polluters like the United States, China and India. So Canada will enter key negotiations on a post-Kyoto deal next month with a relatively simple position: all major polluters must be included, or there's no deal.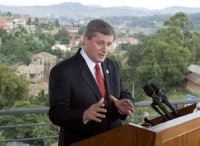 Canadian Prime Minister Stephen Harper

Nov 23, 2007
Meet the Women Who Won't Have Babies - Because They're Not Eco Friendly
By Natasha Courtenay-Smith and Morag Turner
Had Toni Vernelli gone ahead with her pregnancy ten years ago, she would know at first hand what it is like to cradle her own baby, to have a pair of innocent eyes gazing up at her with unconditional love, to feel a little hand slipping into hers - and a voice calling her Mummy.
But the very thought makes her shudder with horror. Because when Toni terminated her pregnancy, she did so in the firm belief she was helping to save the planet. Incredibly, so determined was she that the terrible "mistake" of pregnancy should never happen again, that she begged the doctor who performed the abortion to sterilise her at the same time.
He refused, but Toni - who works for an environmental charity - "relentlessly hunted down a doctor who would perform the irreversible surgery. Finally, eight years ago, Toni got her way. At the age of 27 this young woman at the height of her reproductive years was sterilised to "protect the planet". "Having children is selfish. It's all about maintaining your genetic line at the expense of the planet," says Toni, 35. Read more here.