Aug 03, 2007
A Much Needed Documentation of Station Siting Issues
Much work has been done in recent months in an attempt to clarify the siting issues among the climate stations in the various government data sets on sites like Climate Science, Climate Audit and Anthony Watts Surface Stations. Numerous blog entries have discusssed papers on the issue of siting, the urban heat island and provided photographic evidence of some of the serious problems with the station sitings and some battles along the way to get access to the data needed from the government centers.
In addition Anthony Watts maintains an interesting blog on the issue, Watts Up With That?. In his latest entry he shows how even a clearly rural location can have issues with siting, in this case not less than 22 air conditioning units spewing heat within 100 feet of the instrument shelter. It is just one of many examples you will find on this site and the other links.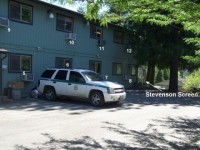 Aug 01, 2007
Autumn Comes Early
By Patrick Phelvin, UK Telegraph
Holly berries are appearing in the hedgerows, conkers and apples are falling from the trees and mushrooms are springing up in the fields. All the signs are that the briefest of brief English summers is coming to an end and autumn is already upon us.
A growing number of experts believe that this year's unpredictable weather, which brought spring on early, then deluged Britain with record rainfall, has now taken us straight to autumn - bypassing summer altogether. Adrian Barlow, of English Apples and Pears, said early apple varieties were already being harvested. "Autumn has definitely come earlier this year," he said. "We expect varieties like Discovery to be in the shops as soon as next week.

A spokesman for the Met Office's Hadley Centre for Climate Change said it was too early to say whether this year's conditions were evidence of global warming and they could be dismissed as an irregularity. We have just had the wettest summer since 1766 so it is unsurprising that this has affected crops," he said.

See full story here.
Aug 01, 2007
New View of Global Warming: Hoax or Herding?
By Bob Prechter, Elliott Wave Theorist
Bob Prechter discussed how social herding seems to be leading to social hysteria over global warming in his June Elliott Wave Theorist. That article brought cries of outrage from some readers. As he puts it in his July Theorist: "Because my interest lay in the herding phenomenon, I gave short shrift to the scientific case for man-made global warming...." Bob goes on to revisit his discussion to clear up any misconceptions. If you care about global warming – one way or the other – you will be interested to read his explanation of why mass fears often prove to be unfounded. Read more here.