Jan 23, 2008
Grist Attacks on Fred Singer Reveals Alarmists' 'Credential' Hypocrisy!
By Marc Morano, EPW
A few comments about the Grist Article by Joseph Romm: Unstoppable disinformation every 15 minutes from Fred Singer.
Grist violates its own criteria for what qualifies a scientist to comment on climate issues! As one of the comments noted, the author of this article Grist's Joseph Romm, (a Senior Fellow at the very liberal and well-funded Center for American Progress) mocks Singer's scientific credentials. But a post from Climate Resistance says Romm may be more accurately described as a "pundit, a policy maker, a political technology advisor." See this link. And despite being a PhD physicist, it appears Romm would not meet Grist correspondent Andrew Dessler's definition of someone qualified to have an opinion on climate change issues. Grist is contradicting itself! (Note, according to Dessler, only a about 150-200 scientists in the world are actually qualified to have an opinion on climate issues and guess what, they all happen to be affiliated with the UN. Dessler also does not believe TV meteorologists are qualified, unless they agree with his brand of climate alarm). For a complete debunking of critiques of the Senate 'Consensus Busters' Report, see Marc Morano's January 10, 2007 Letter to New York Times.
Romm attempts to discredit Singer because "the Earth wasn't actually in a warm trend—unstoppable or otherwise—1500 years ago!" Romm resurrects the canard that the Medieval Warm Period was not global and claims (ala Mann's Hockey Stick) that the Medieval Warm Period was much cooler than today. This assertion ignores multiple peer-reviewed studies showing the Medieval Warm Period warmer than today, including two papers in just the past 6 months! (See: 1: A November 2007 study published in Energy & Environment found the Medieval Warm Period "0.3C warmer than 20th century" The study was authored by C. Loehle and titled "A 2000-year global temperature reconstruction based on non-tree ring proxies." with detail here. and 2: A June 29, 2007 scientific analysis by Gerd Burger of Berlin'\'s Institute of Meteorology in the peer-reviewed Science Magazine challenged a previously touted study claiming the 20th century had been unusually warm. Excerpt: "Burger argues that (the 2006 temperature analysis by) Osborn and Briffa did not apply the appropriate statistical tests that link the proxy records to observational data, and as such, Osborn and Briffa did not properly quantify the statistical uncertainties in their analyses. Burger repeated all analyses with the appropriate adjustments and concluded "As a result, the 'highly significant' occurrences of positive anomalies during the 20th century disappear."
Romm mocks Singer as having no credibility in the science community. A few notes on Dr. Singer: He is an atmospheric physicist and was former director the US Weather Satellite Service, past vice chairman of the U.S. National Advisory Committee on Oceans and Atmosphere and the co-author of the recent peer-reviewed paper with Climatologist Dr. John Christy and climate scientist Dr. David Douglass in the International Journal of Climatology of the Royal Meteorological Society. The December 2007 study found "The observed pattern of warming, comparing surface and atmospheric temperature trends does not show the characteristic fingerprint associated with greenhouse warming." Romm's failure to mention Singer's peer-reviewed work makes a mockery out of his claim that political leaders should only "talk with peer-reviewed climate scientists." Read more here.

Jan 22, 2008
Cold Wave Intensifies in North India, Mercury Dips Further
Newkerala.com
A cold wave intensified its icy grip on North India today with the mercury dropping below zero degree in parts of Rajasthan, Uttar Pradesh, Kashmir and Punjab as three more deaths took the nationwide toll in the season to 137. In North Kashmir, Army troops rescued eight members of a family from a snow avalanche in Machil sector, where three soldiers were buried last week after the area experienced more than 10 feet of snowfall. Pilani and Ganganagar of Rajasthan saw the minimum temperature dropping below freezing point while Churu and Mount Abu reported zero degrees.
Jalandhar, recorded the coldest night in the last three decades. Drass, the second coldest place in the world after Siberia and nearby Kargil also reeled under severe cold with maximum and minimum dipping to 10 to 17 degree below normal. Read more here.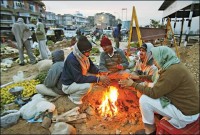 Pictures from earlier this winter of street merchants gathering around fires to keep warm
Note: Also in China, 1,033 houses were toppled by snow as biggest ever snowfall in Yuexi County in the capital Hefei cuts off all highways in province of Shanxi.
Jan 22, 2008
Lawyers Embrace U.S. Global-Warming Practice at $700 an Hour
By Cynthia Cotts, Bloomberg News
Lawyers are becoming some of the best-paid environmentalists. Twenty of the 100 highest-grossing U.S. law firms have started practices advising companies on climate change, according to a Bloomberg survey of the firms' Web sites. The attorneys help clients finance clean-energy projects and lobby Congress, typically billing $500 to $700 an hour.
Firms including Akin Gump Strauss Hauer & Feld, Heller Ehrman and Sheppard Mullin Richter & Hampton joined the global warming cause as real-estate and structured-finance attorneys lost jobs to the worst U.S. housing slump in 27 years. The move into climate-change law is gaining traction as Congress considers a mandatory carbon market to curb greenhouse gas emissions.
"These are evolving marketplaces that require scrutiny by law firms to make sure we are in compliance and to take advantage of marketing opportunities,'' said FirmGreen Chief Executive Officer Steven Wilburn. If you just look at the hourly rate, it seems hard to justify. But if you look at the overall business plan, it's a cost you have to plan for.'' Wilburn would not disclose how much FirmGreen pays attorneys.
Climate-change attorneys also advise private-equity firms and hedge funds on clean-energy projects. Worldwide investments in sustainable energy sources such as wind, solar and water power rose 43 percent to $70.9 billion in 2006, according to a UN report. Read more here.