Apr 17, 2007
Blair and Merkel lean on Bush to join battle against climate change
President George Bush is coming under unprecedented pressure from Tony Blair and the German Chancellor, Angela Merkel, to agree to tough new international measures to stop global warming accelerating out of control.
The measures are contained in a strongly worded draft communiqué for June's G8 summit in Heiligendamm, Germany which warns that "tackling climate change is an imperative, not a choice".
It adds that if "resolute and concerted international action" is not "urgently" taken, global warming will become "largely unmanageable". The United States and Canada are resisting key elements of the draft, but Mrs Merkel is determined not to water it down. She is backed by the Prime Minister, who is ringing Mr Bush weekly to try to persuade him to change his position.
See full story here

Apr 13, 2007
Human-caused global warming – the need for re-assessment
"I am at the US headquarters of the Ocean Drilling Programme at Texas A&M University, studying seabed cores from the southwest Pacific Ocean....For more than 90 per cent of recent geological time, the cores show that the earth has been colder than today. We modern humans are lucky to live towards the end of the most recent of the intermittent, and welcome, warm interludes. It is a 10,000 year-long period called the Holo-cene, during which our civilisations have evolved and flourished." See full story of UK Telegragh article
Apr 11, 2007
Global Warming Cure Found - Dire IPCC Reports
It seems we have found the cure for global warming. Have the IPCC issue a dire report about global warming every other month. In February when they issued the Summary for Policy Makers, it was the coldest February since 1979 in many parts of the central and east. Now with their April release, Mother Nature is showing "its not nice to fool Mother Nature" by slamming us with winter weather in April. So far April is tracking as the coldest in 113 years. The four day period from April 6th to April 9th brought 156 record lows to a large part of the nation east of the Rockies. 13 were ALL TIME April lows. Snow fell in places as far south as Dallas, Texas and Mobile, Alabama and a heavy snowstorm cancelled an entire four game baseball series in Cleveland.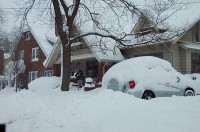 Easter in Chagrin Falls, OH courtesy of Andre Bernier
See larger image here Easter Snow
See the long list of records here Global_Warming_Cure_Found.pdf