Apr 22, 2007
American Ruling Could Put Gas Guzzlers Off the Road
The threat of national limits on carbon dioxide emissions could kill off big macho vehicles like the Hummer and the Corvette. A decision by the US Supreme Court could signal the beginning of the end of America's love affair with big cars, pickup trucks and gas-guzzling 4x4s.
The news that the EPA could set nationwide carbon-dioxide limits comes at a bad time for the big three American carmakers — Chrysler, Ford and General Motors - which are all in financial trouble and not ready with rivals for cars like the Toyota Prius petrol-electric hybrid.
The big three are against regulations based on the carbon-dioxide emissions of individual vehicles. General Motors chairman Rick Wagoner said: "We have had Cafe for 30 years and it doesn't work." He calls for a different strategy to control carbon dioxide, adopting a higher proportion of renewable fuels, such as bio-ethanol made in America from corn.
See Gas Guzzlers
Apr 20, 2007
IPCC Summary for Policymakers: Working Group II
This Summary sets out the key policy-relevant findings of the Fourth Assessment of Working Group II of the Intergovernmental Panel on Climate Change (IPCC).
The Assessment is of current scientific understanding of impacts of climate change on natural, managed and human systems, the capacity of these systems to adapt and their vulnerability1. It builds upon past IPCC assessments and incorporates new knowledge gained since the Third Assessment. Working Group II Summary
Apr 20, 2007
Long, Hard Alaskan Winter Threatens Salmon
Kodiak Regional Aquaculture Association (KRAA) executive director Kevin Brennan said "This March was very similar to some of those very cold winters we had in the '70s. There is the potential it is going to affect the pink salmon production specifically, and possibly some of the other species of salmon..I can say there was more ice and the ice was on rivers longer than I had ever seen in my 15 years of working with pink salmon in Kodiak." Byrne said he hopes this is not the beginning of a trend. (editors note: the Pacific is about due for a major reversal back to the pattern of the 50s into the 1970s. See Ocean Cycle blog.) See Kodiak Daily Mirror story here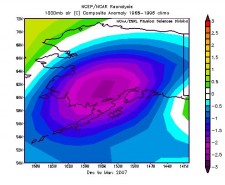 Image shows December to March 2006/07 temperature anomalies for Alaska as much as 6F below normal