Jan 22, 2018
In Memory of John Coleman
By Joseph D'Aleo

During the latter stages of co-authoring a book honoring the Weather Channel Pioneers (coming soon), John Coleman sadly passed away January 20th at age 83 at his home in Las Vegas surrounded by friends and family. John Coleman retired in 2014 after nearly 61 years in weather broadcasting.
John learned to love weather and nature from his dad, a college professor who had been raised on a farm in Alpine, Texas. John never stopped learning, combining self and college classroom study, observation, and knowledge gained from all the people he worked with.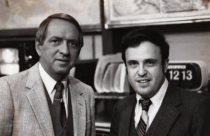 I had the profound privilege to work closely with him at Good Morning America and then at the cable TV Weather Channel. For GMA, John often worked all through the night, helping to put together a quality product for the viewers including a minute feature with the goals of informing and educating. He believed the more the viewers understood, the more capable they would be of utilizing the weather to their benefit.

The seeds of 'The Weather Channel' was a dream I first heard about in 1980 that became more and more real in the stillness of the night as while we worked together at Good Morning America in 1980 and 1981. I cherish the memory of long discussions and the promise of a mission that seemed, at times impossible. But John was driven to see his dream happen.
Some days he would board a plane after the shows to see a venture capitalist about funding his idea, returning in the evening, showering, changing clothes and heading back to work. His sleep was often a nap on the plane and maybe a half hour at his desk. Talk about dedication.
His dream of a national service with localized weather information was realized with The Weather Channel in 1982 when Frank Batten at Landmark and John came to an agreement on a cable weather service. John worked tirelessly on helping us others hire the right staff and detailing the product and programming.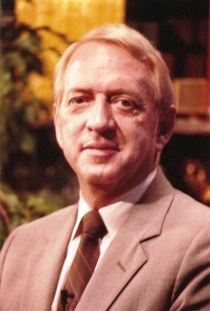 Many of the Weather Channel Pioneers came to The Weather Channel because of John. He was a TV weather rock star. He inspired and coached them in those hard early days as we all were feeling our way in a business for which there was no blueprint or precedent. He wondered whether he was too hard at times on his staff, which he loved dearly. But he felt it was his obligation to make sure they knew what we had to do differently being everyone's local weather source.
John and many of the original pioneers chronicle how the Weather Channel evolved in this upcoming book. Those founding members of The Weather Channel had a reunion in 2012 in Atlanta and we were so pleased John celebrated with us there.
So many of our Pioneers responded to his sudden death with expressions of great sadness and recognition of him as a visionary who changed TV weather forever (first day responses).
His family honored his wishes to have no services but to issue a eulogy on his life. Here is an excerpt:
Pioneer, scientist, and meteorologist are all words that were John Coleman. Husband, father, grandfather, great grandfather, friend, mentor were the more important words that defined him.
Coleman's first job in broadcasting was during his time as a high school student. He hosted a radio show on WCIL in Carbondale Illinois. In 1953, while he was a student at the University of Illinois he got his first TV job at WCIA in Champaign, Illinois doing the early evening weather forecast and hosting a local bandstand show called "At The Hop." After receiving his degree in 1957, he became the weather anchor for WCIA's sister station in Peoria, Illinois. Over his career, Coleman was meteorologist in Omaha and Milwaukee and then for 20 years he was the weather anchor for the ABC affiliate WLS-TV in Chicago.
During his time at WLS his pioneering in the broadcast world accelerated. He and his team at WLS developed a format that was coined "happy talk news" where the on-air personalities interacted with each other, a format used frequently today. In 1972, Coleman and his stage crew at WLS-TV created the first chroma key (green screen) weather map, a format used almost universally in TV weather forecasts today.
In 1975 Coleman became the original meteorologist when ABC launched its new morning show, Good Morning America. He stayed seven years with this top-rated program.
In the early 1980's, John had a vision for 24-hour TV weather which he took from concept to reality in 1981 and which he named "The Weather Channel." He served as its first CEO and President when The Weather Channel launched in 1982. It was during this time, he was honored by the AMS for "Outstanding Service by a Broadcast Meteorologist."
After his time at The Weather Channel, Coleman returned to local TV in New York, Chicago, Palm Springs and then to KUSI in San Diego, where he was chief meteorologist for 20 happy years. John loved forecasting the "gorgeous" San Diego weather and it was the perfect end to an outstanding 61-year professional career.
During his time in San Diego and into his retirement, John was committed and passionate in his effort to educate the public about the false science behind claims of global warming. He spoke at conventions, narrated videos, wrote a popular blog, and never missed an opportunity to present the science debunking the climate change movement. His blog can be found at https://johncolemanblog.com/ . Coleman was also a policy advisor to The Heartland Institute, one of the world's leading free-market think tanks promoting solutions to social and economic problems.
John was an energetic and passionate man about all he loved, including cards, especially poker. He loved life and was a lifelong learner. He will be remembered as a kind, funny, intelligent man who loved his profession, science and his family and friends. His mantra to his family members came from one of his favorite artist's songs, Nat King Cole's Nature Boy, "The greatest thing you'll ever learn is just to love and be loved in return."
------
John I wish we could tell you again how much we appreciate what you did for all of us who joined you on your impossible dream ride.
As Winston Churchill said "We make a living by what we get, but we make a life by what we give." John, you gave so much to give your dream life.
From the Man of La Mancha song "Impossible Dream" these excerpted lyrics apply.
This is my quest
To follow that star
No matter how hopeless
No matter how far

And I know if I'll only be true
To this glorious quest
That my heart will lie peaceful and calm
When I'm laid to my rest

And the world will be better for this
That one man, scorned and covered with scars
Still strove with his last ounce of courage
To reach the unreachable star
Your heart should lie peaceful and calm. The world is a better place because you strove with your last ounce of courage to reach the unreachable star.