Sep 09, 2014
German Scientists Ridicule New York Climate Conference As Major World Leaders Decline To Show Up
By P Gosselin on 9. September 2014
German scientists Fritz Vahrenholt and Sebastian Luning ridicule the New York climate conference nobody is going to. Enjoy!
Imagine there's a climate conference, but no one goes
By Sebastian Luning and Fritz Vahrenholt
(Translated, edited by P Gosselin)
Imagine there's a climate conference, but no one goes. Already months ago South Korean UN General Secretary Ban Ki-moon busily sent out invitations to world leaders, kindly requesting them to appear at the Climate Change Special Conference in New York on 23 September 2014. The aim of the conference is to agree on concrete actions for a CO2 reduced world in order to curb a menacing climate catastrophe. At the German Huffington Post Ban Ki-moon set forth his underlying motivation for September 2014 conference (translated from the German):
"I have traveled the world in order to see the impacts with my own eyes. From the Arctic to the Antarctic, from low lying islands of the Pacific, which are threatened by rising sea levels, to the melting glaciers of Greenland, the Andes and the Alps. I have seen expanding deserts in Mongolia and in the Sahel Zone, and threatened rainforests in Brazil. Everywhere I have spoken with the affected people who are deeply worried about the threat to their way of life and their future because of climate change."
Dear Mr General Secretary: If you really wish to cut back on CO2 emissions, then you should NOT jet around the globe in your UN jet to supposedly see climate change with your own eyes. Perhaps you have heard that the Pacific Atolls are living corals that are growing along with sea level rise. The glaciers already melted before, 1000 years ago during the Medieval Warm Period when it was as warm as today. Currently the Sahel desert regions are not expanding as you claim, rather they are becoming greener. Moreover the rainforests of Brazil are threatened foremost by deforestation thanks to palm oil and biofuels. That is something to be really worried about, and not about climate change.
As opposed to the UN General Secretary, many world leaders have obviously realized that the science is overheated. An increasing number of scientists are distancing themselves explicitly from the catastrophe mindset. After 16 years of no global warming, the basis for trust between policymaking and the IPCC scientists is sustainably disturbed. We believed you and you've disappointed us, the scathed politicians bemoan behind closed doors.
So it is little surprise that hardly anyone has the desire to attend the Climate Summit Circus. Already in May, 2014, German Chancellor Angela Merkel respectfully declined - she had other more important appointments. What could they possibly be about? Even today there is still no entry in Merkel's Online appointment book for the 23rd of September. Perhaps an appointment with the hairdresser that can no longer be put off? Crochet evening with good friends? Let's keep it a surprise for now.
In the middle of August 2014 India Prime Minister Narendra Modi also declined the invitation to attend. India today is the world's third largest CO2 emitter. Perhaps someone in New Delhi got cold feet over the requested "concrete measures'. Or perhaps they simply looked at the latest global temperature charts.
Also in Peking they were not amused. Suddenly the world's largest CO2 emitter, China, no longer has much desire to show up in New York. Chinese Prrsident Xi Jinping wasted little time in canceling his flight ticket. Nothing will result from all the negotiations anyway, the UN needs to know.
No German Chancellor, no Indian Prime Minister and no Chinese President. Consequently the UN General Secretary became visibly nervous and had to make late nominations. He was able to find a person in the political little leagues: Bonn's Lord Mayor Jurgen Nimptsch cordially expressed his willingness to travel to the Conference. Ban Ki-moon was most pleased, and the conference was saved. Now if all citizens of Bonn made massive efforts, then they would be able to offset the Indian and Chinese CO2 surpluses of the next few years in about an estimated 2 billion years.
And things don't look all that rosy when it comes to a climate agreement. The famous Kyoto-Protocol expired at the end of 2012. At that climate conference in Doha, 144 countries promised to vote to extend the treaty by 2020. So far today 11 countries have signed the extension document. In the meantime, have the other 133 countries reconsidered? So far not a single one of the 28 EU countries have signed on, also not Germany. But already Mauritius and Micronesia are on board (they would be beneficiaries of climate protection payments).
The climate alarmism-driven US-President Barack Obama also has realized that it no longer makes sense to strive for a large, new international climate treaty. Realistically it would never work anyway. In Paris at the end of 2015 there preferably will be a non-binding treaty. World leaders would more likely sign that. After all, they would not have to fulfill it...especially when they lose desire to do so.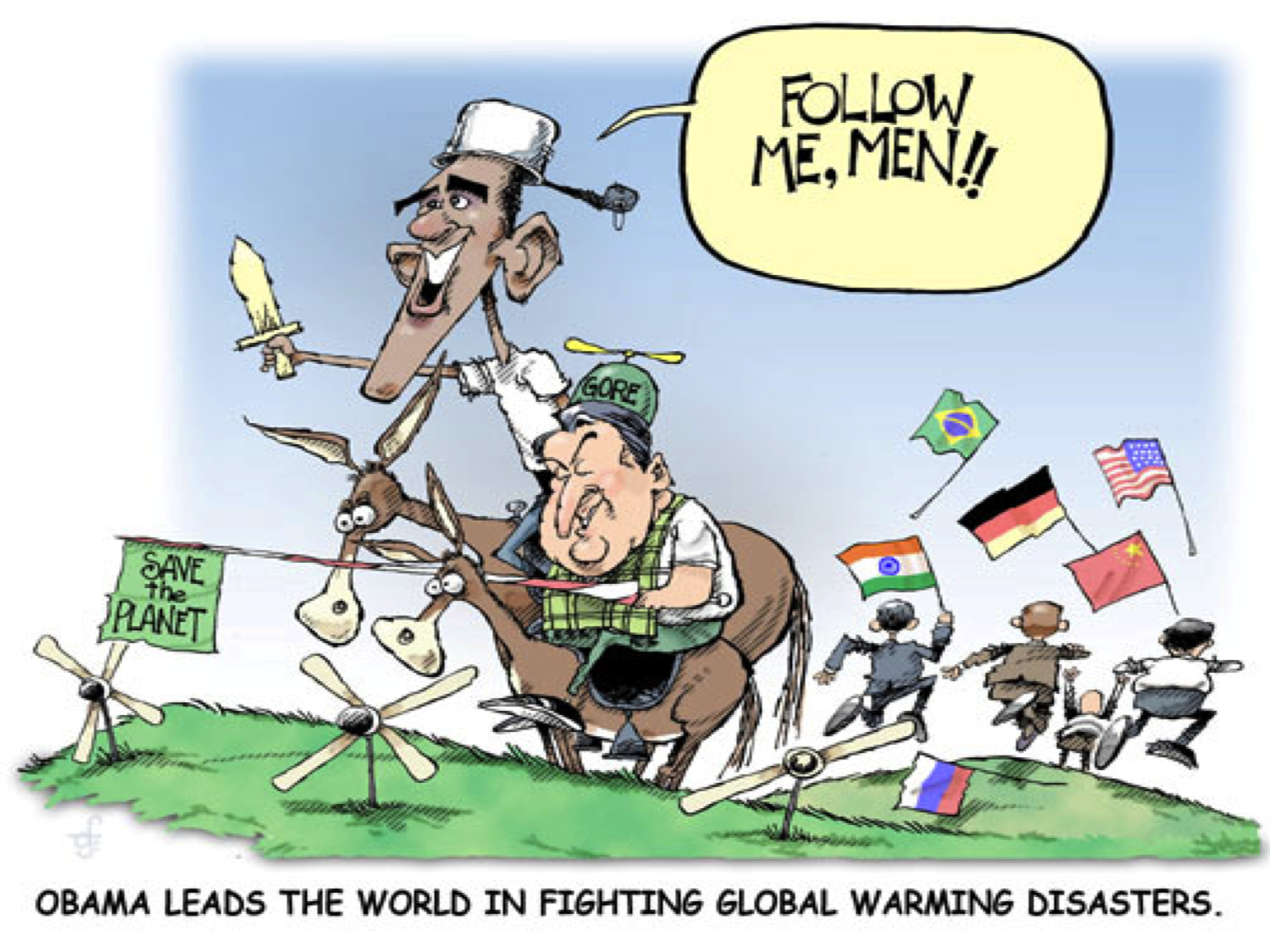 Enlarged
-------
Prof. Fritz Vahrenholt and Dr. Sebastian Luning are the authors of CO2-skeptical book The Neglected Sun, which correctly downgraded CO2 climate sensitivity and forecast the the modest cooling that is now taking place.
See more.
Sep 01, 2014
Storm activity at historic lows: 'First time for almost 70 years September globe is storm free'
UK Meteorological Office on September 1, 2014: 'Today is the first time for almost 70 years that there have been no tropical storms active anywhere in the world on 1st September.'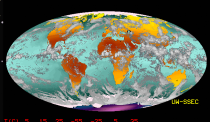 Meteorologist Dr. Ryan Maue weights in: 'No new Typhoons in August in West Pacific basin. My thoughts year to date are that Atlantic is now in dead decade ahead. WPAC middle of decade lull'

End of August - season-to-date 3 North Atlantic tropical storms (2 hurricanes) total ACE (Accumulated cyclone energy) = 19.55… about 40% below 1981-2010 climo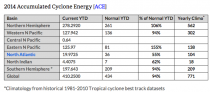 Enlarged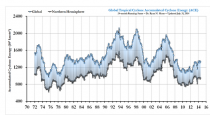 Enlarged
U.S. hurricane drought still in record territory: 'Almost nine years since the last major hurricane struck the US'
Remember, we are talking MAJOR hurricanes, of Category 3 strength or higher. The last major hurricane was Hurricane Wilma which hit Florida on October 24, 2005. This is unprecedented in the hurricane record since 1900. Its a full 2 1/2 years ahead of the second-longest US hurricane drought ever recorded.
Dr. Roger Pielke, Jr. is a professor of Environmental Studies at the University of Colorado, Boulder. He writes: "Since 1900 US hurricane seasons have seen more than 20% less landfalls and are more than 20% less intense."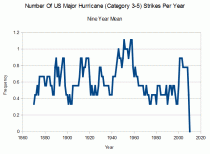 The above graph shows hurricane landfalls have declined in the US since 1900.
And the strength of storms has declined as well. Using NOAA data, we do see a decline in intensity of land falling US hurricanes since 1900.'
Geologist Rebuts Media-Hyped Draft Of New UN IPCC Report As "Nonsense Totally Contrary To Real Evidence"
Geologist Dr. Don Easterbrook takes apart new draft UN report: "What is really astonishing, is how the discredited IPCC can continue to put out such nonsense totally contrary to real evidence and still pretend to be scientists.?
US Major Hurricane Strikes Peaked In The 1950s – Now At An All-Time Record Low
Aug 31, 2014
Global warming just eco-religion?
"Piltdown Man Hoax Is Exposed," announced the New York Times on Nov. 21, 1953. Yet liberals like Bill Baum believe the global warming hoax because their environmental religion requires it.
Baum hangs his June 29 rebuttal of my March 7 talk on a second hoax perpetuated to support the global warming hoax, namely, that 97 percent of scientists believe human CO2
Consensus is central to politics but irrelevant to science where logic and data prevail. A simple Internet search of "97 percent of scientists" finds a dozen articles that prove the oft-quoted 97-percent claim is an urban myth.
The primary source of this hoax comes from a report by Prof. John Cook of the University of Queensland. Cook claims to have reviewed over 11,000 climate science articles. Cook's report says 97.1 percent of the reviewed abstracts conclude "humans are causing global warming." Well, by how much? Everyone agrees there is a very small effect. So this statement means nothing. Cook made the mistake of including in his 97 percent, papers by well-known skeptical scientists. In 2013, Legates et al published a recount of Cook's data that shows only 64, or 0.5 percent, of 11,944 papers published since 1991 say "most" warming since 1950 was manmade.
Here's a short summary of my talk on March 7: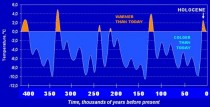 Enlarged
In the last 600 million years, our solar system passed through four spiral arms of our Milky Way. Earth's average temperature was 22C when outside our galaxy's spirals arms but decreased when inside each spiral arm, where cosmic rays are stronger.
From 450 to 420 million years ago, Earth passed through the Perseus spiral arm and average temperature dropped to 12C even while CO2 concentration was at 4,500 ppm, 11 times today's CO2 concentration. These temperature drops during high CO2 contradict the global warming hypothesis. Upon exiting the Perseus spiral arm, Earth's temperature returned to 22C.
From 320 to 270 million years ago, Earth passed through the Norma spiral arm and the temperature again dropped to 12C, rising again to 22C when Earth exited this spiral arm.
150 to 130 million years ago, the earth passed through the Crux-Scutum spiral arm and the temperature dropped to 16C at the end of the 100 million year Triassic-Jurassic age. For the last 20 million years, Earth has been in the Orion Spur spiral arm and temperature dropped to 12C to 16C.
This shows CO2 has little effect on Earth's temperature but cosmic rays cause temperature to drop by increasing cloud cover.
Shortening our time scale, we live in the fifth 12,000-year warm period of the last 420,000 years and we have pretty much used up our 12,000 years. We are living in the fourth mini-warm period of the last 3,000 years where each succeeding warm period has been cooler.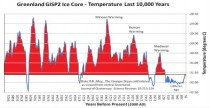 Enlarged
In 1820, Earth began its recovery from the Little Ice Age. This natural warming has continued with superimposed ocean cycles to today. Glaciers began to shorten in 1820, about 140 years before humans began to emit significant CO2.
Humans caused only 3 percent of the CO2 increase since 1958. Nature caused 97 percent. Even if we stopped all human CO2 emissions, we would have no effect on climate. Natural CO2 emissions and absorptions are each 40 times human emissions, and the small difference determines whether CO2 rises or falls.
Nature easily compensates for human emissions. Claims that human CO2 emissions have "tipped" some "natural balance" is a doctrine of eco-religion but has no basis in physics. AIRS satellite data show warmer oceans, not humans, produce most CO2 emissions, and America's vegetation absorbs more CO2 than its humans emit. Industrialized countries are more CO2 friendly than Third World countries.
RSS satellite data show no global warming for 17 years. The Central England Temperature Record shows no warming for 25 years. All 73 climate models way over-predict actual temperature increase, and the models to not agree among themselves. The scientific method requires we reject the global warming hypothesis because its predictions do not match data.
Montana's average temperature has decreased by 0.6F per decade since 1997. Glacier Park Superintendent Jeff Mow's politically derived claim that human CO2 caused his glaciers to melt has no scientific support.
New analyses prove temperature drives CO2 change. CO2 does not drive temperature. Game over for global warming. (For details see my website PolyMontana.com.)
Our biggest threat comes not from human CO2 emissions but from people who believe what is not so.
Berry, of Bigfork, has a Ph.D. in atmospheric physics and is a former National Science Foundation program manager for weather modification.