Aug 24, 2015
Collusion exposed between Governors, White House, and Tom Steyer's climate advocacy groups
E&E Legal Releases Report Exposing Coordination Between Governors, the Obama White House and the Tom Steyer-"Founded and Funded" Network of Advocacy Groups to Advance the "Climate" Agenda
Washington, D.C. - Today, the Energy & Environment Legal Institute (E&E Legal), a 501 (c) (3) watchdog group, released an investigative report, Private Interests & Public Office: Coordination Between Governors, the Obama White House and the Tom Steyer -"Founded and Funded" Network of Advocacy Groups to Advance the "Climate" Agenda (and an appendix of source documents), revealing a vast, coordinated, three-track effort by public officials and private interests to promote EPA's expansive, overreaching and economically devastating greenhouse gas rules, specifically the section 111(d) regulation to shut the nation's fleet of existing coal-fired power plants, as well as the December Paris climate treaty President Obama is expected to sign to replace the Kyoto Protocol.
"Our report pulls the curtain back on a carefully planned and heavily funded 'orchestration' by individuals who have placed their personal interests ahead of the public interest," said Chris Horner, E&E Legal's Senior Legal Fellow and the report's author.
The report is the product of open records requests over the course of a year at the federal level and nearly 30 offices in over a dozen states. The expose contains appendices with over a hundred pages of source emails and attachments. It details a campaign to use public offices, in very close collaboration with wealthy benefactors, to advance and defend President Obama's climate change regulatory and treaty agenda. This quasi-governmental campaign involves more than a dozen governors' offices, with a parallel advocacy network and political operation funded and staffed by activists paid through ideologically , economically and politically motivated donors.
The report released today points to emails obtained by E&E Legal's campaign without litigation, but also in federal district court; others are the subject of oral arguments made last week in court in Richmond, Virginia, and a new suit just filed against the Governor of Kentucky. The latter complaint objects to a false "no records" claim about records that this report proves do in fact exist, and even quotes from, but which are being kept from the public by a governor who claims to be appalled by EPA rules his office was quietly a "core group" promoter of for the past two years.
This report is timely given President Obama's ongoing tour to promote the same EPA rules that these governors and "major environmental donors" scheme to promote in the correspondence released today. This includes a stop today at Harry Reid's "clean energy economy" conference, curiously also sponsored by the same donors as those playing a leading role in today's report.
Indeed these emails E&E Legal uncovered also show this campaign was developed with the early, active support and participation of the White House, which went beyond enthusiastically embracing the plan and follow up meetings and calls, to even directing the governors to what one green trade-press outlet calls a "shadowy group" affiliated with then-Chief of Staff John Podesta. The White House's followup actions , as one governor's aide praised them, were "moving dials". Podesta also convinced the governors' offices that their plan should be broken into separate, complementary pillars. The latest email obtained, from May of this year, shows the governors' campaign arranging to coordinate with the State Department.
The scheme took shape at a meeting in the White House in December 2013, after which the Obama administration launched coordinated with the "core group" of activist Democrat governors to design one of what we see are three tracks to promote the climate agenda. One was run by the Steyer network and left-wing foundations. Another is run by governors with green groups, which are "useful" but whose "standard NGO shaming strategy might not deliver". A third, run by the White House includes, in the words of a senior aide, "a few other tracks with private sector and unusual allies".
Nearly every aspect of this effort, from the key early players to the funders and even the director the governors' campaign hired - housed by some state's taxpayers in the Hall of States in Washington, DC, overhead paid for by as-yet unknown means - has direct ties to a scandal involving "clean energy" donors and conflicts of interest, one which felled Oregon's sitting governor earlier this year.
In what is possibly the most intriguing element, seemingly out of an episode of "House of Cards", Democratic governors' aides repeatedly reference a plan of "creative engagement" to "compel" certain electric utilities- those subject to their jurisdiction whose businesses cross lines into states led by Republicans - to bring "red state" governors around to support the EPA rules: "[B]ecause there are key utilities whose service territories cross red and blue states Governors in these states could quietly engineer a breakthrough strategy that compels utilities in key red states to lead the charge to win over a key Governor, rather than rely on a standard NGO-shaming strategy that might not deliver."
The "core group" of governors also coordinated with Democratic mega-donor Tom Steyer and his managing partner, Ted White, who directed them to "affiliated groups that we founded and fund (such as NextGen Climate Action, or Next Generation, or AEE [Advanced Energy Economy]" . Those groups in turn underwrote consultants and activists to hand-hold governors through implementing the Obama EPA's rules, keeping them from the clutches of the "just say no" states.
This core group soon expanded to more than a dozen states, coast-to- coast, embracing a four-point plan which they soon called the Governor's Climate Compact or GCC, which was ultimately rebranded as the Governors' Climate Accord or GCA and now goes by the name of the Governors Clean Energy Initiative (none of which have any internet footprint whatsoever, and begging the question who is indeed paying for its director and other overhead). The emails do reflect an awareness that the agenda's lack of popularity in the "flyover states" necessitated a flexible timeline and keeping some offices' involvement quiet, specifically citing elections as a concern.
"This is the 5th transparency report in a series that E&E Legal has published on the 'green movement' and its network of public, private, and business interests, and what is clear is that 1%-ers are using 'climate' policies to destroy politically disfavored industries in order to transfer wealth to the politically preferred," said Craig Richardson, E&E Legal Executive Director. "The campaign by self-serving individuals must be made known to the public as policymakers consider this plan that will destroy parts of our economy and ruin the most efficient, affordable, and clean energy system ever created."
Aug 22, 2015
Cardinal Pell on the Encyclical; Apple and Google Pour Billions Down a Green Drain
By Steve Goreham
Originally published in Communities Digital News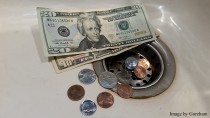 Business has been captured by Climatism, the belief that humans are causing dangerous global warming. Leading businesses announce plans to reduce carbon dioxide emissions, purchase renewable energy, use vehicle biofuels, and buy carbon credits. But there is no evidence that commercial policies to "fight" climate change have any measureable effect on global temperatures.
Apple and Google, the darling companies of the millennial generation, have spent billions trying to halt global warming. Apple has brought us the Mac personal computer, the I-Phone, the I-Pad, and other trend-setting electronic devices, becoming the world's highest-valued company. Google has been called the most innovative technology company in the world, delivering the Google search engine that revolutionized use of the internet, Google Books, Google Maps, and now developing a self-driving car. But both of these leading companies have swallowed the misguided theory of human-caused climate change, hook, line, and sinker.
Apple's 2015 Environmental Responsibility Report states, "We don't want to debate climate change. We want to stop it." Former EPA Administrator Lisa Jackson now heads up Apple's environmental efforts. The firm boasts that it measures its carbon footprint "rigorously," estimating it emitted 34 million metric tons of carbon dioxide equivalents in in 2014. But somehow Apple missed the fact that carbon dioxide is a gas emitted in huge volumes by nature. According to the Intergovernmental Panel on Climate Change of the United Nations, nature puts 25 times as much carbon dioxide into the atmosphere every day as all of the world's industries.
Apple is spending more than two billion dollars on renewable energy to power its data centers. In February, the company announced an investment of $848 million for electricity from the California Flats solar farm from electricity provider First Solar. Apple claims it now purchases 100 percent renewable energy for all of its US operations and 87 percent for worldwide operations. But the firm is paying a sizeable premium for solar electricity over the price of traditional energy.
Last year, Google Chairman Eric Schmidt said, "Everyone understands that climate change is occurring, and the people who oppose it are really hurting our children and grandchildren and making the world a much worse place." Google has reportedly committed more than $1.8 billion to
renewable energy projects. But these renewable projects typically provide little actual electricity output at very high prices.
An example is the Ivanpah Solar Facility located in the California Mojave Desert, south of Las Vegas. Google invested $168 million in the Ivanpah project developed by Brightsource Energy, which began operations in January 2014. Ivanpah is a concentrating solar facility that has made headlines for its tendency to ignite birds in flight near its towers.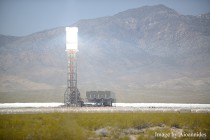 In addition to scorching more than 1,000 birds a year, Ivanpah is a poor electricity-generating station. During 2014, the Ivanpah facility delivered only about half of the electricity it was designed to deliver, which is only about one-tenth of the output of a typical gas-fired power plant. Ivanpah generates electricity at the whopping price of 16 to 17 cents per kilowatt-hour, four times the California wholesale price of 4 cents per kilowatt-hour. Ivanpah owners NRG and Google have asked for a federal grant of $539 million to pay off much of the $1.6 billion federal loan that was used to build the plant. US taxpayers and California electricity users are paying for the Ivanpah boondoggle.
In their rush to fight climate change, Apple, Google, and other engineering companies don't seem to realize that the theory of global warming fails the first test of maintenance-of-the-line (MOL) product engineering. Many product engineers spend time in MOL engineering early in their career, handling field calls about the company's product. When a customer calls to report a product failure, the first question an MOL engineer needs to answer is, "Is the product behaving normally, or is it performing abnormally?"

There is no evidence that Earth's surface temperatures today are abnormally warm when compared to temperatures of history. Temperature proxy data from many sources shows that Earth's temperatures have actually been declining for the past 8,000 years. Temperatures have been rising for the last century, but Earth experienced warmer times when the Romans conquered the Mediterranean 2,000 years ago and when the Vikings settled southwest Greenland 1,000 years ago.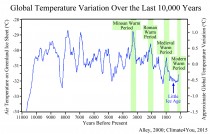 Enlarged
Ever notice how actual climate results are never part of the claimed benefits of green energy? Measures of success are always carbon emissions reduced, houses powered, kilowatts generated, and carbon credits purchased. No one ever talks about actual reductions in temperature or about droughts, floods, or hurricanes to be averted by using renewable energy. Adoption of green policies is as hollow as building a hospital and never curing a patient or raising an army and never taking a hill.
In fact, changes in Earth's climate are dominated by natural factors. Earth's greenhouse effect is dominated by water vapor and natural emissions of carbon dioxide. History shows that hurricanes, floods, droughts, and heat waves are neither more numerous nor extreme than those of the past. There is no empirical evidence that human emissions have a measureable influence on Earth's climate. All of the green measures by global business will have a negligible effect on global temperatures.
If Apple, Google, and other companies want to invest in renewable energy and fight climate change, they should place green initiatives in their public relations budget. Such programs don't have any other effect.
Steve Goreham is Executive Director of the Climate Science Coalition of America and author of the book The Mad, Mad, Mad World of Climatism: Mankind and Climate Change Mania.
Aug 20, 2015
Man-Made Climate Change 'Not About Science' Admits Naomi Klein
Papal Advisor Naomi Klein admits in her much-publicized screed that 'Global Warming' is all about anti-capitalism being nothing to do with science.
Klein admits progressive policies on the environment are really about what Marx and Lenin said the communist revolution desired 100 years ago the overthrow of capitalism. This is not about science, or health, at all. "Our economic model is at war with the Earth," writes Klein. "We cannot change the laws of nature. But we can change our economy. Climate change is our best chance to demand and build a better world."
Could the message be any clearer? "This [man-made climate change] is not about science, or health, at all."
Please note that Klein uses the ambiguous term "climate change" when she really means "man-made climate change"; it's a classic case of misleading the public at large that any change in the climate is the fault of human emissions of carbon dioxide (CO2).
Here's further insight into Naomi Klein's world via Martin Hertzberg's review of Naomi Klein's book "This Changes Everything." Dr Hertzberg, a respected scientist and author on climate change, writes:
It is tragic that what should have been a debate among objective scientists evaluating the data on weather and climate, has degenerated into a partisan political diatribe. Unfortunately, Klein's most recent book only adds to the tragedy. In pursuit of her political agenda, facts are distorted and distinguished scientists are denigrated. Here are some examples.
Klein states: "Carbon Dioxide stays in the atmosphere one to two centuries with some of it remaining for a millennium or more".
Some 50 published papers give at most 5 years for its lifetime in the atmosphere with the best estimate from C-14 decay observed after Russian above ground tests.
Klein states that the "Medieval Warm Period was thoroughly debunked long ago".
Not true! Hundreds of studies have established the existence of the world wide Medieval Warm period with temperatures exceeding current ones at a time when human CO2 emission was nil. Her discussion of the weather effect of volcanic eruptions neglects to mention the real big ones: Tambora and Krakatoa.
Klein completely discounts the "climategate" scandal.
Not true! Climategate reveals a disgraceful lack of scientific integrity on the part of the climate change advocates. For all the relevant data go to my lecture at www.youtube.com/watch?v=vPTiTFMhZrg. For factual data rather than her fear mongering cherry picking, go to www.climate4you.com and see for yourself. There is nothing unusual happening with temperatures, ice area coverage, sea level rise, or snow cover: just the normal variability in weather related parameters.
To her credit, Klein actually listened to talks by skeptics at a Heartland Conference, but instead of trying to learn from the distinguished scientist's presentations, she denigrates them.
Thus, for example, she refers to "the denial movement being littered with characters like the old time physicist...S. Fred Singer".
Instead of noting his achievements as Deputy Secretary of the EPA, his establishment of the Weather Bureau's Satellite Service and his work in Space Research and Atmospheric Physics and in designing the first Earth Observation Satellite for meteorological observations, she refers to him as a "character" and limits his work to "rocket technology for the U. S. military".
As an aside, I first met Fred over 50 years ago and indeed he just celebrated his 90th birthday. He left Austria just ahead of the Nazi takeover and really resents being labelled as a "denier" as though he were a holocaust denier. I lost many relatives in the holocaust and also find that denier label to be particularly obnoxious. She also completely fails to mention the series of articles in the Nation by Alexander Cockburn that preceded her work. Cockburn completely discredited the fear-mongering hysteria of the global warmers.
The global warming/climate change theory postulates that human emission of CO2 from fossil fuel combustion is causing an increase in atmospheric CO2 and a concomitant increase in global temperatures and climate disruptions via the greenhouse effect.
Klein accepts that paradigm without question.
But if you read her book carefully you realize that she doesn't really care much about its validity. To quote: "lowering emissions is just one example of how the climate emergency could - by virtue of its urgency and that the fact that it impacts virtually everyone on earth - breathe new life into a political goal...(such as) raising taxes on the rich, blocking harmful trade deals, to reinvesting in the public sphere..."
"Even more importantly, the climate moment offers an overarching narrative in which everything from the fight for good jobs to justice for immigrants, reparations for the injustice of slavery...all becomes a grand project of building a non-toxic shock-proof economy before it is too late". So there it is: the science is not that important. What really matters is the social justice we can get from it.
She learned well from her "Shock Doctrine" book. Just as the world's international bankers took advantage of the debt crises in smaller countries to dismantle their social justice and welfare economies, so does she propose to use the climate change "crisis" to achieve social justice. I agree with most of her social justice goals, but as a scientist, I cannot abide by getting there with a fear-mongering fraud.
So here are the simplest arguments to counter the climate change paradigm. Draconian measures to control CO2 emissions are based on three fictions:
First, that it is a "greenhouse gas". Neither the EPA nor anyone else has ever provided a scientifically valid definition of such an entity. The atmosphere is not the confining top of a greenhouse, nor can it "retain heat". Instead it cools the earth by natural convection and radiation to free space.
Secondly, at only 0.04 percent of gases in the atmosphere, CO2 is supposed to control the earth's temperature and climate. That is an absurdity and there is not one iota of reliable evidence that it does.
Thirdly, the paradigm postulates that human emission determines atmospheric CO2. The data is overwhelming that natural sources and sinks such as ocean emission and absorption, photosynthesis, vegetative decay, volcanic eruptions, forest fires, carbonate rock weathering and many other processes overwhelm human emission. Human emissions are trivial in comparison and they dissolve rapidly into the cold oceans.
The "climate justice" movement, by conflating the justified desire to advance social justice with the phoney theory of man-made climate change, will only serve to discredit social justice as the truth about climate change finally emerges.
Extreme environmental solutions can have unintended consequence (blowback).
The work of Rachel Carson, Klein's heroine, resulted in the world-wide ban on the use of DDT. The result was about 100,000 more annual fatalities of children in Africa as a result of malaria. That malaria epidemic subsided several years later as soon as DDT use was resumed.
Challenge yourself to realize what harmful unintended consequences would result from the measures to eliminate the use of fossil fuels. The reality is that such a measure will have no effect on weather or climate.
******
Dr Martin Hertzberg is a long time climate writer, a former U.S. Navy meteorologist with a PhD in Physical Chemistry from Stanford University and holder of a Fulbright Professorship. Hertzberg is an internationally recognized expert on combustion, flames, explosions, and fire research with over 100 publications in those areas.