Dec 02, 2008
"…we may have as little as 10 years before we cross a kind of point-of-no-return…"
A guest post by: Russ Steele from NCWatch on WattsUpwithThat
We can only hope the most people in the US are shopping on Black Friday and not watching the Oprah Winfrey Show today. Al Gore has brought his global warming propaganda machine to share with Oprah. You can find the details on Oprah's web page. Here are some of the topics that Gore is pushing:
Classic Gore:
"Some of the leading scientists are now saying we may have as little as 10 years before we cross a kind of point-of-no-return, beyond which it's much more difficult to save the habitability of the planet in the future" Gore says.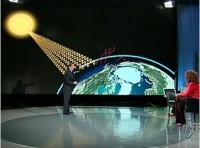 Yes, but Al you have been saying that for over ten years and we are still here. And in the last ten years the global temperatures stopped rising and are now in decline.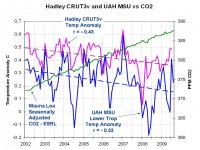 See larger image here
Meanwhile the Gore Effect continues. As Planet Gore details:
The Gore Effect (The phenomenon that leads to unseasonably cold temperatures, driving rain, hail, or snow whenever Al Gore visits an area to discuss global warming) remains in full effect. Planet Gore reader Rosa e-mails from Milan:
As you perhaps know, Mr Gore visited Italy last week, precisely Milan (Nothern Italy). He gave a speech on his usual theme: the globe is warming, there's a lot of warning signs, we shouldn't be so foolish to dismiss them, we must act now, etc. Outside the hall, it was snowing and snowing. Well, perhaps you think it's usual in a northern Italian city to have three snow spells within two weeks. In fact, it's quite rare. Rome and Naples and Palermo too - and Sicily, at more or less Florida's latitude - were under slight snow/freezing rain. On the Alps we have already reached snow record heights, unparalleled in the last decades. And we're still in Autumn ! So, if you wish to ski, please visit the hills surrounding Lake Como.
UPDATE DECEMBER 25, 2008: See these amazing photos of the Alps were snowfall is setting records for so early in the season with 265 inches to data. Mt. Kanin which lies in extreme NW corner of Slovenia (coords: 46.3518N, 13.4882E if you will look at it at google maps). This area usually has an average of above 5m of snow towards the end of winter period. But this year, the season has just started and they have more than 6.5m of snow already which broke snow records there since 1960.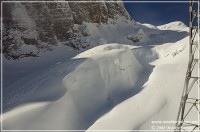 Dec 01, 2008
"Carbon trading does not solve the emission problem at all"
Dr. James Hansen, NASA
Jim Hansen, director of the NASA Goddard Space Centre and a renowned critic of global measures to combat climate change, believes carbon trading is a "terrible" approach. "Carbon trading does not solve the emission problem at all," he says. "In fact it gives industries a way to avoid reducing their emissions. The rules are too complex and it creates an entirely new class of lobbyists and fat cats."
For once, something I agree with Hansen on
Nov 29, 2008
"The Australian ski fields have recorded one of their best snow falls a week before summer starts"
Various Press Reports November 24, 2008
GALE force winds and snow in the NSW central-west are keeping State Emergency Service (SES) volunteers busy, just a week from the start of summer. Since Friday, SES crews have responded to 18 requests for assistance in the Blayney, Bathurst, Lithgow and Orange areas. Most of the damage has been caused by falling trees, but local roads are also being monitored after snow falls on Saturday night. The road between Bathurst and Oberon is currently closed but all other roads are open. SES Central West Region Controller, Craig Ronan, said the weather conditions are particularly unseasonable. "It's very unusual the week before summer to have such weather conditions," Mr Ronan said.
EUROPE ALSO FRIGID AND SNOWY
And now in Europe 'This is nature's way of cocking a snook at the experts' - Ski resorts across Europe revel in white gold after best snowfall in decade. Also heavy snow is keeping children out of school in Spain. And Scotland shivers in cold and snow. St Andrew's Day swept in with an icy blast as temperatures dropped to almost 11 degrees below zero (C), making it Scotland's coldest night of the winter so far. Thanks to Scottish correspondent Mark Vogan.
Nov 27, 2008
"possible review of the science behind climate change, a move that has outraged environmental groups
By Tom Nelson
The government has also suggested a possible review of the science behind climate change, a move that has outraged environmental groups, who say New Zealand's reputation will be damaged if the concept of global warming is questioned.
Have you ever heard such unadulterated nonsense in a single sentence? Did I read that correctly? A possible review has "outraged environmental groups"? Sorry, is this science we're talking about, or the dogma of religion? Perish the thought that the divine words of the IPCC, as spoken through the prophet Al Gore, should ever be questioned. Quick, throw another heretic on the fire.
As for their reputation being damaged, in my book, it's quite the reverse. Bravo New Zealand.

Nov 26, 2008
"Carbon Dioxide (CO2) is Not Pollution!"
By Richard S. Lindzen, Ph.D. Professor of Atmospheric Science, MIT
"CO2 for different people has different attractions. After all, what is it? - it's not a pollutant, it's a product of every living creature's breathing, it's the product of all plant respiration, it is essential for plant life and photosynthesis, it's a product of all industrial burning, it's a product of driving - I mean, if you ever wanted a leverage point to control everything from exhalation to driving, this would be a dream. So it has a kind of fundamental attractiveness to bureaucratic mentality."
Nov 26, 2008
2009 International Conference on Climate Change
On March 8-10, 2009, The Heartland Institute will host the 2009 International Conference on Climate Change, a three-day conference in New York City bringing together leading scientists, economists, legislators, and policy analysts from around the world to discuss climate change and related issues.
The 2009 International Conference on Climate Change will take place at the Marriott Marquis Times Square Hotel, 1535 Broadway, in the Theater District of Midtown Manhattan. The purpose of the conference is to facilitate the sharing of information among climate experts and generate international media attention to the fact that many scientists believe global warming is not a crisis.
The first conference, held in March of this year, was an unqualified success. The conference was extensively covered by the international media and allowed more than 100 global warming experts to share information and ideas regarding the latest science, economics, and politics regarding global warming.
Hosting the conference for the second consecutive year will be The Heartland Institute, a 24-year-old national nonpartisan think tank based in Chicago. "All of the event's expenses are being covered by individual and foundation donors to Heartland," said Dan Miller, executive vice president of the institute. "No corporate dollars earmarked for the event were solicited or accepted."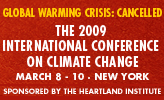 The 2009 New York conference expected to draw up to 1,000 scientists and experts who feel the global warming crisis has been "cancelled" by new scientific discoveries. The 2009 International Conference on Climate Change will serve as a platform for scientists and policy analysts from around the world who question the theory of man-made climate change. This year's theme, "Global Warming Crisis: Cancelled," calls attention to new research findings that contradict the conclusions of the latest Intergovernmental Panel on Climate Change (IPCC) report. "Last March we proved that the skeptics in the debate over global warming constitute the center or mainstream of the scientific community, while the alarmists are on the fringe," said Heartland President Joseph Bast. "In the past six months, the science has grown even more convincing that global warming is not a crisis. Opinion polls and political events, including the defeat of 'cap-and-trade' legislation in the U.S. Senate, also suggest this 'crisis' is over. It has been cancelled by sound science and common sense."
See release with list of speakers here.
Nov 24, 2008
"…more like something a Hollywood speech writer would put together for a movie script…"
Colorado Rep. Kevin Lundberg
Global Warming Policies Are Not Based on Scientific Evidence. Where are the Facts? The Republican Study Committee of Colorado (RSCC) challenges President-elect Obama to provide any evidence that the opinions he cited in his first major policy statement on global warming are based in reality. RSCC chairman, Rep. Kevin Lundberg, said "It sounded more like something a Hollywood speech writer would put together for a movie script, rather than a serious policy statement for a president-elect."
Meanwhile time to respond to EPA Rulemaking is growing short (deadline November 28, 2008). If you want an easy way to comment, you can use this model comment here. You can add (or subtract) anything to that you want. Heritage Foundation has a similar site here. It is important not only to have good comments, but a good number of comments. Hopefully we can inject some rationality into the process.

Nov 21, 2008
"Funny how Dems elected a guy to chair Energy and Commerce who opposes both."
By Chris Horner
The press is reporting that California Representative Henry Waxman, a very liberal Congressman representing Beverly Hills, has defeated Michigan Representative John Dingell in a secret vote and will become the Chairman of the House Energy and Commerce Committee.
To get an idea of what to expect from Waxman, consider the following quip from CEI's Chris Horner: "Funny how Dems elected a guy to chair Energy and Commerce who opposes both." If only it were funny. As we noted in an earlier post, expect Waxman to push hard for energy rationing policies to placate his ultra rich, Hollywood constituents.